It's Time for Global Standards: International Expansion Demands Better Information
Over the past seven years, some economies have prospered while the U.S. has been on a roller-coaster ride. With franchising's ability to respond relatively quickly to change, it comes as no surprise that we are seeing more focus on international expansion by U.S. brands. We have seen an increase in international research projects ourselves and addressed this trend by starting a research company in Australia.
In the U.S., we are accustomed to being able to obtain, from both public and private sources, a considerable amount of reliable franchise information. The amount and quality of international information on franchising pales in comparison. Brands typically are left to rely on consultants and their own experience. International franchise information, when available at all, is scattered among government agencies, franchise associations, and within individual brands, all with varying degrees of reliability. Maybe we can change all this. (We believe Australia has the foundation for reliable information, which is why we decided to go there.)
The lure of global expansion can be exciting, risky, and rewarding for franchise brands and multi-unit owners alike. Taking a brand overseas can feel like a rite of passage to adulthood and further validation of the brand's appeal. International development can be a lot like diversifying a stock portfolio. Stocks go up and down, and as we have seen, economies do the same.
So where does a brand begin with international due diligence? How does it determine what countries best fit its products and services? Have similar brands entered the same market, and, if so, have they failed or succeeded? (Franchising has a big advantage in this regard because of the uniformity and conformity of the model itself.) How is operational success measured internationally with no reputable benchmarks or consistency of definitions? What metrics should be used? How does a brand confirm that its action plans are realistic and on the right time line? How are faults within international operations identified, and what adjustments are consistent with good business practices?
Clearly, when expanding internationally there is great value if good information and benchmarking indicators are available to help franchise brands and their multi-unit operators reduce uncertainty and mitigate risk. Having a source for capturing and analyzing international information will allow franchise brands to make better decisions on which countries to penetrate, how to find and provide better support services to their overseas partners, and ultimately ensure that development plans, operational performances, and ROI are in line with the current business plan.
As with most research projects we work on, we begin with the end in mind. What business decisions will be made for which reliable information would help? It seems that they fall into three categories: whether to enter a particular country, how to measure if operations are in line with best practices, and if performance is in line with maximizing outcomes over time. Next comes identifying the right information to collect, using consistent definitions for that information, and creating the right win/win relationships with the people who have the information (including addressing confidentiality of the information from private sources).
FRANdata is teaming up with Bill Edwards, founder of Edwards Global Services (see article), to tackle this information gap in international franchising. Our two companies, along with Josh Merin, director of international affairs at the IFA, are beginning work on an international database to answer these and other questions.
We started by identifying what type of information franchisors have, and what information would add the most value for business decisions. This led us to the following key information we're using as a starting point to compile data on U.S., international, and local country franchise brands by country.
System-level: number of franchise units, number of master licensees, initial unit investment (franchise fee, royalty fee, marketing fee), number of multi-unit franchisees, start date of doing business, franchisee finance options, number of unit closures, franchisor revenue, franchisor international expenses, percentage of franchisees that are local/international, and supply chain solution.
Corporate/master franchisee level: pre-entrance expenses, taxes and tariffs, lead generation for franchise development, and operational support expenses.
Unit level: initial investment costs, construction costs, real estate terms, COGS and labor costs, other ongoing expenses, average unit revenues (by product line), breakeven timeline, and profitability.
Capturing, analyzing, and providing international information is a big undertaking and will take time, but what a goal to have: information addressing the operational benchmarking needs of mature brands and go/no-go information for first-timers considering whether to make the leap overseas.
One of the franchise community's greatest attributes is its ability to work together when the benefits are clear. Collaborating to create an international database of reliable information, with the proper confidentiality controls that FRANdata uses in all its research work, will provide everyone with the ability to not just say they are a global company, but to show they are a successful global brand.
Darrell Johnson is CEO of FRANdata, an independent research company supplying information and analysis for the franchising sector since 1989. Eric Simon is senior business intelligence advisor. They can be reached at djohnson@frandata.com, esimon@frandata.com, or 703-740-4700.
Published: September 26th, 2014
Share this Feature
Recommended Reading:
Comments:
comments powered by

Disqus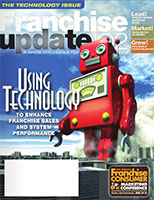 Franchise Update Magazine: Issue 2, 2014
From lead generation to increasing sales, Hot Dish Advertising is the pro at getting your message in front of those who matter most--consumers...
Tiger Pistol, the world's leading collaborative advertising platform, connects the power of brands with the knowledge and credibility of their...