Just Be-Cause: Cause Marketing is Making A Difference
Doing good is a longtime pursuit in America. You might even say it's a part of the culture. Americans love a good cause and like to help when they can. Whenever needs arise, there always seem to be businesses, organizations, and private citizens ready to come forward to lend a hand. And in the past couple of decades, businesses, especially franchises, have been getting more and more involved in supporting charitable causes.
It makes sense, both personally and for business. Franchises are local operations, most run by people who are part of the community. As a result, many franchise brands and tens of thousands of franchisees have become involved with good causes. Sometimes those causes are global, national or regional, but more often they are local and franchisees and franchisors alike are there to step in.
"Cause marketing" is a popular term used to describe these efforts. Boiled down to its essence, it's simply doing something good for those in need. However, say those who active in cause marketing, it should never be done with anything other than altruistic motives in mind. Done well, cause marketing unites franchisees and their employees with their communities and conveys a positive brand image, boosting their local profile. And while it can lead to an improved bottom line, say the four franchises we spoke with, "done right" means doing good with no bottom-line expectations.
Molly Maid: Give to give
"The cause must predominate, not the mutually beneficial profit. Creating awareness of the brand is a by-product," says Molly Maid President Meg Roberts, who has been actively involved the brand's cause marketing initiatives.
The brand's Ms. Molly Foundation was formed to help communities stop the cycle of domestic violence and give victims a second chance in life. October is National Domestic Violence Awareness month, and Molly Maid employees, franchisees, and customers join forces to provide greater awareness of the problem and support for those who suffer from domestic violence. Since its inception in 1996, the foundation has raised more than $1.9 million for local domestic violence shelters and agencies across the country.
Roberts says the only way to get involved with cause marketing is if you sincerely care about the cause. "If you're thinking that Millennials or Baby Boomers are more likely to purchase your service because you participate in philanthropy, then don't even do it," she says.
Molly Maid looks for franchisees who are motivated by service, says Roberts. "If they also have a sense of service for their community, then our Ms. Molly Foundation may have something others don't offer," she says. "We encourage our owners to participate and have created a turnkey way to contribute both financially and emotionally by hosting fundraising events their teams and customers can join as well."
Michael Silva-Nash is a 22-year-old Molly Maid franchisee in North Little Rock, Ark., known in his community for making regular TV appearances to provide cleaning tips for viewers, and for regularly raising funds for local women's shelters through the Ms. Molly Foundation. He's has raised thousands of dollars for Women & Children First and the Dorcas House, a domestic violence shelter in Little Rock. He also accepts non-financial donations from customers, such as clothing and other items that can be used at the Dorcas House.
"Domestic violence occurs more than people realize, and we all know someone who has been abused, either emotionally or physically," he says. "A majority of our customer base and employees are women, and we feel that we owe so much to the people who hire us and the people we hire," he says about how he chose this cause.
Since 2005, he has raised nearly $30,000 through organizing two 5K runs, hosting events, asking for customer contributions, and donating a portion of every home cleaning. In February 2014 he was asked to join the board of the Ms. Molly Foundation and says he has enjoyed every second of working with very talented and passionate people to help others make a difference.
Silva-Nash credits his franchise brand with providing great support for his efforts in Little Rock. "The Ms. Molly Foundation makes it easy for anyone to be involved," he says. The foundation allows franchisees to donate a portion of every service fee for a month, a year, or any other term they choose. The foundation also provides other opportunities and levels of participation.
The foundation makes it easy for franchisees to participate. "They create the graphics and work out agreements with printers. As a franchisee, I order the material, implement the programs they have, and write the check. The little work we as franchisees do makes a huge difference."
The ultimate goal is simple, says Silva-Nash. "Pick a cause that you, your customers, and employees care about. You can make a positive impact. No matter how big or how small, everyone can make a difference."
Jersey Mike's: Making a difference
"Giving... make a difference in someone's life." That's a philosophy Jersey Mike's Subs founder and CEO Peter Cancro has emphasized from the beginning with every franchisee: support the community that supports you. And it's working: since 2010, Jersey Mike's locations across the country have raised nearly $10 million for local charities and have distributed more than 750,000 free sub sandwiches to help numerous causes, says Rich Hope, the brand's chief marketing officer.
"This fervor for helping others has become a 'must have' personality trait for prospective franchisees. Our franchisees share the belief that the more you give, the more you get," he says. "They are genuinely engaged in caring about their local causes and committed to taking action and making a difference."
Hope says there are many sound business reasons for developing a cause-related marketing program, and that the effects of a well-run program run deeper than brand awareness and increased revenue. "It creates a company that people are proud to work for, it becomes a franchise that people want to be part of, and it creates important intangibles that are difficult to place a value on."
Greg McMenaman is Jersey Mike's area director for Southeast Florida. He teamed up with Quantum House, a hospital hospitality house that helps lessen the burdens of families whose children are receiving treatment for serious medical conditions in Palm Beach County.
"I got involved with them because my wife had volunteered a few times and took me there to see for myself what they did," says McMenaman. "Since they are located on the campus of St. Mary's Medical Center in West Palm Beach, it was an easy trip to make. When I walked through the door that day and met the families, staff, and volunteers, one thought came through my mind in an instant: How can I make a difference?"
McMenaman set out to use his Jersey Mike's stores to help spread the word about Quantum House, and over the past two years those stores raised nearly $120,000 for the organization. "There is a customer-driven donation number that we collect in-store at the register. We've use bounce-back coupons with various incentives to get customers to donate. For example, if a customer donated $1 they would receive a $1-off coupon for their next visit. On our annual Day of Giving, customers are amazed that we donate 100 percent of our sales that day to Quantum House, and they want to be part of the process."
Keeping the cause simple and focused helps both employees and customers understand what he's doing and why the cause is important. As an area director, he got his franchisees on board by having them visit Quantum House and witness firsthand the families, the purpose of the organization, and the difference it is making.
It also helped that Quantum House promoted the effort, provided in-store volunteers, and made sure the Jersey Mike's brand and efforts were broadcast through their own social media and communications and available to all of their supporters. "This relationship is truly a partnership, and Jersey Mike's is a part of the Quantum House family," says McMenaman.
"Yes, doing good is also good for business," he says, "and that means we can raise even more money for our cause."
Hungry Howie's: Love, Hope & Pizza
Hungry Howie's Pizza, which took up the cause of defeating breast cancer some years ago, encourages and supports franchisees who help raise money to combat the disease. Beginning in 2009, the brand turns its pizza boxes pink every October during Breast Cancer Awareness Month in its "Love, Hope & Pizza" campaign. To date, the brand and its franchisees have raised more than $1 million for the National Breast Cancer Foundation.
"For every pizza sold, every story shared, and every new Facebook fan added during the month of October, we make a donation to the National Breast Cancer Foundation," said Jeff Rinke, Hungry Howie's vice president of marketing, during a panel discussion of cause marketing at the 2014 Franchise Consumer Marketing Conference. The brand also is involved in supporting the Leukemia & Lymphoma Society (blood cancer) and Common Ground (affordable housing and homelessness).
Kevin Dittrich, a Hungry Howie's franchisee in mid-Michigan, operates nine stores surrounding the Capitol area in Lansing. He's been involved in the brand's Love, Hope & Pizza campaigns, but has an additional story to tell. His most recent cause marketing effort was to benefit a local family facing an all-too-familiar foe.
Tom Sims, head of maintenance for the school district in Perry, Mich., had been diagnosed with an aggressive form of brain cancer. "We had a three-day event at our Perry store to benefit the Sims family," says Dittrich. "We gave 50 percent of the proceeds from all of our sales for those three days and raised over $8,000."
Dittrich says Sims had mounting bills from two different hospitals and was facing lengthy and costly radiation and chemotherapy treatment. "We thought it was the least we could do for such a well-known and well-liked local figure and friend," he says.
He says it's important to identify a valid cause that will pull in community support. From there, it's necessary to line up proper staffing during the fundraiser and engage the community, and family members when applicable. "You need to look at the food needed to order, staffing the store, advertising in local papers, and yard signs. If we help out a family and go through the work, we want to be able to give back a sizable amount," he says. "We want to be known as a local restaurant that not only makes money, but that also supports local causes within the community where we do business."
If you are going to get involved in cause marketing, he says, "You need to have a genuine spirit of helping. It can't be used as a gimmick, the public is way too smart for that. Associate yourself only with causes near and dear to your heart that you really want to help. Talk to your employees and make sure you get their buy-in. This will go a long way toward being successful."
Massage Envy: Brand alignment
Massage Envy Spa is another brand that takes charitable causes seriously. Through its national partnership with the Arthritis Foundation, the brand has raised more than $2 million in support of the foundation's Walk to Cure Arthritis events across the country. It also hosts Healing Hands for Arthritis, a one-day nationwide in-clinic event.
Eugenia Tzoannopoulos is Massage Envy's regional developer for the Connecticut region, which includes Connecticut, Rhode Island, Westchester County in New York, and Bristol County in Massachusetts. She has been involved in cause marketing because, she says, "It has always been in our DNA as individuals, but it's even more important when you are a local business that is taking the time to support the community, charities, and at times, tragedy."
She has been a part of many local causes and has assisted in various ways, sponsoring many local walks and runs, and has been actively involved in the brand's partnership with the Arthritis Foundation.
"On our annual one-day Healing Hands for Arthritis event, $10 from every massage or facial is donated to the Massage Envy Spa," she says. "Additionally, we raise monies through various initiatives in each clinic, such as raffles, spin the wheel, bake sales, and free chair massages." The organization has raised more than $1 million from its single-day events.
Tzoannopoulos says she has a wonderful relationship with the local Arthritis Foundation chapter in Connecticut. "This past September, we had an employee outing for all of our team members. We raised money by securing support from businesses and sponsors we work with."
She says goals are set from a national level, then passed down to each of the regions and local levels. "As regional developers, we then work with the clinics in our region to set goals and discuss best ideas on how to be successful for each of the planned events. Every year we aim to go a bit higher than the last. Over the last few years, we have raised several million dollars for the Arthritis Foundation."
Tzoannopoulos says it's easy to get her employees involved. "Massage therapists are naturally healers and love to be a part of cause marketing like Healing Hands for Arthritis," she says. Their customers--and even other local businesses--have also been eager participants.
She says her business benefits from the marketing value. but more important, so does the cause. "This is a win-win, but ultimately we like to do it because it really does feel good."
And you?
These are just a few examples of how franchise brands are supporting great causes. So many others, too numerous to mention here, are doing it today and have been for years. But a great cause marketing effort is nothing without dedicated franchisees carrying out the mission in their local communities. When franchisees, in concert with their franchisors, dedicate themselves and their resources to a cause, embrace assistance and guidance from their brand, and work closely with local organizations, good things happen--for everyone. Along with proper planning, organized implementation, and local action, sincere motives and passionate hearts are the perfect combination to make a difference in the world.
Cause Marketing Stats
• Cause sponsorship is predicted to reach $1.84 billion in 2014, a projected increase of 3.4% over 2013. (IEG Sponsorship Report) • Nearly all U.S. consumers (93%) say that when a company supports a cause, they have a more positive image of that company, up from 85% in 2010 and 84% in 1993. • Americans say they are more likely to trust (90%) and would be more loyal (90%) to companies that back causes. • Whether, and to what extent, a company supports an issue influences a variety of personal decisions as well, including where to shop or what to buy (82%) and which products and services to recommend to others (82%). (2013 Cone Communications Social Impact Study)

Published: May 29th, 2015
Share this Feature
Recommended Reading:
Comments:
comments powered by

Disqus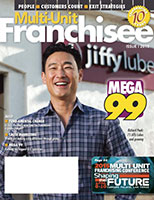 Multi-Unit Franchisee Magazine: Issue 1, 2015
At Celebree School, our child care franchise delivers a safe, nurturing, friendly, state-of-the-art learning environment that fosters a solid...
Cash Required:
$250,000
Demand for The Bar Method continues to grow as more people discover the benefits of a barre-based workout and feel the empowerment after each...
Cash Required:
$150,000