Leadership: You Can Do It, Too
Five precepts for franchise executives
By its very definition, the word "leader" evokes the concept of change. Leaders take us toward or away from something, into a new reality. But change is almost always frightening, and leaders have to persuade their teams that the risks are worth taking, that the work is worth doing, and that the payoff will improve their lives. I've been through that process many times, and I'm here to tell you that it can be done--and that you can do it, too.
At three of the companies I have led--CA One Services, Popeyes, and Dunkin' Brands--I began by looking for the epicenter of the brand, the hidden or ignored "strategic heartbeat" that could be leveraged into a new or more powerful product or service. It's one thing to identify your company's strategic heartbeat, reset strategies, and transform your organization, but it requires the discipline of leadership. I have no monopoly on wisdom, but I have made enough mistakes to have learned a thing or two. Here are a few precepts I've drawn from my experience that may help you in your own role as a leader.
1. Leaders are optimists. Businesses never seem to run out of Doubting Thomases who will find reasons to throw cold water on any new idea. True, critics fulfill an important function, providing a skeptical point of view that any massive undertaking needs and deserves. But leaders have to be upbeat. If the leader isn't optimistic, who will be? How can you fire up others if you don't show some fire of your own? If I hadn't been upbeat about identifying the new strategic heartbeat of the Dunkin' brand as coffee-based, the idea would have stalled. Besides, being an optimist is more fun.
2. Leaders know when to stop. When you're in the midst of a turnaround, it's tempting to change everything. My advice: Avoid change for the sake of change. When I called for Dunkin's switch in emphasis to coffee, some colleagues urged me to "get Donuts out of our name." My answer was always the same: "Not on my watch." Dunkin' Donuts is not a product, it's a brand, and I wanted to protect the brand heritage. That's the name people associate with the good things they've experienced at our stores for 60 years. By the same token, although we have updated the look of the places, we've made sure to retain some of the traditional elements, including the DD on the door, an orange chair, and the framed photo of our original store. Those features are part of what keeps our loyal, long-term customers coming back.
3. Leaders sweat the details. A good idea is never enough; it takes meticulous planning and execution to put the concept into practice. If we hadn't insisted on getting the right coffee blends, the right espresso machines, and a speedy process for getting the coffee to the customer, the espresso initiative would have been a costly disaster. Never take execution for granted.
4. Leaders use their intuition. Scientists have spent centuries trying to describe and explain the workings of human intuition. It's not something most business people pay much attention to--it's too intangible. Not for me. At CA One, Popeyes, and Dunkin', I found intuition to be every bit as important as meticulous research in identifying the strategic heart of a brand, which is the first step on the road to corporate rejuvenation. Of course, you first need to steep yourself in the history and operations of your company and its industry. In other words, leaders need "informed intuition."
5. Leaders lead. As you go through your career, moving toward more responsible jobs, you're always advised to listen to what your seasoned leaders tell you so you can learn from their broader and deeper wisdom and experience. That's all well and good, up to a point. At some juncture your focus has to shift away from listening and learning--and you have to start leading. That happened to me at CA One, when I decided to execute my gateway plan, and at Popeyes when I moved us to "Cajun--Our Way," and at Dunkin' when we realized we were no longer just the little neighborhood donut store but, in fact, the chain that keeps America running.
Throughout all these transformations, I never stopped listening to and learning from other people--that's a process that should last all through your life--but when I had found what I believed were the right plans at the right times for these brands, then I was ready to lead, to stake my job and my career on that. Leaders have to do that.
Jon L. Luther is Chairman of the Board of Dunkin' Brands. He became CEO in 2003, CEO and Chairman in 2006, and assumed the Chairman role in 2009. Before that he was president of Popeyes Chicken & Biscuits, and president of CA One Services. Contact him at jon.luther@dunkinbrands.com.
Published: August 1st, 2011
Share this Feature
Recommended Reading:
Comments:
comments powered by

Disqus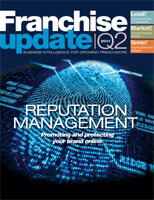 Franchise Update Magazine: Issue 2, 2011
MSA provides domestic and international franchise advisory services to franchisors and companies seeking to establish franchise and licensing systems.
Leasecake is location management made easy – from lease contracts and licensing agreements to ASC 842 compliance. Never miss a deadline, stay ahead...