Leaping Ahead: Urban Air Adventure Parks is Riding High
Michael Browning, a software developer and entrepreneur, was on a break from a trade conference and happened upon a trampoline park. It lit a spark in him that's still burning brightly today. Nine years later, Browning is one of the founders and the CEO of Urban Air Adventure Parks, a Dallas-based franchise that bills itself as the world's largest adventure park operator.
What began as a simple trampoline park that Browning opened in 2011 has evolved beyond trampolines to include indoor skydiving wind tunnels, high-performance go-karts, bumper cars, and full-service cafes and Wi-Fi lounges.
Browning researched, built, and continually refined his concept to create a perfect place for family fun, parties, and more. Word quickly got around and customers began asking how they could open their own park. "It made us think maybe there was something here," he says. "We started franchising and haven't looked back."
Today, the company has 267 locations open and under construction. He calls his business model recession-resistant and says it offers price points accessible to a broad customer base. Monthly memberships and one-day passes are available.
"We sell events like birthday parties that are highly valued in our customers' hearts and minds," he says. "More and more guests are wanting to spend their money on experiences instead of things, and gravitate to experiences they feel are active and add value to their everyday lives."
That seems to be true for franchisees as well: Browning says more than 75 percent of new unit openings are by franchisees opening another park. "The great thing about our business is that we have a very low cost of goods associated with serving a guest," he says.
Next year will be a big one for Urban Air, with new locations set to open in Pennsylvania, Arizona, Tennessee, New York, and Wisconsin. Browning says he's marching toward a goal to build the largest location-based entertainment company in the world and serve more than 100 million guests each year. "The ultimate goal is to grow, innovate, and bring new attractions to market."
Name: Michael Browning
Title: CEO
Company: Urban Air Adventure Park
Units: 267 open and under construction
Years in franchising: 9
Years in current position: 9
Leadership
What is your role as CEO?
I cast the vision and empower a strong senior leadership team to achieve the highest level of success.
Describe your leadership style.
To build a culture of people empowered with the tools and resources to achieve the highest goals possible. I operate by setting measurable objectives and key performance indicators to measure success. Urban Air believes that speed and innovation win. To have success with this style, we bring a minimum viable product to market and continually improve it using a continuous feedback loop.
What has inspired your leadership style?
My leadership style is inspired by the top professional sports coaches and how they brought their teams together and achieved success. (I played hockey!)
What is your biggest leadership challenge?
Building a team and infrastructure to handle the demand for our product. We manage a global supply chain and deliver a product that serves over 20 million guests on an annual basis so there are a lot of moving parts, touchpoints, and personalities to manage.
How do you transmit your culture from your office to front-line employees?
We hire based on our core values, and it starts with the top. Our core values are posted across the office and employees are required to go through a thorough onboarding process where we cast the vision and expectations of those core values. We are also firm believers that our employees and guests need to understand the why behind our business, which is to create lasting memories for families. Our goals are to keep guests safe, happy, and generate a profit for our shareholders.
Where is the best place to prepare for leadership: an MBA school or OTJ?
I do not have an MBA. I began working full-time in college where I learned a tremendous amount about business, people, and leadership. I also believe that you never finish learning. I get up every day and try to improve myself. I read numerous books and connect with my mentors on a regular basis.
Are tough decisions best taken by one person? How do you make tough decisions?
I believe in surrounding myself with diverse perspectives, backgrounds, and experience sets. By doing this, I am able to properly evaluate the cause and effect of a particular decision from varying perspectives. I am a firm believer that my staff feel empowered and comfortable challenging and asking questions, but once a decision is made they are to commit to the decision. We will not always agree, but we will always commit. My staff is comfortable committing because they know we will evaluate the decision quickly using data--and pivot if needed.
Do you want to be liked or respected?
I realize that at my level of leadership and scale of business not everyone will like me. However, I would like to be respected and considered a leader who is authentic, courageous, innovative, and gritty.
Management
What does your management team look like?
Diverse. We all come from different backgrounds and experiences in the culture, leisure, and entertainment fields. I hire people I respect with proven success, professionals who are willing to take a calculated risk.
How does your management team help you lead?
I surround myself with people who are smarter than I am in their respective areas. I trust them to do their jobs and make the right decisions so I can focus on the long-term vision and success of our company.
Favorite management gurus: Do you read management books?
Learning to Lead by Ron Williams, and Blitzscaling by Reid Hoffman and Chris Yeh. Chris Tanco, executive vice president and chief operating officer for 7Eleven, is my mentor and management guru.
What makes you say, "Yes, now that's why I do what I do!"?
The smile and joy I see on the guests' faces when they are experiencing our parks, especially the young ones who come to Urban Air for an escape. Also the thrill of achievement and sense of pride our franchisees have in owning an Urban Air location. I try to go to as many grand openings as possible.
Personal
What time do you like to be at your desk?
I like to spend a few hours a week at my desk thinking about the business and planning for the future.
Exercise in the morning? Wine with lunch?
I try to exercise 3 to 4 times a week. I do not drink wine at lunch but do enjoy a nice glass in the evening.
Do you socialize with your team after work/outside the office?
I enjoy socializing with my executive team. I feel it is a big part of building trust, which builds toward success. We actually have a Ping-Pong table and other fun activities in the middle of our corporate offices. It's good to spitball ideas while engaging in activity.
Last two books read:
Learning To Lead by Ron Williams and Measure What Matters by John Doerr.
What technology do you take on the road?
iPhone, laptop, reMarkable Tablet.
How do you relax/balance life and work? I
do not believe in work/life balance. I believe they work synergistically together but do not always balance.
Favorite vacation destination:
Destin, Florida. Disney World with my kiddos.
Favorite occasions to send employees notes:
Birthdays, big wins, work anniversaries.
Bottom Line
What are your long-term goals for the company?
To build the largest location-based entertainment company in the world and have an impact on over 100 million lives on an annual basis.
How has the economy changed your goals for your company?
The economy and access to capital has only increased the pace at which we grow.
Where can capital be found these days?
Banks are lending freely and, in my opinion, private equity has more opportunity than ever.
How do you measure success?
I consider money just the scoreboard. My success is really derived by lives positively affected.
What has been your greatest success?
Outside of my two beautiful children and amazing family, I would say my greatest achievement so far is changing the direction and offering of the company from a trampoline park to a full-fledged indoor family theme park.
Any regrets?
Mistakes build character. I have made a ton (ha-ha!). I would say my biggest mistake over the years has been that I can be too trusting and have had vendor partners create huge problems because they were not tied to a contract. My dad always taught me that my word is my bond and that people should be able to trust with a handshake. Not everyone operates this way. Maybe it's my Texas roots.
What can we expect from your company in the next 12 to 18 months?
We will continue to grow our park footprint, innovate and bring new attractions to market, and have an impact on the lives of tens of millions of guests through amazing experiences. I love what I do, and when guests light up, I love it even more. In the market, we expect more consolidation with single-unit operators shutting down or selling to larger operators because of pressure from companies that have the economies of scale and brand awareness.
Published: November 16th, 2019
Share this Feature
Recommended Reading:
Comments:
comments powered by

Disqus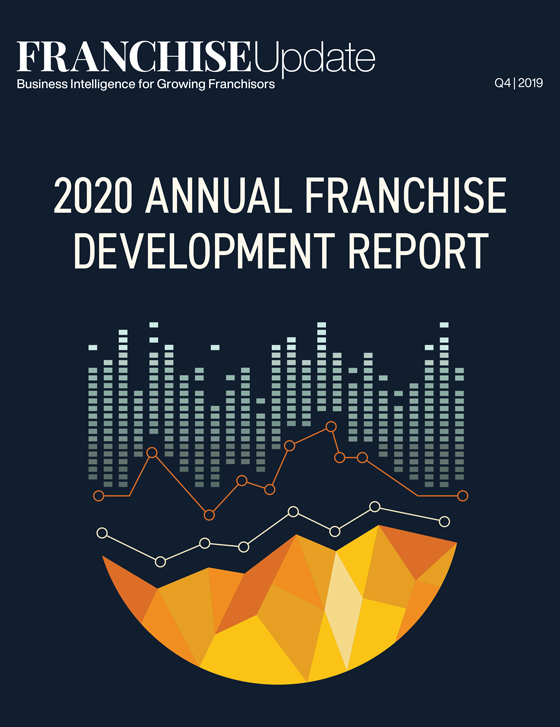 Franchise Update Magazine: Issue 4, 2019
Conferences
InterContinental, Atlanta
OCT 18-20TH, 2023
From lead generation to increasing sales, Hot Dish Advertising is the pro at getting your message in front of those who matter most--consumers...
ApplePie Capital provides a fresh new approach to franchise financing that is focused on your growth and success.