Learning To Lead: Transitioning from Manager to Leader
After Kimberly and Angelo Crowell opened their third Jersey Mike's Subs, it didn't take long for the couple to see they needed to lead more and manage less. It wasn't easy, and still isn't.
"When you build a company from scratch, it feels like your baby. You nurture it constantly and feel very protective of it," says Kimberly Crowell, president of Kalo Restaurant Group, which operates 29 Jersey Mike's, with five stores in development in Florida, Georgia, and Alabama.
The need to grow from hands-on management to influential leadership is a challenge every franchisee in growth mode must overcome on the path to becoming a successful multi-unit franchisee. Every journey is different with no one-size-fits-all approach. However, there are well-trodden paths to making the transition from day-to-day management to strategic leadership. While multi-unit leaders who do it best understand that the path to great leadership never ends, it has to begin somewhere.
The Crowells had no experience in restaurant operations when they opened their first Jersey Mike's in Tallahassee, after Angelo, a former NFL linebacker, left the sport in 2010. Earning Jersey Mike's Rookie of the Year honors the following year provided the budding entrepreneurs with the confidence they needed to expand. In their maiden business voyage as a husband-and-wife team, they opened five restaurants in their first three years. And in the past year alone, they've doubled in size.
Their ability to take a proven model and run with it continues to pay off for the couple. In 2018, Jersey Mike's recognized the couple with its Regional Operational Excellence award at the brand's national franchise conference. "Earning that award has validated that we are on the right track," says Angela Crowell. "If we didn't have solid operations, we would not be able to grow in the way that we have."
Keep your head up
Navigating through the transition to leadership is both a personal and an organizational process. Along the way, the Crowells had to learn to let go, set expectations, find the right people, and provide them with the tools they needed--and then trust them to do their jobs effectively. And like all good leaders, they're always learning.
"I have to ask myself, what is the best and most effective use of my time?" says Crowell, a lawyer who specializes in corporate transactions. "Angelo is constantly reminding me not to get caught up in the weeds. If that happens, then I need to determine what systems we need to implement. It is important always to remember that people manage the systems, and the systems manage the process."
On the path to growth, there is no need to dwell on mistakes, she says, just to learn from them. "There is always something you can do better and figure out to streamline the process so that it doesn't happen again."
If you allow the daily fires to consume your day or week you've already lost, agrees Don Robinson, managing owner of 20 Penn Station East Coast Subs in the Louisville area. Robinson learned the hard way--around store number 10, he says--that he no longer could "outwork" the problems or daily issues that inevitably arise.
"Looking back, I realized I wasn't very efficient in my approach," he says. "For us to grow, I had to refocus my leadership style to work through people and empower our general managers to take the reins at the store level; to develop solid leaders and allow them to make decisions and learn from their mistakes. It took me a while to understand this is the best approach, and we are a better company today for it." These days, the veteran franchisee considers it his job to develop and prepare his GMs and operations directors to anticipate potential fires and head them off before they happen.
Changing your mindset
To shape events--rather than be shaped by them--requires a shift in mindset. Start with the end in mind, says Mike Lokhandwala, who heads Impact Hospitality Group's operations. The Norcross, Georgia-based company has more than 35 Huddle House, Fazoli's, and Wingstop restaurants. "Focus on the input and not the outcome," he advises. "Outcome is only a by-product of what you put in."
Experience is also a great teacher. Lokhandwala, who began his restaurant career as a cook at Popeyes, credits the early insights he gained while moving up the management ladder for influencing how he leads his multi-brand company today. As he ascended to team member, shift leader, and management, he noticed a disconnect when it came to managing the expectations of all the stakeholders: guests, crew, franchisor, and franchisee.
"Over time, I began to realize that to operate a successful business, having an objective approach, not a subjective one, was the key to driving results, which eventually balanced all stakeholders' expectations," he says. "It was a journey to handle this change, and it still is. It began by challenging the status quo, which in general is a risky approach, as it is contrary to what is generally accepted or expected. But the 'aha' moment struck when this approach demanded change that led to delivering desired results."
Emphasizing outcome over production can also help convey a higher purpose that people can see daily, weekly, and monthly to create a balanced corporate vision of all stakeholders. Most businesses generally overlook this approach, says Lokhandwala.
"It is crucial to be able to forecast what the finish line looks like, and from it, create a vision that can be translated to your teams, which motivates them to contribute toward the organization's goals at large," he says. This approach is harder with multiple brands, particularly today with the proliferation of data, which can be all-consuming. To overcome this potential analysis paralysis, Lokhandwala views each brand and location as an individual company.
The transition from the daily grind to strategic leader often requires the discipline of patience--a trait that has served longtime franchisee Allen Peake well. Over the years, Peake has seen what works and what doesn't. He's been a multi-unit, multi-brand owner and was CEO of RMS Family Restaurants, where he operated 135 restaurants under five brand names before selling in 2000.
During a transition of growth and leadership it's sometimes good to step back and pause for perspective, says Peake. "It is absolutely critical that you not grow too fast and make sure you are well-positioned from a people standpoint before you really get going," he says. "That is where people fail: they grow too fast without the people infrastructure in place."
Transitioning to a leadership mindset can be easier when leaders cultivate complementary skill sets, which is the case with Tim Stokes and Chris Benner of Trident Holdings, a private equity group with 33 Captain D's in seven Southeastern states. The 2015 launch of Trident merged Stokes' banking and investment management expertise with Benner's substantial foodservice experience. Tight, "buttoned-up" operations allowed for rapid growth to quickly follow. These days, Trident is Captain D's largest franchisee. (For more, see Chris Benner's profile on page 12.)
"We have a great team. We decided early on that each one of us would focus on our respective areas of strength," says Stokes, Trident's chief financial officer. "This allowed Chris and me to learn a great deal from each other. I think it's made us both so much better."
People power
One thing about franchising that will never change is the need to surrounded yourself with great people, says Robinson. As his company grew, he realized the importance of having great people at different levels and identifying leaders early. "One thing I changed in my approach was to start looking deeper down the line for future leaders," he says. "I spend more time and effort today on the development of entry-level managers than ever before."
An early focus on people takes commitment from every team member--and it starts at the top, he says. That's one big reason he and his operations director meet every Penn Station new hire, and all attend an orientation at the regional office. The expectations of company culture are laid out from day one, he says. Later, hourly employees ready to move up to team leader meet with Robinson for a final interview before they can work a shift.
"This interview lasts only about 15 minutes, and I come to their work location," he says. "We talk about anything they want to discuss--dogs, family, school, or career options within our brand. This brief meeting allows me to, once again, identify future general managers in the very early stages of their career. It also allows me to follow the 'be present' model of management we stress in our company."
Moving from the operational trees to the strategic forest with a robust support system is critical to making the transition to multi-unit leader. "We probably invested a bit early in upper management by hiring a director of operations by our fifth store," says Crowell, "but we felt it was essential that we had leadership in place to provide support and oversight for our continued growth." She also recently hired an employee relations director to bolster management support at the store level. "We preach to our team all the time: 'Stay ready, so you don't have to get ready.'"
Listen, learn, and lead
Effective managers push to motivate their people to get results; great leaders inspire. The ability to inspire requires learning how to pull people toward a shared, clearly outlined and articulated vision.
"I think it really boils down to inspiring people and instilling a culture where every team member feels appreciated and has the opportunity to prosper personally as the company prospers," says Stokes, who frequently speaks with other large operators to pick their brains and exchange ideas.
Great leaders also lead by example. Lokhandwala says he prefers to lead by influence and inspiration, rather than by imposing power and control. To better understand, evaluate, and share any struggles his team may face in executing efficiently, he practices what he preaches by taking his brands' training programs himself.
"The concept of inclusion has proven to be very powerful," he says. "It is important for people to be able to see how their input contributes to the big picture. Including people in the grand scheme of things versus showing them where they belong on the organizational hierarchy has proven to be very efficient."
Researchers who study leadership also suggest successful leaders share a key trait: the capacity of self-reflection, not just during a transition, but regularly in authentic and open-minded ways. They get honest feedback on how they are doing, ask questions, embrace change, continuously educate themselves, and fail smart.
"My advice is to not overcomplicate things," says Robinson. "This business is challenging and always unpredictable, but it is also very simple and straightforward. Be there for your people, be fair, and always be present for them."
Published: October 26th, 2019
Share this Feature
Recommended Reading:
Comments:
comments powered by

Disqus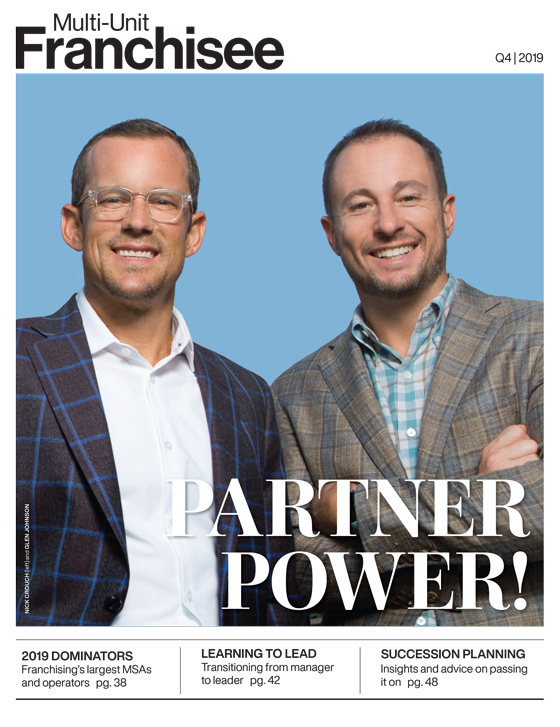 Multi-Unit Franchisee Magazine: Issue 4, 2019
$1M+ Avg. Revenue per Location. No medical experience necessary. Manage the manager franchise. Comprehensive training and support. Unique business...
Cash Required:
$75,000
Slim Chickens: Breakthrough Brand. Breathtaking Numbers.