Planning for Success-ion: Insights and Advice on Passing It On
Curt DiPasqua's connection to his family was strong enough to pull him away from a career practicing international law and into a partnership with his father, mother, and brother that became hundreds of Subway sandwich shops in 11 Central Florida counties. It was one of the largest franchisee groups in the Subway system, and for more than three decades DiPasqua was perfectly happy.
Then his children--and his brother's--entered college and started talking about joining the family business. DiPasqua could see that he needed to think about the future in a very particular way. "We had three young people wanting to work in the company and it opened our eyes," he says. The question was how. And, DiPasqua says, "It was a bumpy road right from the beginning."
Nearly a decade later, DiPasqua and his family have it all nicely figured out. But his hard-won insights and those of others familiar with the skills and steps needed for succession planning make it clear that sooner is better than later. Not only does a right-from-the-start timeline reduce friction, so does thinking about succession as a foundational element of the business.
The DiPasqua family's transition from one generation to the next took years--and, with the brilliance of hindsight, might have been much easier had the process started earlier.
Jeff Bannon is a partner with The Rawls Group, which has focused on succession planning for more than 45 years. "The best time to start succession planning for most business owners is usually years ago," he says. "There are issues to address in the development of a plan that works, and many of those issues can be avoided if there is a proactive approach. Too often we find clients are reactive to circumstances that could have been avoided with some basic planning steps, and there are pretty significant challenges for the family and/or business to overcome."
Understanding what succession planning is (and isn't) also makes a difference. "It's not an estate plan, it is a process," says Bannon. "The development of a succession plan requires some heavy lifting initially, anywhere from 12 to 20 months of work with a team of advisors. This is quite a bit more than the idea many people have of sitting down with any attorney for a few hours to document an estate plan."
The succession of a business is far more complex than what can be addressed in an estate document and the purchase of some insurance, he says. Nor is such a plan a static document to be tucked away in a drawer. "After the development of the plan, it is imperative to review it at least annually," he says. "It must be kept up to date to reflect changes in family, feelings, federal tax laws, and finances."
Building it in
A succession plan, says Ron Parikh, principal of the investment firm CMG Companies, should be part of a company from the start. "A lot of times, leaders get too involved with the daily grind and their focus shifts from people to profits," he says, "This takes away from the organic building of people who would become the future drivers of the company."
When there are profits, he says, "It's because of the people behind those profits, and there should be a plan and road map to cultivate and enhance their skills further." Even with a plan, while there will still be some bumps in road, he says, a company should not deviate from the end goal.
Rahul Marwah's family has a nearly 40-year history of building a successful multi-generational business, the Denco Family. His parents, Rai and Rajni Marwah, opened their first franchised restaurant (Pioneer Chicken) in 1981 in Whittier, California. By 2002, when Marwah and his sister, Ritu Marwah Portugal, joined the business in full-time leadership roles, the family business included 1,200 employees at 45 locations. Today it has expanded into hotels (Hiltons, Hampton Inns, and Comfort Suites).
"Succession planning should be thought about at all levels of an organization, not just at the helm," says Marwah. "I've tried to build a culture in my organization where every leader is thinking about who will be the next in command to take over their position so they can move on to the next opportunity. I believe the gauge of good leadership is how well an organization, or department or unit, runs in the absence of its leadership."
With a company whose growth has been so steady for so long, succession planning has been essential, he says. "Succession planning, or lack of it, can be one of the biggest hurdles to growth as an organization. If I haven't trained anyone to take on my day-to-day responsibilities, then I can't step away to focus time and energy on strategic initiatives, whether growth-oriented or just initiatives that improve my business or efficiencies."
Beyond the presence or influence of its founders or key figures, a succession plan must be ingrained into how the business operates. Having a plan worked out as early as possible "will give you the lead time required to shape and evolve the business to succeed without the main operator's day-to-day influence," says Damon Dunn, a Dunkin' franchisee group leader since 2016. "A succession plan is not simply the onboarding of a new main operator after the primary operator retires. You need to build processes and systems around the core parts of the business that allow those separate parts to operate without any one person's involvement."
To support smooth transitions, Dunn suggests that before taking on the main operator role, new proposed leaders be trained in every core part of the business, with a timeline customized to the needs of the business.
As the DiPasquas took their first steps toward a transition, "Our first idea was to treat everybody equally right off the bat," says DiPasqua. "Our assumption was that everybody was the same and would take the same path. They quickly learned that approach would not work. In part, there were generational differences, but there were also differences in natural talents and interests.
After another family member offered to help, DiPasqua decided a third party might offer a more objective point of view. In addition, there were legal questions about inheritance of shares that required a high level of expertise. Even with that level of professional knowledge, the process was sometimes painful. He and his brother both had to adjust, DiPasqua says. "It took a long time and a lot of patience. We couldn't rush." It also required the addition of guidelines for interactions between the family members to ease communicating and resolving any issues.
Seek professional help
"You will always need outside help and an advisory team to put together a worthwhile plan," says Bannon. "The planning has to start, however, with conversations regarding motivations and perspectives with someone who has been where you want to go. The quarterback-like person needs to be able to navigate the interdependency of legal, tax, business management, and family considerations so you avoid a disjointed plan that leaves a mess for the family."
Navigating family relationships is one of the trickiest bits of succession planning. "In the business context, we consider family to be anyone you have chosen to be in business with for reasons more than money," says Bannon. "That being said, family business is inherently an oxymoron. Families are based on unconditional love and acceptance, while businesses are based on conditional performance." These are competing priorities that often come to a head in either the boardroom or at the dinner table. Maintaining a healthy balance between family and business is an ongoing challenge for every business leader. Open communication on difficult issues is the best way to alleviate the stress this dynamic creates.
"Getting external advice is a necessity because those folks can definitely peek under the hood and provide a second opinion or an alternative solution," says Parikh. "But it's best to make the decision that will align with the success of your company and the people behind its success."
Marwah says he find valuable advice in the experience of his colleagues. "I think it's always helpful to talk to peers in your industry to gain insight into best practices and where others might have failed or succeeded," he says.
"As to seeking professional counsel, I think succession planning that involves particularly complicated circumstances warrants the assistance of professional counsel--if multiple generations in a family business are involved, for example, or if there is a complex partnership structure that warrants having an objective party weigh in on how a succession plan might be implemented. Anytime you need to be able to provide assurance that there is not a conflict of interest involved, that's probably a good time to consider utilization of professional services to assist with the succession plan."
Getting it right
Once a plan is in place, implementing it must be done carefully, with certain aspects requiring greater attention. "Accounting, bookkeeping, strategic planning, and fiscal discipline are the most problematic components to a succession plan," says Dunn. "Training the new proposed main operator, instilling the values of fiscal discipline, and developing a detailed plan each year of what the company is planning to achieve can help reduce those challenges. I would also consider outsourcing the bookkeeping and accounting. This will give you an arm's-length relationship with the new operator and the books. I've found that outsourcing these components can allow a retired operator to stay engaged and keep a close eye on the financial management of the company. Ultimately, once the new operator is trained appropriately, you can bring those services back in-house."
Marwah likes to keep a close eye on how performance lives up to expectations. "For me, one of the most problematic issues with succession planning is that you can't tell how someone will truly perform until they're thrown into the position," he says. "I think it's most important to establish trust and a mutual understanding of the expectations from all parties involved. Another issue can be the fallout from the candidates not ultimately selected for the succession. I've often had to deal with fallout from these types of transitions."
Parikh's advice, for all the complexity he knows succession planning entails, also includes a core dictate. "It sounds like a cliche," he says, "but open lines of communication and setting clear goals and understanding of those goals are the key. Most people don't mind being led as long as they can connect and understand what they're working toward. There's not one particular issue that is difficult, but how to handle those situations is the key." While timely and simple communication is the key to tackling issues that might create problems, he says, it's also important to provide a solution and a path forward.
DiPasqua is still the company CEO, and the next generation is doing well, he says. His son is now executive vice president, "and he's really taking on a lot of responsibility and excelling. I'm now realizing he works harder and faster than I do. We just came back from a national convention and I watched the next generation function. I realized how ingrained they now are in the national franchise system. They've all been asked to participate in seminars and take leadership roles."
Four years ago, when DiPasqua's doctors told him his heart needed attention, he says that intimation of mortality pushed him to faster action on a succession plan. "I sat in my hospital room and thought about all the work we had done to create the business and I realized I hadn't done anything to train anyone to run the business. The kids would have been rudderless."
Today, at 63, with a succession plan he thought would be his ticket to retirement, DiPasqua still working four days a week. "My wife is somewhat bewildered, but when you do something for almost 40 years, it's hard to stop," he says. However, he now knows that he can step back and retire any time, secure in the knowledge that "the kids" will carry on the family business for the next generation.
Published: November 22nd, 2019
Share this Feature
Recommended Reading:
Comments:
comments powered by

Disqus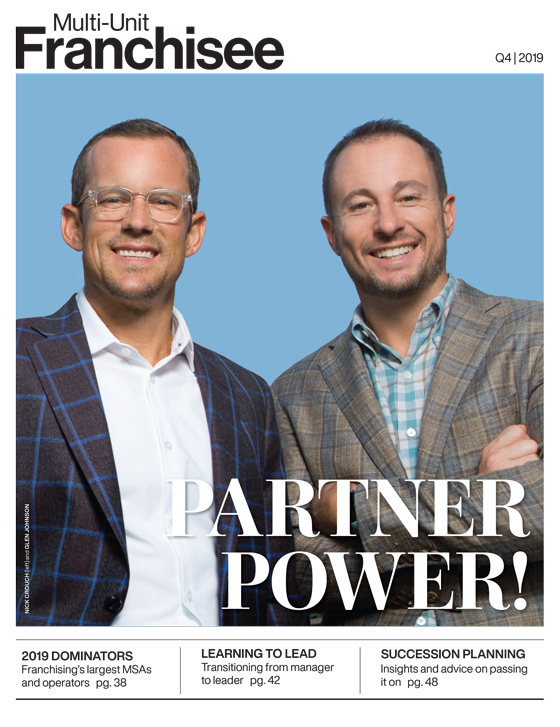 Multi-Unit Franchisee Magazine: Issue 4, 2019
With over 2,000 locations globally, Midas is the auto repair and service shop people know and trust. Multi-unit ownership with Midas is a terrific...
Pizza Factory houses hardworking owners, family-friendly dining and high-quality products. Restaurant design options include a Pizza Factory Express...
Cash Required:
$90,000