Leaving The Corporate Vida: After 20 Years-- Right Time, Right Place, Right Haircut
"One day I had 1,000 people, the next day I had a hair salon with 5 stylists," says Richard Bielecki, Fantastic Sams regional owner for South Texas and New Mexico.

Bielecki traded a high-level job running a 1 million-sq. ft. distribution center for Wal-Mart in San Antonio for life as a franchisee. "I would have been in the Fortune 500 if I was a company," he says. But once he signed on as a franchise owner, company policy required him to leave.

Bielecki had been searching for a business of his own throughout his 20-year career at several major U.S. corporations, but had never considered Fantastic Sams, even though he'd spent 10 years in Memphis, where the brand started. "It never dawned on me until I got a haircut at one during a business trip," he says.

When Bielecki returned to San Antonio, he looked in the Yellow Pages: not a Sams to be found. "I talked to the regional owner for Texas and bought the rights to all of San Antonio. I could open all I wanted. My dream was not only to start a business, but to open a larger territory."

During his search, Bielecki looked at both non-franchised and franchised business opportunities. He chose the latter. "I really liked franchising. You don't have to reinvent the wheel, and there's a network of people you can count on," he says.

He also looked for a business that was recession-proof, and hair cutting will always be around, he says. "The Internet is not going to undo me. Even in a recession, hair still grows. It may push cuts from 3 to 4 weeks or color from 4 to 5 weeks, so we may see a small percentage decrease in this recession, but some stores don't."

Another factor: "People, that was the business I was in--a lot of people and low inventory. That fit my mold. A lot of people don't like to work with people. I do."
Bielecki opened his first salon 14 years ago in San Antonio. As he opened more, he did his homework. He spoke with Fantastic Sams franchisees and did the numbers "over and over." Then he looked for the opportunity to have a larger territory. South Texas seemed big enough.

Most of his franchisees own several units. "I wanted fewer and bigger owners, like myself," says Bielecki. "I took this approach, right or wrong, when I started the region seven, eight years ago. We look for people who are bigger players."

He sells multiples, usually three-packs, but will make exceptions and sell one salon for less populated territories. He'll also sell more: owners have come on board with 5, 6, or 7 salons; one buyer recently purchased licenses for 10, opening 4 in the past year in the McAllen area near the Mexican border.

"The money is in the multiples. I wanted fewer franchisees with more salons each," says Bielecki. "I didn't want to have 20 owners with one each. As I get old, I want fewer problems."

The brand's fixed fee system was also an attraction. "Coming on board as a franchisee, I really liked that. You knew exactly what the fee was going to be, and the more money you made, the more you kept." This policy also plays well for him as a regional owner. "Corporate's customers are the regional owners. My customers are my franchisees, and if they make more money, what are they going to do? Open more salons."

As a regional owner, "We do everything corporate would do," he says. For a percentage of the royalties, his office finds prospects, takes them through the sales process, signs them, helps them find locations, and trains them (he has two educators who train stylists and franchisees). After they open, "We're in their pocket every day, watching their numbers. Every morning, I track all 48 stores."

He has learned to delegate more than in the past. "I happen to have exceptional people that work with me, and I'm very serious when I say that. They really enjoy what they're doing and I give them the authority to stretch it, to bend it, to make it happen. My regional director is probably one of the best at what he does. My regional educator is the same, running her section of the company."

Looking back, says Bielecki, "Timing is so important. I waited 20 years. If I'd started 10 years earlier, maybe I wouldn't have the experience to be so successful. Luck is being prepared, being ready when the moment comes. When the moment came with Fantastic Sams, I was ready."

Name: Richard Bielecki
Title: Regional owner, South Texas and all of New Mexico
No. of units (by brand): Supervise 48 Fantastic Sams Hair Salons, personally own 9
PERSONAL
Age: 60
Family: wife, Sara, 2 sons, Thomas and Adam
Years in current position: 14, opened the first Fantastic Sams in San Antonio; 7 years owning South Texas region, 5 years owning New Mexico region
Years in franchising: 14

Key accomplishments: Developed the San Antonio area, opening 14 stores in 6 years. There were no Fantastic Sams there. I did it by myself, with the support of corporate, but there were no other owners around.

Biggest mistake: I didn't start sooner. I did it at 47.

Smartest mistake: I opened four locations in a year and a half. I don't recommend my franchisees to do that. I had three open in a year. I say to them, "You don't want to do it. I was lucky in making that." Nobody told me I shouldn't do it.

How do you spend a day, typically? The first part of the day I review every single number, year to date, month to date, then go through my stores' expenses, especially payroll, which is at least 50 percent of expenses. If you're not controlling your payroll you're not going to make a profit, so you have to control that. All franchisees have the same software, tied in on the regional side. Then I visit some of my own stores and stylists, then the other stores. The rest of the day is communicating.

Work week: Six days. Monday to Friday I get in around 5 a.m. and leave around 4. Saturdays it's 7 a.m. to 2 p.m. I have my own stores and can visit them on a Saturday and see all of my people. In our business, everyone works on Saturday, it's our busiest day.

Favorite activity: Visiting my grandchildren. Traveling with my wife, which started about 5 years ago and accelerates every year.

Exercise: I walk fast. People say it's equivalent to a slow jog. I enjoy walking, it relaxes me and I think of things to do, like my five-year plan--I always have one. I walk for an hour and think about those things.

What do you do for fun? Collect cars. I've owned seven Corvettes. My wife and I have six vehicles, two in Colorado. I would own seven or eight if had more garage space.

Books/magazines read/recommended: Area Developer, we wait for it. Franchise Times. Donald Trump's Think Big and Kick Ass. I was never a fan of his years ago, but I listened to TV and talk shows where he talked about business. If you want to be one of the 2 percent, be out there ready to take the punches and give it back. We see it in some of our franchisees. People don't realize it takes a lot, that it's not a 9-to-5 job.
MANAGEMENT
Management method or style: I didn't realize it at the time, but when I interviewed with Wal-Mart one of the questions they asked was: At Disney, how much time do you spend in the office? I said 30 to 35 percent, and the rest of the time out walking in the distribution center. That's what they were looking for. I don't want my franchisees in front of a computer all the time. Take care of the stylists, that's their customer. It's a people business. People can get the same haircut in five different places, but if we make them feel good--and important--they'll come back.

How close are you to operations? I'm close, but not a total hands-on guy. I could sweep the floor, do a load of towels, not much else. I want to work on the business, not in the business. I really want people who are going to make decisions. I try to set it up so they can make as many as possible, even fail, so they can learn from those decisions. Don't live there, but you need to be in and out, let people know who you are.

Greatest challenge: Trying to find people that care enough about what they do, who care enough about themselves. If we can find that, we find someone who can care about our guests. It's getting harder to find that in today's society.

How do you hire and fire? My personal staff I hire, and it's always been through networking or from within; both of my educators are from within. I hire people whose strengths are my weaknesses--I have too many weaknesses. I learned that a long time ago. I don't hire stylists any longer, my area manager does. But a day or two later I'll be in the salon to meet them. They say, "I worked for XYZ Company and never met the owner." I tell them, "You're important to me."

Find good people? We stopped advertising for stylists some years ago. We treat people with respect. I used to say, "Treat others like you want to be treated." I had it wrong. "Treat them the way they want to be treated."

Train them? We give them the respect and authority to make decisions and be their best and not to worry about making mistakes along the way--not just my staff, but the stylists.

Retain them? We reward our top stylists by taking them and any guest they want on a vacation. This is not a Fantastic Sams thing, it's ours. We took 32 on a Caribbean cruise for 7 days. We've been to Boston, Cape Cod, Nantucket, Canada, Niagara Falls, and Hawaii. You don't have to be the best person in a salon, you just have to hit your numbers. They rarely leave; they get things like this no one else will ever give them.

"Growth meter"--How do you measure your growth? A couple of ways: the number of salons open, we need to grow every year as a region; average sales compared with last year. Most important is the profitability of each of the 48 salons, not only mine. Even if sales didn't go up, we can help them cut their costs.

Annual revenue: $15 million for the regions

2009 goals: Open another 10 stores throughout our region. We've sold 30 licenses and want to open 10 a year. We could open more, but we want our owners to be as profitable as possible. It's a controlled number more than anything else; not too fast or we stumble and fall. Money is still available to a good franchisee, so that's not an issue. It's making sure we have the right location.
Published: January 19th, 2009
Share this Feature
Recommended Reading:
Comments:
comments powered by

Disqus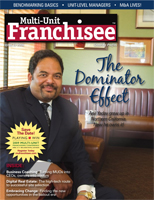 Multi-Unit Franchisee Magazine: Issue 4, 2008
With 500+ restaurants in development worldwide, Wayback Burgers is America's favorite hometown burger joint and one of the world's fastest-growing...
Cash Required:
$200,000
Starting your own Snapology education franchise is affordable, flexible, and provides a great opportunity for success. Find out more today on how you...