Listen and Learn: Two Brands, Two Roles, One Mission
Michael Barrette considers himself a dedicated practitioner of the art of listening. The Dippin' Dots and Doc Popcorn chief marketing and sales officer says he listens closely to what customers and his corporate team have to say. In fact, he boils down the essence of being an effective leader by saying, "I listen and learn from our consumers, franchisees, internal team members, and agency partners. This helps me stay on top of their wants and needs and how they may be changing over time."
Barrette's dual role--with two brands--is somewhat unusual. He is responsible for the brand's marketing efforts as well as its franchise development, but sees the two areas closely aligned and connected. "Marketing is critical to both the development side and the overall success of the brand," he says.
Barrette has been a marketer for more than three decades, working for such companies as M&M Mars, L'Oreal, and Revlon in both the U.S. and Canada. At Dippin' Dots, he led the brand to grow the number of its direct accounts by 20 percent during his first 3 years, while also doubling sales growth between 2012 and 2016.
The Montreal native, fluent in both English and French, believes the marketing landscape is changing faster than ever before. He says consumers today have access to much more information and channels to access it. Though a solid marketing strategy is important, he says there is a premium on being more nimble than ever and prepared to adjust quickly when needed. "That's why we are listening to the consumer even more now than ever."
Describe your role as chief marketing and sales officer.
Like many CMOs, my role is varied. I have the overall responsibility for marketing and franchising for Dippin' Dots and Doc Popcorn and domestic sales for the non-franchising part of our business, which includes theme parks, water parks, zoos, and professional sports stadiums--all the fun places you're accustomed to finding Dippin' Dots. Because I have three separate teams in my area, my job is to mold the entire group as a high-performing team. That means I must drive clarity of our strategic goal to advance our brand success collectively and remain zeroed in on sustaining long-term profitable growth.
What's the most challenging part of being a CMO today?
CMOs need to continuously learn and understand how their core consumer lives in the context of how they interact with media and entertainment. It's the only way brands can effectively tap into their consumers' everyday life. At Dippin' Dots for example, our core demo is 8 to 18. This age group lives on their smart devices, so we must constantly consider and adapt to the platforms and experiences they expect. CMOs need to constantly sharpen the saw and be very knowledgeable of these changes and consumer expectations. I try to do that by surrounding myself with key internal team members and agency partners who can assist with this ongoing education.
What are the 3 most important keys to being an effective CMO leader today?
1) Listen and learn from your consumers and franchisees about how their wants and needs are changing. 2) Listen and learn from your internal team and agency partner team members; keep an open mind and remain curious. 3) Be a strong cross-functional leader to have high connectivity with other stakeholders in sales, R&D, finance, operations, manufacturing, etc.--and lead your team to develop trusting relationships with these cross-functional stakeholders as well.
How do you prepare a marketing plan and execute the strategies.
1) Remind yourself of your brand goals. For Dippin' Dots and Doc Popcorn, those goals are to Own Fun and Create Smiles. 2) Work closely with R&D to initiate product launch activity that meets those goals and consumer demand. 3) Engage with key promotional partners in the space that is most relevant to your consumer. 4) Implement communication with franchisees with excellence programs. 5) Engage with consumers on the various social media platforms that make sense for your business.
How do you measure marketing results and effectiveness?
We look at KPIs in the context of offtake data from franchisees, repeat sales, traffic, and engagement on our website and social media. It's also important to understand the longer-view impact on profit margin from current marketing activities. Not all initiatives yield an immediate payoff. We ask ourselves the question: Are we playing a game of checkers or chess? Are we looking for short-term results or a long-term payoff? In our case, it is an artful blend of both.
Discuss your core consumer marketing strategies and objectives.
As a 30-year-old brand, our marketing strategies and objectives for Dippin' Dots focus on: 1) Short-term and long-term tactics to remain relevant to our consumer. Looking at where our demographic spends time in the popular culture, those tactics often include but are not limited to music and dance, movies, games, and schools; 2) Implementing promotional campaigns that will help drive traffic to franchisee locations, which creates something new for consumers to engage with. Examples of this would be the "spin the wheel" for prizes we implemented for National Ice Cream Day and also launching new flavors like Cool Mint Crunch in 2019; 3) Providing new product and flavor options including LTO programs franchisees can take advantage of for holidays and other occasions; and 4) Keep bringing new consumers into our funnel by interacting with K-12 schools. We have broadened our market share with our Smart Snack approved product range of sherbet and YoDots frozen yogurt, which a good number of school districts prefer.
How do you go about creating a "customer-centric" marketing and brand philosophy?
First, we listen to franchisees and customers. We can't sit on our laurels and assume that the next generation of potential customers will automatically gravitate to both of our brands. We continue to invest resources to make sure we remain relevant to the consumer by connecting within popular culture and some influencers on an opportune basis. Through our marketing advisory committee, made up of franchisees, marketing leadership, and key sales staff, we solicit ideas and have collaborative discussions. We evaluate different promotional concepts based on opportunities we have in our development pipeline with promotional partners. We then send quarterly marketing calendars to all franchisees in advance of each quarter.
Describe your marketing team and the role each plays.
I am blessed with a great marketing team. Dana Knudsen is the senior director of marketing responsible for both the Dippin' Dots and Doc Popcorn brands and she reports directly to me. On the Doc Popcorn side, we have a brand manager, based in Colorado, who also has a strong operational background with the brand both internationally and in the U.S. We do all our creative in house, with a group of very talented designers, photographers, videographers, and content writers. We also manage our web and online presence with key players internally along with our agency partners.
When it comes to helping the brand connect with franchise prospects, why is it so important for the marketing department to have a "personal touch"?
At the end of the day, business is moved forward by people. Our franchisees are generally small-business owners who respond well to the human touch. We bring key members of our marketing team to discovery days to connect with franchise prospects so they can see how we drive marketing efforts. Once a prospect has agreed to join Dippin' Dots and Doc Popcorn, marketing plays an important role at franchisee training, from both a brand support and local area marketing perspective. Key marketing team members also attend our annual franchisee conferences, where they have the opportunity to mingle with our franchisees and catch up with them on a human level.
How does this help your franchise sales and development effort?
Marketing is a critical element in enticing new prospects. Before investing hard-earned money in a new concept, prospects need to see that we have a sustainable model. A good amount of our focus has been on our co-brand model of Doc Popcorn and Dippin' Dots together for prospects who are interested in a physical location-centric model. We also have the diversity in our model for those who aren't interested in a physical location-centric business, with a more mobile business on the Dippin' Dots side that highlights profitable opportunities in the fair and festival space, with K-12 public schools, and with other wholesale opportunities for traditional retail channels.
What ways/tools do you rely on to do this?
We use many of the tools that are common for franchise businesses, including online videos, lead portal ads, and magazine ads. We also share franchisee testimonials and distribute news releases. But the most valuable tool is our staff at the franchising office. We guide franchisee prospects through the entire process of due diligence right up until discovery day and then, ultimately, to the date of signing and preliminary training. We also continue to provide resources and personal support, not only through the franchising office, but also through the marketing team and with field support staff.
Do today's prospects expect more from the franchise marketing department? What, and how do you provide it?
Yes, they do. We provide it with support from three levels. 1) Our marketing support includes digital solutions for reputation management and local marketing resources. One of the more pragmatic tools we offer is "My Dot Space" and "My Pop Space," white-label tools that offer customizable templates to create a plethora of POP and other marketing support materials. We have also created an opportunity for franchisees to request certain custom Dippin' Dots flavors so franchisees can meet local consumer tastes and demand. 2) Our director of field operations and franchise training provides ongoing local area marketing support for franchisees, along with support for grand openings or reopenings. 3) We have region managers in the field for both Doc Popcorn and Dippin' Dots who assist franchisees and collaborate on business building and local marketing activities.
How is today's consumer and marketing data helping you fine-tune your marketing initiatives?
We are relying on data collected by our agency partners, in particular our social media agency, digital agency, and our PR firm, in addition to our internal monitoring of all media platforms. We also conduct consumer research, done by third-party research firms. K-12 students are another resource that has proven successful when it comes to new Dippin' Dots flavor development. We listen closely to this overall feedback to make adjustments to packaging design and flavor profiles. Recently, research was helpful for us to update our Dippin' Dots character mascot, leading us to create Frozeti the Yeti, which consumers helped name.
Describe the evolving role of social media in your marketing efforts.
Social media is critical to all brands. It's about having dialogue and conversation with our consumers and developing even stronger relationships over time by listening and responding to them. We have social media calendars of activity for both Dippin' Dots and Doc Popcorn. Each social media platform plays its particular role in this dialogue. Additionally, with the aggregator tool we use that assists with reputation management, we can reach out to franchisees with positive feedback when they are receiving great ratings; alternatively, if there are any concerns we can connect immediately with franchisees and recommend quick solutions. To keep our connectivity with the consumer strong, we've employed promotional campaigns with user-generated content that have been effective. We also receive great unsolicited content and images from consumers through social media that inspire our creativity to generate other ideas for social media. We occasionally partner with influencers who are relevant to our brands, but we don't rely too heavily on this strategy.
How do you work with other internal departments, and does technology help?
I continually reinforce the strength of cross-functional diversity and collaboration. Within my groups, I have structure in place where marketing, franchising, and sales work together to share information and make decisions together. Similarly, we have structured meetings (and plenty of informal ones) to meet and sort through business challenges with our team members in finance, operations, manufacturing, and R&D. We also have structured meetings between the two brand teams of Doc Popcorn & Dippin' Dots, and between our international team and domestic team so we are sharing best practices and looking to harness synergy wherever possible. The senior director of sales for Dippin' Dots has done excellent work team-sourcing ideas for implementing technology to improve our way of doing business in the field. Some of those resources include Action Card, which has improved the franchisee site evaluation process; Expensepoint, which has simplified expense tracking and reporting; and Formstack, which has helped mitigate the daunting task of completing paperwork in the field.
How do you manage costs and budgets for the marketing department?
My group and I are very focused on maximizing value from our marketing activities as well as from investments in other areas of our business within sales and franchising. We have detailed budgets that are created annually and reviewed monthly. We work closely with our partners in the finance area of the company and entertain any course correction mid-year, if necessary. We also have a process to request additional funding between budget cycles if a meaningful opportunity presents itself. A request that was not part of an original budget is presented to senior management for approval or not.
Do you see vendors as business partners? Why/why not?
We believe in having long-term collaborative partnerships with our vendors. If they are not part of a solution for a particular business problem, then they are part of the problem, as the saying goes. We present strategic business challenges to our vendor partners in packaging, flavors, inclusions for our recipes, or to our agency partners to look for solutions to challenges that are strategic in nature.
How have marketing strategies/tools changed over the past decade? How have you adapted?
The marketing landscape is changing faster than ever before and will continue to do so. The ways in which the public consumes information is more fragmented and splintered than ever. Leading networks and search engines are companies like Facebook and YouTube, with many other choices for consumers to access information, all of which change rapidly. While marketing strategies need to be strategic in nature, there is a premium on being more nimble than ever before and prepared to adjust strategy quickly when needed. We are listening to the consumer even more than we have in the past. This has helped us not only in how Dippin' Dots and Doc Popcorn should evolve product and promotions, but also where our brands should be made available outside of traditional food service verticals. This may be more in K-12 schools, catering, convenience stores, etc. More than ever, consumers expect products and brands to be where they are, rather than going to where the product is.
How is your marketing/branding strategy developed, and how does it flow through the system?
We obtain input from our overall advisory councils for Dippin' Dots and Doc Popcorn, as well as from the marketing advising committees for both brands. Our marketing team and our franchising team work closely to fine-tune our strategies over time. We use corporate marketing investment dollars to drive longer-term strategic initiatives, and ad fund dollars to typically underwrite the cost of more near- to medium-term initiatives, working synergistically with our longer-term strategies.
What advice would you offer to aspiring CMO executives?
If you're currently a marketing professional with your sights set on the CMO chair, it's important that you invest in self-education. Hopefully, you report to a CMO who creates growth opportunities for you and other team members and provides exposure to other realms of your business. If so, take advantage of the opportunities to take the lead. Attend professional conferences, write articles, and respond to media inquiries. Learning how to handle some of those "under the microscope" tasks will prepare you for the CMO role.
Published: July 29th, 2019
Share this Feature
Recommended Reading:
Comments:
comments powered by

Disqus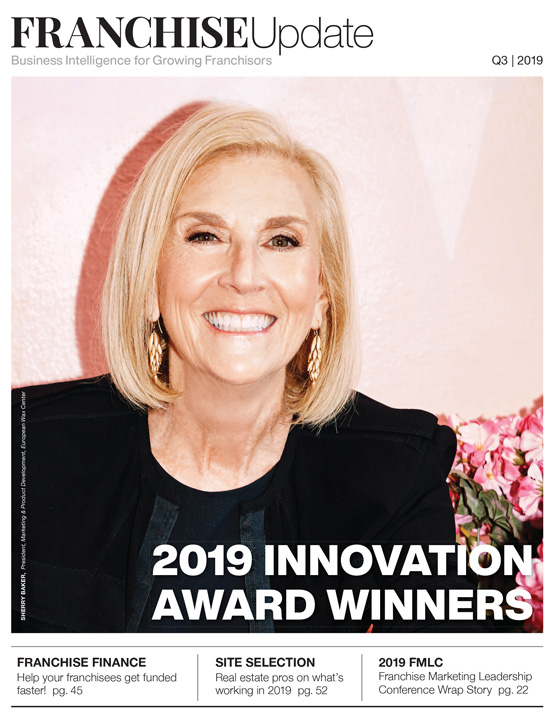 Franchise Update Magazine: Issue 3, 2019
Tiger Pistol, the world's leading collaborative advertising platform, connects the power of brands with the knowledge and credibility of their...
June 18-20, 2024 Marketing-Operations-Technology. Be a part of this ground-breaking new space for ideas, inspiration and networking for Franchise...