New Name, New Content: Franchise Marketing Conference adds 3 New Twists
"New and improved" is a well-worn marketing trope that's been used for years to create fresh buzz and boost sales. It's also how Franchise Update Media rolled out its newly reconstituted Franchise Marketing Leadership Conference (formerly the Franchise Consumer Marketing Conference) this past June in Atlanta. In this case, however, there was truth in advertising, with several innovations and additions to the agenda.
First was the debut of an all-morning CEO-CMO Summit. Nearly 60 franchise leaders gathered to learn how to better communicate and understand each other, and to help their marketing teams better align with the organization's long-term goals.
Second was the introduction of the Annual Franchise Marketing Report (AFMR). The new report includes aggregated benchmark data on marketing budgets, how and where brands are spending their advertising and marketing funds, and other valuable data aimed to help franchise marketers improve their brand's performance. Each attendee received a copy of the report.
The third new twist this year was the unveiling of the inaugural Franchise Marketing Innovation Awards. Nearly 100 entrants competed for 18 awards in four categories: Marketing & Branding, Products & Services, Operations, and Human Resources. Four finalists and one overall winner from the Marketing & Branding category were announced at the conference.
One thing that didn't change this year was the focus on topical and timely educational sessions to discuss problems and solutions for today's most pressing marketing challenges, along with numerous networking opportunities. Experienced executives from all areas of franchising participated in panel discussions and led spirited roundtables throughout the 3-day event.
The event's Platinum Sponsors this year were Silvercrest and Visualogistix.
Day 1: CMO-CEO Summit and more
The conference kicked off with a continental breakfast, followed by all-morning workshops covering two areas of critical importance to franchise marketers. The Franchise CEO-CMO Summit provided an intimate, high-level forum for marketing leaders to engage with CEOs and presidents from their own and other brands. Through presentations and roundtables, participants tackled challenges and shared best practices in culture, system sales, unit economics, and technologies. The aim was to improve understanding and alignment to achieve system-wide goals.
In the second all-morning workshop--Franchisee Engagement with Marketing Programs--marketing executives tackled the challenges of working with franchisees of all stripes to discuss topics such as program buy-in, the importance of franchisee ROI, and the necessity of building and leveraging franchisee advisory committees.
At noon, the doors of the Sponsor Solutions Hub opened for lunch--the first of three opportunities for attendees to visit with suppliers and to network with peers.
The conference's first general session and keynote speaker followed. In her welcome address, Therese Thilgen, CEO of Franchise Update Media, highlighted the significance of the conference's name change: to recognize the growing leadership role today's marketing leaders are playing across their organizations.
Thilgen turned the stage over to Craig Ceccanti, CEO of Pinot's Palette, and Wendy Odell Magus, principal of Magus Marketing & Communications and past conference chair. In an entertaining presentation highlighted by impeccable comedic timing, they emphasized the importance and relevance of the new features at this year's conference. And, on a more serious note, presented an plaque to Terri Snyder, EVP and CMO at Checkers & Rally's, recognizing her service as 2018 Conference Chair.
Keynote speaker Duncan Wardle, former vice president of innovation and creativity at the Walt Disney Company, took the stage. With his English accent, quick wit, and rapid-fire delivery, he alternated story-telling with creative audience exercises to illustrate his points about how to foster more innovative thinking, much to the delight of the attendees. Creativity at work, he said, is "the habit of continually doing new things in different ways to make a positive difference to our working lives."
He described how barriers to creativity (e.g., being "too busy" to take the time to think, much less be innovative) stymie even the best marketers and encouraged attendees to be more mindful throughout their day.
"Do you ever wonder why most of your best ideas come to you in the shower?" he asked. "Have you ever pitched a new idea to watch it diluted or killed as it moves through the process? Ever wanted to know how Walt Disney came up with the idea for a Disneyland or how Netflix completely revolutionized the movie rental industry?" Wardle used these kinds of questions and anecdotes to provoke new thinking and provide insights and guidance for how to generate ideas that can lead to great results.
And, in a not-so-veiled criticism of focus groups and their 2-way mirrors being an unnatural environment for producing true marketing insights, he challenged the roomful of marketers to spend an afternoon in the living room of their clients. One final thought from Wardle: "The opposite of bravery is not cowardice, it's conformity."
After a short break, a general session called Presidents Panel: Marketers Who Have Become Presidents and How They Got There followed. The panel consisted of Heather Neary, president of Auntie Anne's Pretzels; Susan Boresow, president of Title Boxing Club; Susan Lintonsmith, president and CEO of Elements Massage; and Paul Macaluso, president and CEO of The Krystal Company. Terri Snyder, Eacilitated. Each spoke about how their previous experience in marketing and management helped them ascend to top franchise leadership positions.
The afternoon closed with a presentation called Engaging with Today's Customer from John Carroll, Yelp's senior manager of business outreach and brand evangelist. In his always-entertaining style, Carroll began by asking 200 marketers, "Who loves Yelp?" No one raised a finger, much less a hand, which was exactly his point. However, he said, consumers do love Yelp--or at they least use it--which is why he emphasized how important it is for franchise brands to keep close tabs on online reviews. He offered attendees tips on best practices for addressing negative online comments and reviews, as well as suggestions for how to get good reviews. "A review that mentions good customer service is 15 times more likely to 5-star than 1-star," he said.
With the day's sessions wrapped, attendees made their way back to the Sponsor Solutions Hub for a cocktail reception and a second chance to check out the supplier booths and their offerings.
Day 2: AFMR & Innovation Awards
Frandata CEO Darrell Johnson began the day with his annual State of the Economy report, focused on the future of consumer marketing. He said that market share competition continues to get tougher owing to changes in consumer preferences and new concepts focusing on subsector specialization.
While the economy and consumer spending are decelerating, he said, there's no need to fear yet. "Consumer spending is slowing and debt has gone up, but year-over-year inflation has been flat and slow. The economy is still growing." And while there will be headwinds, "We're not headed into a tornado," he said His message? "Prying dollars from the consumer is getting harder."
Also, even as technology provides marketing departments with more information than ever, this also has made it challenging to define the right things to measure. For marketers, he said, data management has evolved from gathering as much consumer information as possible to refining their efforts and trying to identify the two or three things that matter most and focus their efforts and measurements on those.
The introduction of the inaugural Annual Franchise Marketing Report (AFMR) results followed. Diane Phibbs, chief content officer at Franchise Update Media, presented the data and findings, which covered marketing budgets, organization size, and where brands are spending their marketing and advertising funds.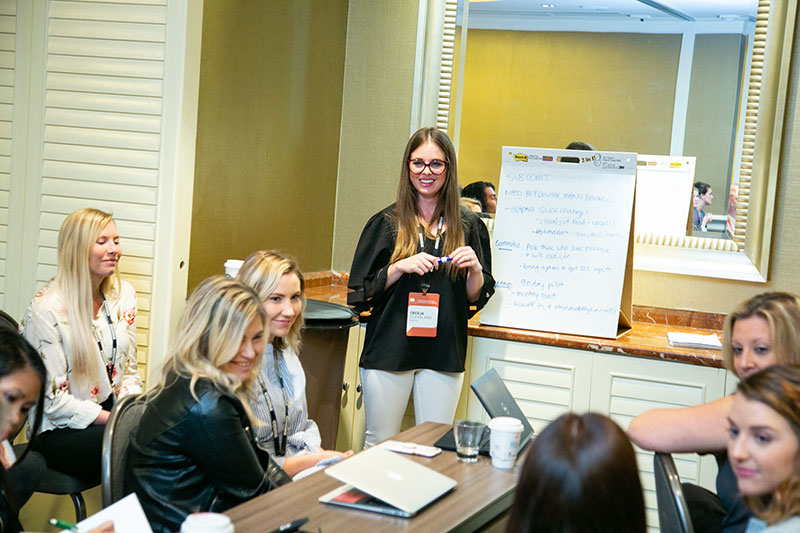 "This report is the first of its kind," she said, and that it's intended to help franchise marketers do their jobs better by providing benchmarks for comparison with other brands. One eye-opening slide showing the relationship between marketing spending and effectiveness revealed that respondents spent 10 percent of their budgets on email marketing, but rated its effectiveness at zero.
Phibbs turned the main stage over to Jayson Pearl, founder of ServiceScore and FCMC board member, who facilitated a panel presenting the four finalists for the inaugural Franchise Innovation Awards' big prize: Marketing Innovator of the Year.
Christy Barnes, senior marketing manager at Camp Bow Wow, and Sherry Baker, president of marketing and product development at European Wax Center, presented their category-winning campaigns in person. Edible Arrangements and IHOP were unable to attend and sent videos to present their winning campaigns.
Following a short break came a general session called Profitable Partnerships: Driving Brand Results Together. Multi-unit franchisee Tim Kurtz (Planet Fitness and Altitude Trampoline Park) teamed up with Matt Powell, CEO of advertising agency Moroch, to talk about the synergy that can be created for a franchise with an integrated agency and local approach to marketing. "An agency partner can integrate marketing plans across media platforms, leveraging insights and creativity," said Kurtz.
Lunch was served in the Sponsor Solutions Hub, where attendees had another chance to talk shop with marketing and technology vendors and catch up with friends.
The next 2 hours offered breakout sessions along four tracks: Franchisee Relations, Digital Marketing, Media Planning & Execution, and Franchisee Relations/Ad Funds.
The breakout sessions were followed by a general session panel called Staff Today for Tomorrow's Team. The focus was how to attract, recruit, and retain the best marketing talent to support present-day goals and future growth.
The day closed with a Marketing Challenge Roundtable led by keynote speaker Duncan Wardle, Craig Ceccanti, and Terri Snyder.
With the completion of the day's educational sessions, attendees donned their party best and headed up the road to Maggiano's Little Italy for the closing dinner and presentation of the Franchise Marketing Leadership Awards. IHOP took the top prize for the spectacular success of its "IHOB" campaign.
Day 3: The big wrap
The morning of the third day closed out the event with the Build Your Action Plan for Growth Workshop. Structured to help attendees wrap up the ideas and strategies they'd learned over the previous 2 days, the goal was to help them create a plan they could take home to deliver on their brand promise.
Plans are well under way for next year's Franchise Marketing Leadership Conference at the InterContinental Buckhead in Atlanta. Stay tuned to www.franchising.com for more details.
FCMC By The Numbers
200
Franchisor executives
146
Franchise brands
33,000
Units represented
$4.2 billion
System-wide revenue
Breakdown of attendees:
69
Manager
53
Director
32
Vice President
24
CEO/President
16
CMO/EVP
6
Other
And the Winners Are...
The first annual Franchise Innovation Awards presentation is officially in the books. The inaugural contest generated nearly 100 entries across 4 categories. Entrants were evaluated on their efforts to create and implement the most original and successful marketing innovation campaigns. Judges evaluated each entry independently based on a brand's stated objective; the problem they were trying to solve or improvements they sought to achieve; and on the metrics they provided about the results.
In the Marketing & Branding category, judges looked at how brands found innovative ways to grow consumer awareness, engagement, and loyalty. Entries included everything from traditional advertising and PR campaigns to social media, rewards programs, new product launches, and local store marketing.
The winners in the Marketing & Branding category were announced during the Franchise Marketing Leadership Conference. The four finalists for the Franchise Marketing Leadership Award were Camp Bow Wow, Edible Arrangements, European Wax Center, and IHOP. Each finalist was invited to share their innovation success stories on the main stage.
Sherry Baker, president of marketing and product development at European Wax Center, and Christy Barnes, senior marketing manager at Camp Bow Wow, presented their category-winning campaigns in person. Edible Arrangements and IHOP, unable to attend in person, sent videos to present their campaigns.
For Barnes, key takeaways from Camp Bow Wow's Give A Fetch campaign were the importance of aligning with the brand's objectives, employing a multi-channel approach, choosing a memorable name, creating "Instagram-worthy" activity, having fun contests, a charitable focus, and generating franchisee excitement.
For Baker at European Wax Center, the success of the brand's Ax the Pink Tax campaign was just the start in educating both women and men about the fact that women pay more than men for similar products--an estimated $1,351 each year, or $40,000 by age 30. "It's not a one-and-done campaign," she said, and the brand continues to build on last year's success.
Best Big Budget Campaign/Overall Winner: IHOP
Legacy brand IHOP was looking for a way to steal share from the competition and increase guest frequency. The brand campaign reframed IHOP as an option for multiple day parts, with burgers presenting the greatest opportunity. The campaign flipped the "P" in IHOP into a "b" to create IHOb. The campaign was unveiled in a phased rollout targeting owned, earned, and paid media channels, including TV, print, and social media.
The campaign created more than 28,000 media stories, more than $113 million in earned-media value (an 11x ROI), and more than 42.5 billion earned impressions. IHOP lunch and dinner sales increased 15 percent and 28 percent, respectively. Burger sales quadrupled YOY during the first month after the launch, selling 500,000 burgers per week, and IHOP sustained doubled lunch and dinner sales through year-end.
Best Limited Budget Campaign (Under $1 Million): Edible Arrangements
Edible Arrangements set out to see if connected TV (CTV) was more effective at reaching their target audiences than traditional television. The company developed a connected TV campaign it tested in three U.S. markets (West Palm Beach, Syracuse, and El Paso).
The company used programmatic CTV media buys to drive significant increases in total sales and total revenue--while spending nearly 76 percent less in advertising dollars than the cost of traditional TV. The campaign reached 29 percent incremental unique households, and drove 7 times more conversions at a cost-per-acquisition that was 29 times lower than traditional TV. In addition, customers who engaged through the CTV advertising purchased both higher quantities of items and higher-priced items.
Best Social Media Campaign: Camp Bow Wow
Camp Bow Wow turned to social media to help increase awareness of the brand and the benefits of doggy day care among dog owners. A social media campaign sought to engage dog lovers across the country by celebrating how they go above and beyond for their pets. The Give A Fetch campaign relied on an integrated, multi-channel approach that included national advertising and PR, four regional events, local advertising in the event cities, a dedicated microsite, Instagram influencer campaigns, and signage at more than 160 locations.
The results were a lift in awareness, share of voice, and engagement with customers: 192 million media impressions from 94 placements; impressions for the single campaign accounted for a quarter of all earned media impressions in 2018; established 79 percent share of voice (measured by media coverage and ads) vs. the largest franchise competitor. Additionally, there were 3.3 million Facebook ad impressions; 11,300 unique users on giveafetch.com; 6,300 #GiveAFetch entries on Facebook, Instagram, and Twitter; 40 percent engagement on corporate social media posts; and 13 percent growth in corporate Instagram followers.
Cause Marketing Champion: European Wax Center
European Wax Center (EWC) launched a campaign to raise awareness of the fact that women pay more than men for comparable products and services (the "pink tax"). The Ax the Pink Tax campaign was created to inspire women to make more empowered purchasing decisions and advocate for equal prices for equal products.
EWC used a fully integrated campaign to engage women--and men--through messaging and imagery across paid media and EWC-owned channels that included a media partnership with Refinery29 to host a live-streamed panel; and a partnership with Cosmopolitan.com to create co-branded online video content. Social media was used to highlight educational facts.
In April 2018, EWC's total network adjusted sales rose 17 percent; ticket count rose 6 percent; new guest count rose 5 percent; and package sales rose 51 percent. In May, the brand had its highest adjusted sales growth ever (33 percent), which continued through the year.
Published: July 12th, 2019
Share this Feature
Recommended Reading:
Comments:
comments powered by

Disqus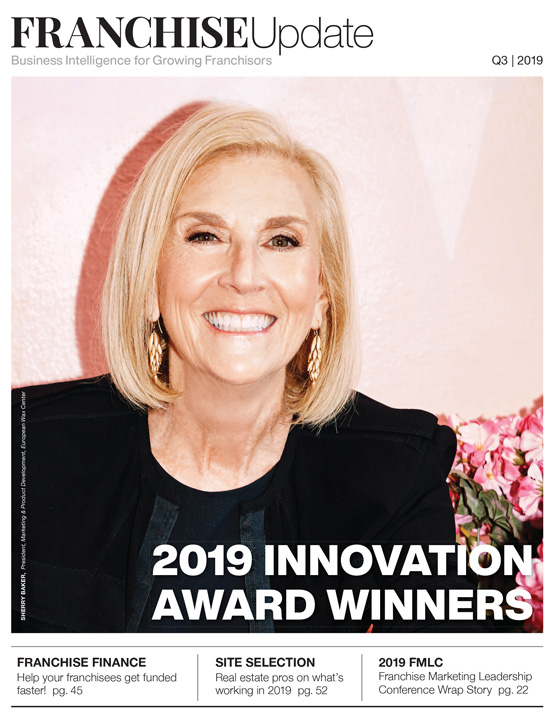 Franchise Update Magazine: Issue 3, 2019
Tiger Pistol, the world's leading collaborative advertising platform, connects the power of brands with the knowledge and credibility of their...
More than 15 years of passion and fascination with the franchise system. Thanks to having met many Franchisees, today I can help new ones and those...