Loyalty Deserves Rewards: Create a Rewards Program That Suits You (And The Customer!)
The best loyalty programs do four things:
help you continuously engage and remain "sticky" with your existing customers;
allow you to understand your customer's buying behavior with you;
drive more revenue, greater retention, and higher lifetime customer value; and
make customers feel appreciated.
This was the consensus from the 2014 IFA Convention, where I joined a discussion about loyalty programs with a diverse group of franchise organizations. These included foodservice, hair salons, home healthcare, dry cleaning, and specialty services from lawn care to maid service to printing and shipping. Leaders and franchisees from these companies shared a common question: What are the best customer loyalty programs?
Loyalty or rewards programs?
In wrestling with this question, it is clear that so-called loyalty programs are really rewards programs. Most grocery brands, for example, invite you to get their shopper card so you can get discounts on items you purchase. Signing up means providing your identity and personal information up front. Then you agree to share your purchasing data by using the card when you shop. You can't get those discounts without signing up for the program. That's the deal.
So shopper cards are not just rewarding for the customers. The grocer trades what is valuable to them (access to customer data) for what is valuable to customers (savings). Customer purchasing data and demographics are quite valuable to every franchise business as well. But investments in technology are the ante to get in the loyalty (rewards) program game in a serious way. Grocery chains were early adopters of advanced technology in the B2C world. They invested in real-time POS systems that integrate with marketing. That's not the case in many franchise systems.
Richard Simtob of Zoup! summed up the challenge this way: "Everyone wants a loyalty program, but no one wants to pay for it! But I do like the idea of rewarding people for frequency. I just don't like to give away free stuff." Alas, for customers to receive rewards someone has to give rewards.
How to fund a program
How do you fund all the administration and free rewards that come with such a loyalty (rewards) program? Large companies like Starbucks and Dunkin' Donuts have found that offering their own app helps pay for the costs of their rewards program. That's because when customers pay for repeated purchases using the app, instead of a credit card, the business saves millions in swipe fees. It works like this: Customers download the free app, but to activate it they have to 1) share information about themselves, and 2) load the app with a stored-value gift card. Subsequent transactions draw down the pre-payment and are outside the banking system.
Chris Vitale, CEO of ZNAP QSR Solutions, explained how to further leverage that idea. "Starbucks and Dunkin' Donuts sell millions of gift cards in the holiday season. Then they encourage the gift card holders to register their cards to protect against losing any remaining value if they lose the card. Registration leads to flipping that stored-value plastic card into a reloadable gift card. At Dunkin' Donuts that means enrollment into the new DD Perks Rewards Program; at Starbucks it goes into the My Starbucks Rewards app. By using the stored value gift cards for mobile payment, the credit card transaction fees are eliminated."
Alternative approaches
If you can't make that kind of investment, there were a number of rewards programs the group shared that aren't as ambitious, but that demonstrate easy ways to start.
Donna Reeve from Regis Canada said the company has had success offering a free hair coloring as a reward for purchasing a certain number of haircutting services. This reward works because hair coloring is a premium service that many Regis customers aspire to, and truly value. The pursuit of this perk does drive stickiness and higher lifetime value for some customers.
Another example came from Greg Carlucci, who works for Agile Pursuits Franchising, owned by Procter & Gamble, makers of Tide. Even though the parent company is large, its Tide Dry Cleaners brand is just getting started, with about 20 units operating. Each location gives its top 25 customers a holiday gift basket as a thank-you. It's a pure reward with no strings attached. The 80-20 rule justifies giving the most perks and spending the most on retaining your most profitable customers.
Tide Dry Cleaners also provides first-time customers with an immediate reward bag containing free samples of other P&G cleaning and household products (Febreze, Bounce, and Cascade to name a few). This unexpected gift creates a high-impact first visit to Tide, which increases the likelihood to return and to spread positive word of mouth.
Remember, the best loyalty/reward programs make customers feel appreciated.
SMG Chief Evangelist Jack Mackey helps multi-unit operators improve loyalty and drive growth. Contact him at 816-448-4556 or jmackey@smg.com.
Published: April 30th, 2014
Share this Feature
Recommended Reading:
Comments:
comments powered by

Disqus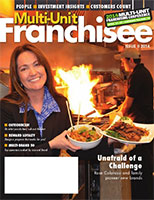 Multi-Unit Franchisee Magazine: Issue 2, 2014
The Joint® Chiropractic is reinventing chiropractic care. Our vision is to become the largest, most respected provider of chiropractic services...
Cash Required:
$100,000
Anytime Fitness makes wellness approachable for millions of members and gives franchisees the opportunity to be a part of a worldwide family of...
Cash Required:
$225,000