Man of Many Hats: Longtime Hardee's Franchisee also is Mayor and Publisher
If you want to see the positive influence of Hardee's franchisee Dan Ponder at work, look no farther than his hometown of Donalsonville, population 3,000. Nestled in the southwest corner of Georgia's Seminole County, Donalsonville is home to Ponder Enterprises, which opened its first Hardee's restaurant in 1983. Ponder is publisher of the town's award-wining newspaper, the Donalsonville News, and in 2013 was elected mayor.
At the moment, he is tirelessly leading an effort to make his town the nation's first Smart Rural City. The broadband project, which has the potential to transform the community, "could have never happened without franchising and my long relationship with Hardee's," says Ponder, the recipient of the 2016 Spirit of Franchising MVP Award. The plan to wirelessly blanket the city is designed to provide the rural area with virtual education, business, and cultural arts opportunities and make free high-speed Internet available to citizen.
Ponder, who grew up working in his family's Alabama peanut processing plant, was initially drawn to franchising for its strong support system. "I'm not a big fan of reinventing the wheel," he says. "I'd rather take someone else's wheel and make it better, and franchising allows me to do that."
When he made the decision to open a restaurant, he optioned property on the biggest intersection in Donalsonville--and then went looking for a franchise. Ponder's first Hardee's was such a success that his brother Ernest joined him as a business partner, and the pair--now with 36 Hardee's in 3 states (Alabama, Florida, and Georgia)--have never looked back.
These days, it is the franchising friendships that Ponder cherishes most, particularly those formed during the early days as a founder of the Independent Hardee's Franchisee Association (IHFA). "We were all talking the same language, fighting the same battles, and trying to help each other succeed," he says. "That camaraderie transcended the business and became personally important and invaluable to me."
Ponder Enterprises is an operations-focused franchisee organization, opting to own the building and land underneath. A dozen years ago Ponder scrapped a formal mission statement for a focus on providing employees and various departments with the tools to be the "best franchise group" in the Hardee's chain.
Ponder and his company have been lauded with numerous awards over the years--the most personally notable, the John F. Kennedy Profile in Courage Award that Ponder received in 2003 as a Georgia legislator, after his unplanned, impassioned speech led to the passage of the state's first hate-crimes legislation. The life-changing impact of the award continues to serve as the foundation of his business today.
"We want to be trend-setters in our brand," he says. "We have always been cutting-edge when it comes to products and equipment. But there is never a question about doing the right thing. And I think we are respected for that." It's all about being the best you can be, a mantra Ponder lives by.
Name: Dan E. Ponder, Jr.
Title: President, Ponder Enterprises, Inc.
No. of units: 36 Hardee's
Age: 61
Family: Wife Mary Lou; 2 daughters, 2 sons-in-law, 3 grandchildren
Years in franchising: 32
Years in current position: 32
Personal
Formative influences/events:
My brother and I grew up in a multi-generational family business. We were given the opportunity to work in positions of responsibility at a very early age. My father and grandfather held us accountable as teenagers, which allowed me to open my first Hardee's restaurant at the age of 29.
Key accomplishments:
I was awarded the John F. Kennedy Profile in Courage award in 2003 related to a speech I gave as a member of the Georgia House of Representatives. That speech and award have affected my life in many ways since then. Within the Hardee's system, I was awarded the Founders Award by the IHFA in 2004. In 2009, our company received the first annual Wilber Hardee's Founders Award, as well as the inaugural CKE Star of Excellence Award from the franchisor. We have also been named Hardee's national Franchisee of the Year.
Work week:
I would say five and a half days a week, though my wife would say it is more than that. I tend to work early and late, and some on weekends, to get things done when no one else is around. As the mayor and publisher of the local newspaper, I try to balance my time between the entities I am involved with.
What are you reading?
In addition to various trade magazines and the Wall Street Journal, I am currently reading The Road to Character by David Brooks. I also am the publisher of an award-winning weekly newspaper in Georgia, which celebrates its 100th anniversary this year. I read the Donalsonville News cover to cover each week.
Best advice you ever got:
My father warned me that I should not measure myself when everything was going good. He told me, "The measure of a man is determined by how he responds when he stubs his toe." He was right.
What's your passion in business?
Developing people who become part of our company family. I take great joy in seeing our team take ownership of their responsibility and talk with pride about working for our company.
Management
Business philosophy:
Develop a plan for steady sustained growth and then build a team that makes it happen. Build every restaurant with the plan to be operating it yourself for the next 30 years. No shortcuts.
Management method or style:
I try to focus on the big picture. We have many good, longtime employees. I try to set expectations for them, make sure they have the tools to succeed, and then I stay out of their way.
Greatest challenge:
People. Finding the right people to operate the restaurants at the store level and then keeping them happy. The implementation of the Affordable Care Act has been particularly challenging in the past two years.
How do others describe you?
I would like to think they say I am fair, honest, hard-working, generous, and, hopefully, a good man.
How do you hire and fire, train and retain?
We focus on hiring people with the right attitude. We can train anyone with the technical skills, but we can't teach them to smile. I often ask when an employee is terminated if we did all we could as a company to help them succeed. We are putting more and more resources into training while at the same time developing tools that identify and reward good behavior. Given the high cost of replacing employees in today's market, we try to provide the best benefits we can at an affordable price. This will be the eighth year in a row we have provided a 100 percent match for all employees who choose to participate in our 401(k) plan.
Bottom Line
Annual revenue:
$41 million.
2016 goals:
$50 million.
Growth meter: How do you measure your growth?
We measure comparable sales, transactions, profits, and employee retention, as well as how we performed against our plan. We measure some 16 different items in a matrix to compare restaurants' performance against each other.
Vision meter: Where do you want to be in 5 years? In 10 years?
I would like to complete our current development plan and be operating 45 to 50 restaurants, primarily on our own real estate. I want our management team fully staffed in preparation for the next generation.
What are you doing to take care of your employees?
Each year, we hold a company-wide General Manager Rally at a resort for three days. We provide trips (a cruise this year) for our top 10 managers. We try to make our company an employer of choice in our markets by providing competitive pay with excellent benefits at affordable prices. As I mentioned, we have been matching our employees' 401(k) contributions with a 100 percent company contribution for the past eight years.
What kind of exit strategy do you have in place?
I grew up in a family-owned business and know all the benefits and disadvantages of working with your children. I currently have one son-in-law involved in the company, though time may bring some of my brother's children back home. Our overall strategy is to have a strong enough management team to allow the company to operate and grow after I am no longer involved in the day-to-day operations.
Spirit of Franchising Award
Why do you think you were recognized with this award?
While I was surprised by the award, I would like to think that I was selected because of my 32 years of steady growth as a franchisee and support of the brand. I have also served on the franchisor's board of directors for the past 15 years, which has given me a good perspective about the business from both sides of the fence.
How have you raised the bar in your own company?
Years ago we scrapped our detailed mission statement and replaced it with "Working together to be the best franchise group in the Hardee's system." We evaluate ourselves against that goal every year.
What innovations you have created and used to build your company?
We have developed what I believe to be a state-of-the-art data management system involving all aspects of our business. This tool is available remotely and at the restaurant. Most company management tools from exception reporting to QA audits are now automated in customized Apple apps available on iPhones and iPads provided to our management team.
What core values do you think helped you win this award?
Nothing is more important to me than integrity. I want our company to be known for doing things the right way for the right reasons. I want everyone from our employees to our vendors to our competitors to know that our word is our bond.
How important is community involvement to you and your company?
Our company is involved in sporting partnerships from Little League to high school and college. Every single field in every single sport in our hometown has a scoreboard sponsored by our company. We are the title sponsor in several charitable events, as well as at events held at several military bases located in our footprint.
What leadership qualities are important to you and your team?
Lead by example and value the contributions of your employees. We look for people who want to be part of a winning team and who take pride in their own personal contribution to that success.
Published: October 3rd, 2016
Share this Feature
Recommended Reading:
Comments:
comments powered by

Disqus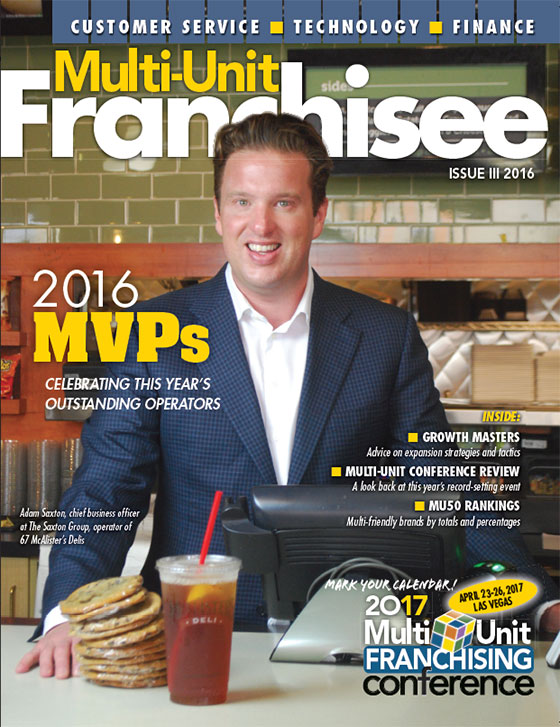 Multi-Unit Franchisee Magazine: Issue 3, 2016
Own a rewarding business and help children develop skills for life with The Little Gym, the world's largest children's motor skill development...
Cash Required:
$100,000
Offering same-day service, a single low price, and a streamlined process that's simple to replicate, ZIPS is a standout in the garment care...