Managing International Leads: There's More to it Than You Think
It is the dream of many franchisors to take their concept into other countries. As in the U.S. and Canada, the lifeblood for expansion is generating leads from various sources, processing them, and signing a franchise agreement. And that is where the similarities between processing leads in the U.S. and abroad end.

As seen in the accompanying chart, getting an international lead from a broker, an Internet lead site, or your franchise website is only the start of a long and potentially expensive process and journey to signing a licensee agreement in another country, involving many, many steps. The authors of this article, with a combined 80-plus years of taking U.S. franchise brands global, aim to help you fully understand the difference between getting, processing, and signing U.S. and international franchise leads.

The first major difference is the terms you will offer the international franchisee. These are not set as they are in the U.S. with the FDD. Internationally, you can change the fees and royalties depending on the country, even the potential franchisee. You can and will have to negotiate. Of course, it's best if you are consistent in your terms, as international franchisees talk, just as U.S. franchisees do!

Second, the level and difficulty of due diligence on an international franchisee candidate is significantly higher than at home. Numerous U.S. laws and regulations control the information you must acquire about an international candidate before you sign them. Here are two to be aware of: 1) the Foreign Corrupt Practices Act--you must know who you are dealing with, who owns their company, and where their money comes from; and 2) The Specially Designated Nationals List--a list of the "bad guys" and companies the U.S. Treasury Department has identified and that you do not want to do any business with.

Third, the resources required to properly evaluate and sign an international licensee, along with the resulting legal, staff, and travel costs before you receive a fee are significantly higher than in granting a franchise at home.

Although CRM systems are becoming common and companies like FranConnect operate in several countries, the culture in most countries does not lend itself to candidates going online for most of the interaction you will have during the qualification process. Someone will have to send emails and take long-distance phone calls to get the information you need, and to establish the relationship required to do business abroad. Calls take time, cost money, and sometimes require you to get up in the middle of the night because of time zone differences. In almost all other countries business is done based on developed relationships (not transactional). And emails often go to spam, so a call is essential.

Does the candidate speak English? Not only is this critical in the qualification and signing stage, it is essential once the new international franchisee comes to training and starts operations. Otherwise, how will they fully communicate with your staff--and how will you fully transfer your franchise business systems to them?

You will need to apply for new trademarks in other countries. Your U.S. trademark does not cover you. Before you market in any other country, you will want to apply for a trademark to cover your top 15 to 20 countries at the start. Your brand is everything. Protect it. Invest the money to secure your brand in key countries and regions, such as the European Union. There are cost-effective ways to do this. And you will find out if there are problems with your brand in a country. For example, who initially owned the Burger King trademarks in Australia, a "first world" country? Not the U.S. franchisor. So they trade there under the Hungry Jack's mark

.

International leads often copy U.S. concepts. So you will want to get a confidentiality agreement in place before you provide the details of your brand. Please do not skip this step!!

And finally, the time needed to properly identify, evaluate, and sign an international franchisee can be up to three years from the time you first find the candidate.
What you can do
Create a profile. As a first step, spend some time determining the ideal international licensee profile for your franchise. This profile may differ from what you look for in the U.S., but some of the questions will be the same. What kind of experience will you require in the industry or in franchising? What about character? Education? Reputation? Financial assets? Knowledge of the culture and the local community? Some of the characteristics in your profile may be requirements, while others may be viewed simply as advantages or pluses.
License type. Decide on what type of international franchise you will offer. Will you allow sub-franchising (a master franchise)? Or will you require that the international franchisee build-own-operate all your units in their country (often called an area licensee)? This very major--and early--decision determines what size company you seek. To build-own-operate multiple units in country requires lots of investment money. This decision also determines how much money you will receive from the franchisee: if they are a master franchisee you will spilt the unit fees and royalties; if they are an area licensee, you will charge the same unit royalties you charge at home.
Be selective. Focus on the countries you feel most comfortable with and where (as a result of market research) you see a good chance of sufficient development that will yield lots of units and royalties over time. Do an ROI analysis. How many units can the country hold? Over what period of time? What revenues will these units have for your franchise? What will be the resulting royalties over time?
Competition. Be sure you know the potential competitors in a country ahead of negotiations with a potential candidate. Be sure your concept is different from what is already being offered in the country. Otherwise you will have a hard time finding a potential franchisee willing to pay an up-front fee! A good way to do this analysis is to visit the major business city in a country in advance.
Tax factor. Look at the tax implications of signing an international franchise agreement. Withholding taxes before you can bring fees and royalties home can be as high as 30 percent of what you are due from the franchisee. This is in addition to your home-country taxes.
Franchise agreement. You will need a separate international franchise agreement. This is an investment that can be used in multiple countries. Have this prepared in advance of starting negotiation with a candidate. You should be able to use the same agreement with only local changes to ensure the agreement is enforceable in the country.
Development cost. Estimate the up-front cost of finding, evaluating, negotiating with, and signing a candidate in a given country. There will be communication, staff time, trademark registration costs, legal agreement costs, travel, training, and other costs in the first couple of years your new licensee operates in a country. And there will probably be few units producing royalties at first. What is the cost for this process from the time you get the lead until they are opening and operating enough units to produce a good royalty stream? It can be US$250,000, so keep this in mind when you set your initial fees.
Conclusion
Good news on international lead sources: there are many established sources. One of the very best (and least expensive) is to add an international landing page to your company website with a link for international candidates to contact you. There also are numerous international franchise expos. Be forewarned that these are often focused on single-unit franchisee candidates, not area licensees or master franchisees. The IFA and U.S. Commercial Services have two to three franchise trade missions to countries each year, which generate large numbers of leads. The U.S. Commercial Service offers "Gold Key" services to individual franchises in some countries to help you find candidates. And numerous international websites market U.S. franchise brands seeking leads.
The purpose of this article is not to scare the U.S. franchisor from going global, but rather that it's good to do so with your eyes wide open--and to understand why an international lead requires more work than a domestic one.
William Edwards is CEO, Michelle McClurg is COO, William Gabbard is senior vice president, and Shanna Aldridge is director at Edwards Global Services, Inc. Contact Edwards at 949-375-1896, bedwards@egs-intl.com, or read his blog at edwardsglobal.com/blog.
Published: January 7th, 2016
Share this Feature
Recommended Reading:
Comments:
comments powered by

Disqus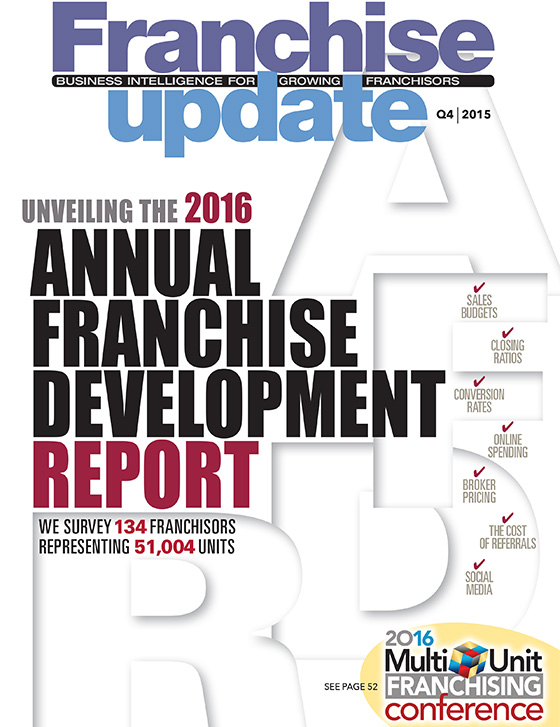 Franchise Update Magazine: Issue 4, 2015
Atmosphere TV is the world's leading cable alternative, providing free streaming TV for businesses.
The Hungarian Franchise Association was founded in 1991 as an interest representation organization of the franchise business community.