Married with Franchise: Setting Boundaries as a Formula For Success
One of the strategies multi-unit franchisees Brooke and Les Wilson practice to keep both their marriage and their business on track is to keep each in its proper place.
"After the first year of marriage and work, I wondered if we had more than a business partner relationship," says Brooke. "We had to draw a line. No business talk at home. If that means we stay at the office late to work through an issue, we do." That also meant no venting about business in their off hours, and no late night work emails, "a sacrifice we felt was important to keep work out of the house," she says.
The Wilsons, who own and operate five Two Men and a Truck territories in North Carolina and Georgia, are the recipient of this year's MVP Influencer Award for a Husband & Wife Team.
The Durham, N.C.-based couple each had worked for Two Men and a Truck before they became married franchisees. Les was a mover for the brand in college, eventually becoming a general manager and buying the rights to the Charlotte franchise with an investor group after graduation. Brooke, who spent time with the brand in customer service, says she loved the diversity in her workday and the company's family-focused system. The duo, who began dating at the University of South Carolina, opened their first franchise together in 2004--as newlyweds.
At the office, they learned to clarify their roles to avoid taking charge of the same departments or working on the same tasks, which they discovered had confused the staff and held back business. Instead, they focused on delegating duties based on their individual strengths and weaknesses. Brooke, for instance, is more analytical and detailed in nature, while Les tends to be task-driven. "I am visionary and creative," she says. "Les gets it done. There is a time and a place for both."
Work partnerships, she says, can put a strain on any relationship--married or not. She recommends potential partners understand and discuss the good, bad, and ugly before jumping into business together. Well-defined boundaries and responsibilities and formalized business strategies protect everyone involved, she says.
With per-unit sales growth trending in the double digits and a 95-plus percent customer referral rating, the Wilsons see a bright future for expansion into new markets and new business ventures--while still making time for each other. "I'm a strong believer in frequent vacations," says Brooke. "Even a staycation at home can serve as a refresh for our personal relationship."
Name: Brooke Wilson
Title: Owner
No. of units: 5 Two Men and a Truck
Age: 36
Family: Husband and partner Les Wilson; 3 dogs and a cat (rescues)
Years in franchising: 15
Years in current position: 12
Personal
Formative influences/events:
I come from a family of business leaders. Work ethic was instilled at a young age, and I have worked as long as I can remember, often holding multiple jobs simultaneously--not because our family needed the additional income, but because nothing in life comes free. One has to work hard for what they want--and no matter what you do, do it to the best of your ability. You're always on a stage. You never know who is watching.
Key accomplishments:
Two Men and a Truck Achievement in Excellence Award winner every year since the award's inception. Consistently named an Angie's List Super Service Award winner. Maintained 4.70 (out of 5) customer satisfaction score and referral rate of 95-plus percent over the last 5 years in an industry where 80 percent is considered good. Franchise system leader in revenue achievements. 2015 Two Men and a Truck Safety Award winner. Helped raise more than $14,000 in 2015 for the Animal Protection Society, which raised awareness and led to a nearly 25 percent increase in adoptions that October. Personally: Traveled to all but four countries in Europe over the past decade. Learned to sail (a dream of mine). I remain happily married to my best friend and partner in life and business after 13 years.
Work week:
Mostly Monday through Friday; occasional weekends.
What are you reading?
The Art of Crash Landing by Melissa DeCarlo. Fiction is an escape for me. I love to read!
Best advice you ever got:
Surround yourself with people who have different perspectives and are smarter than you. Diversity and challenge, when constructive, can be a good thing.
What's your passion in business?
To be a great boss. I've had bad ones and vow to never be a bad boss. Fair, firm, and consistent accountability with a genuine care for people.
Management
Business philosophy:
Happy people breed success. Happy employees create happy customers.
Management method or style:
We focus on people and keep a pulse on the numbers. The bottom line will work itself out.
Greatest challenge:
In the moving industry, it's managing recruitment and retention with the seasonality of our business.
How do others describe you?
I had to ask. Here are some of the answers I received: "Sharp, motivated, and tenacious with a hint of wanderlust." "Intelligent, hard-working, dedicated, willing to 'Brookinate' to solve issues. Fair and able to recognize that no one person has all the answers." "Always going the extra mile and coaching for a better understanding of situations." "Committed, positive energy, and gives 100 percent all the time. Caring. Laser-like focus. Just makes things happen. Takes large complex issues, works for the solution. And, of course, lovely and just fabulous."
How do you hire and fire, train and retain?
That's a big question with a long answer. There is no surefire, simple solution. Hire qualified candidates who will fit the culture. Even the most skilled candidate can destroy a business if they bring negativity to the workgroup. Clearly and consistently communicate expectations in orientation and ongoing training. You can't manage what you don't communicate. Be genuine in your care for the happiness of your team. Coach and mentor them. Help them be better both personally and professionally. Provide them with opportunities to continually move forward. And if you must terminate, it should never be a surprise to the employee. Fair, firm, and consistent accountability, in line with clearly communicated expectations, lays the groundwork for success.
Bottom Line
Annual revenue:
$13 million (approx.).
2016 goals:
$14 million, with the downsize of two markets (we recently elected to sell two franchises in Baltimore and D.C.); 96-plus percent customer referral rate.
Growth meter: How do you measure your growth?
We measure revenue growth year over year and consider market segments and market share as drivers. We aim to continue growth trends in our current markets at a rate of 10 percent or better, while broadening our investment "basket."
Vision meter: Where do you want to be in 5 years? 10 years?
It's important that we diversify our business investment. We hope to have established a successful partner business within the next 5 years. In 10 years, I hope to manage my businesses from my sailboat depending on my awesomely talented management teams and utilizing technology. :)
What are you doing to take care of your employees?
Recognize hard work, dedication, and loyalty. Support their objectives and aspirations. Help them achieve their personal and professional goals. Offer opportunities for advancement, and respect their wants if they are comfortable where they are. We have brought in financial counselors to help them plan personal budgets to align with financial goals (like buy a new home, or pay for schooling). We have provided training for business ownership and invested in business ownership through partnership in franchising.
What kind of exit strategy do you have in place?
Honestly, this is where we are lacking. We are working to establish an executive team that can manage independently. We are young and remain in the mindset of "bring it on--go big or go home."
MVP - Influencer Award For A Husband & Wife Team
Why do you think you were recognized with this award?
Because people like us? Kidding! I think our passion for business and each other is evident. Being business partners puts a strain on personal relationships, yet Les and I have managed to run successful businesses and, though we of course have our spats, are truly happy together.
How have you raised the bar in your own company?
Standards. We have high expectations for our people. And our people are rewarded for meeting and exceeding those expectations. We encourage constructive challenge in solving problems and strategizing objectives. Varied perspectives are positive.
What innovations have you created and used to build your company?
Digitized the highly regulated contract and paperwork process related to household goods moving, making the interaction more user-friendly for both our movers and our customers. The technology innovation also limits billing error and protects against fraud.
What core values do you think helped lead you win this award?
Good things happen to good people. Doing the right thing pays dividends. Always operate with integrity.
How important is community involvement to you and your company?
Giving back to the community is important for local businesses. We run two campaigns annually to benefit domestic violence shelters and animal protection, in addition to continual support of small local in-kind causes.
What leadership qualities are important to you and your team?
Integrity, work ethic, and respect for the team. A good leader encourages employees, considers themself to be part of a team, and gives credit. They offer a vision and coach toward a common goal.
Published: September 5th, 2016
Share this Feature
Recommended Reading:
Comments:
comments powered by

Disqus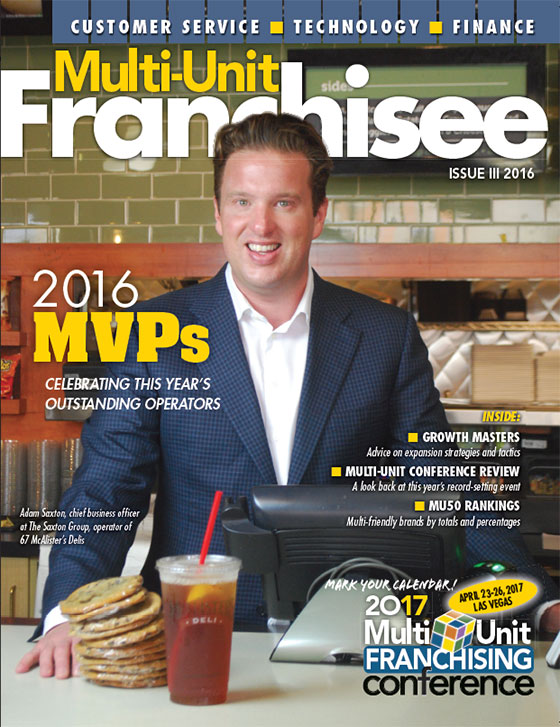 Multi-Unit Franchisee Magazine: Issue 3, 2016
Grab Hold of the Bold with the legacy brand that is backed by 50+ years of experience, a fresh look and feel, and outstanding menu innovation, all...
Cash Required:
$500,000
At Nautical Bowls, we combine healthy, fresh superfood bowls with an uplifting atmosphere, giving you energy to life a full life! Our goal is to...
Cash Required:
$100,000