Mid-Year Progress Report: Weak Consumer Demand, Confidence Slow Franchise Growth
A report produced for the IFA at the beginning of this year, the Franchise Lending Matrix, forecasted approximately 15,200 new units would be added in 2011. We're at the halfway point of 2011. It's a good time to check the progress.
The first half of the year showed a continuation of weak consumer demand. From the low point in late 2008, consumer demand had fairly consistently increased until mid-2010. However, it has been drifting downward since, which is at the core of the reasons for the weak recovery and persistently high unemployment numbers. In June unemployment ticked up to 9.2 percent.
Consumer expenditures compose about 70 percent of GDP, so where they go the economy goes. Fueling consumer expenditures is consumer credit. In June, for the first time since August 2008, revolving consumer debt rose. Perhaps that is the first signal of more consumer confidence, notwithstanding the recent declines in the Consumer Confidence Index (CCI). As long as interest rates remain low, there's a chance that consumers are beginning to come out of their contraction mindset. Revolving consumer debt is now at about the level of 2005.
Historically, all this was good for franchising. Higher unemployment and greater economic uncertainty motivated a lot of people to consider franchising. That hasn't happened nearly as strongly so far in this recession/recovery as it did in past economic downturns. Franchising continues to expand, albeit at a historically slower pace than history would suggest.
Two important culprits have created headwinds for franchise development this time around: capital access and consumer confidence. Where those two challenges go will substantially determine how fast franchise sales will grow in the next 18 months. The capital access issue has evolved into a competition for credit. Most banks have the money. The challenge is to get them to give it to your prospective franchisees.
Franchisors are at an immediate disadvantage with one of the two types of prospective franchisees: those with no previous franchisee experience. While existing franchisees have challenges with funding, they at least have a track record of revenue, income, and cash flow from which a banker can base a lending decision. A prospective franchisee coming from another profession and/or without unit operating experience is simply a harder risk for a lender to evaluate. Until lenders shift from risk minimization to a focus on risk/returns in loan committees, this drag on development will persist.
Feedback we get from franchise development people suggests that brands proactively addressing the competition for credit issue seem to have a stronger development push. Their efforts are centered on two activities: programs and information. Franchisors that have the capital reserves are providing some credit enhancement (such as pooled loan guarantees and equipment buybacks) and/or direct capital (such as equipment and working capital financing) in increasing numbers. Franchisors also are more actively assisting with credit risk information, such as the Franchise Registry and Bank Credit Reports.
None of these efforts will ensure credit availability, but they will increase the likelihood of winning the competition for credit. Simply put, information reduces risk. Of course, to win any race you need to be in good shape. Just like the role that conditioning played in the U.S. women's soccer team victory over top-ranked Brazil in the quarterfinals of the World Cup, having strong unit economics, good system performance metrics, and a supportive franchisor program help a lot.
If consumer spending is the vast majority of GDP, then how consumers feel should be a decent indicator of what to expect. In June, the Conference Board reported a decline in the CCI to its lowest level in eight months. This followed a decline in May. Although the great American capacity for optimism can kick in at any time, it does not appear to be imminent. During the economic recovery phase from recent recessions, optimism bounced up decidedly. Not so this time. Persistently high unemployment and a Congress that is increasingly polarized and hardened in its positions provide no cause for optimism.
However, the biggest psychological factor holding back American optimism is the lack of an economic leader to get us moving faster. I don't mean a person, but rather an industry or an event that provides economic leadership, which in turn would raise our collective optimism. Until something shows up, a slow grind interrupted by an occasional stimulus package or bad news event lies ahead for the next year or two.
Where does that leave franchise development? As best I can tell, it strongly indicates that the brands having better performance metrics and taking the right steps to validate that performance will dominate development in coming months and perhaps for the next few years. The first six months of this year so far are confirming this.
The competition isn't just for credit. It's also a competition to encourage prospective franchisees that, in a period of lowered optimism, taking the franchise leap is a good business decision. Performance will qualify brands to win. Finding ways to demonstrate and show better performance will lead to development growth in this economy.
Darrell Johnson is president and CEO of FRANdata, an independent research company supplying information and analysis for the franchising sector since 1989. He can be reached at 703-740-4700 or djohnson@frandata.com.
Published: September 2nd, 2011
Share this Feature
Recommended Reading:
Comments:
comments powered by

Disqus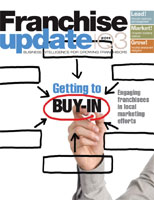 Franchise Update Magazine: Issue 3, 2011
Conferences
InterContinental, Atlanta
OCT 18-20TH, 2022
Qiigo unifies digital marketing for national brands and their locations, building brand unity and success helping businesses get found locally....
ApplePie Capital provides a fresh new approach to franchise financing that is focused on your growth and success.