Mission, Promise, Family, Fun
Tom Krouse joined the Donatos family in 2000. The former Wendy's vice president of marketing brought his restaurant marketing and branding skill set to the Midwestern pizza brand, which was still managed at the time by founder and CEO Jim Grote. Over the past two decades, Krouse has served in leadership positions throughout the company, including its Jane's Dough Foods subsidiary, and Donatos' menu development, marketing, franchise growth, IT, and supply chain management.
The move to Donatos turned out to be a life-altering decision for Krouse, who worked his way up the ladder, eventually becoming CEO in 2010. Then, Donatos founder Jim Grote became his father-in-law when Krouse married his co-worker—Grote's daughter, Jane Grote Abell. A family business indeed, as all three remain active in the business today.
For the past decade, Krouse has overseen the 56-year-old company's restaurant division and consumer products division. It's a job he has a careful reverence for, considering he's only the fourth CEO in the company's history. Today, the brand has 56 company-owned and 105 franchised restaurants in 9 states.
Under Krouse's leadership, the company has increased its revenue by 30 percent and its profitability sixfold. All of the brand's locations combine to generate $200 million in annual revenue. Jane's Dough Foods, a subsidiary created in 2008, sells its products in 7,000 grocery stores across the U.S., and its sales are up 20 percent over the past 5 years.
Last year, in a unique marketing deal, Donatos teamed up with burger chain Red Robin to offer its pizza in 25 Red Robin locations in Cleveland, Arizona, and North Carolina. The response was overwhelmingly positive, says Krouse, so the two brands expanded the agreement to cover 100 Red Robins, 20 percent of the chain's total units. The main takeaway for Donatos is the opportunity to expand its name recognition west of the Mississippi.
Numbers and marketing strategies aside, Krouse says he's proud of Donatos' people and its culture. "Our company is aligned around what we call our Mission and Promise, which are rooted in doing something bigger than just pizza," he says. "We hold regional meetings with our store staff where we collaborate on issues and build business plans together. This active involvement connects with our people in a way that builds trust and a sense of belonging."
Tom Krouse
CEO, Donatos Pizza
Units: 160 in 9 states | Age: 60 | Years in franchising: 33 | Years in current position: 10
LEADERSHIP
What is your role as CEO? To work with our teams to solidify our vision, values, and destiny. But my <main> job is to get involved when clarity is needed and to get out of the way when our people are on a roll.
How has Covid-19 affected the way you have led your brand? It has highlighted the importance of something we already knew… communications. In this crisis, we tried to really lean in and communicate regularly and transparently with our entire system. I think by staying close we were able to build trust and reduce fear. We will carry that forward in non-crisis times.
Describe your leadership style. I believe in collaboration and following a discipline to gain focus and clarity. I work hard to try and stay connected to what the real issues are in the company so we can remove barriers and make people's work life enjoyable.
What has inspired your leadership style? In my past, I have observed how top-down management and unfocused priorities lead to chaos and a lack of fulfillment. In addition, my natural state is to be more creative and conceptual. So, out of necessity, I have had to bring my <own> guardrails to my work to not only seek out possibilities, but to actually get stuff done.
How do you transmit your culture from your office to front-line employees? Our company is aligned around what we call our Mission and Promise, which are rooted in doing something bigger than just pizza. A higher purpose is what drives our company. We hold regional meetings with our store staff where we collaborate on issues and build business plans together. This active involvement connects with our people in a way that builds trust and a sense of belonging.
How can a CEO help their CMO develop and grow? Just make sure you are aligned on what the priorities and non-negotiables are and then let them run with it. Be there to support and contribute, but give them the keys to the brand.
Where is the best place to prepare for leadership: an MBA school or OTJ? Probably not fair for me since I do not have an MBA. I obviously feel like the human dynamics that are presented in real life can better shape the business decisions than pure strategy alone. However, I have found that MBAs bring a whole host of tools and smarts with them that can create success more quickly.
Are tough decisions best taken by one person? How do you make tough decisions? The question simply has to be answered, "What's the <right> thing to do?" Not the most efficient, not the most profitable, not the easiest. But after putting yourself on both sides of the issue, you can see what the best alternative is in the long term. As to whether it is best made by one person, I think the more people you can bring together around tough decisions, the better. You learn about your people's values and they may learn about what our culture looks like in action.
Do you want to be liked or respected? I think if people like you they will give more of their authentic self to you. This builds trust, loyalty, and results. Respect is only earned.
Advice to CEO wannabes: Don't Do It! (just kidding). Do not take yourself too seriously and just focus on achieving the vision and results your organization desperately wants. It's all about the work. Check your ego. You will hear from a lot of people. And I can tell you, you're not as great as people may make you think you are.
MANAGEMENT
Describe your management style. I do a lot of MBWA (management by walking around). This allows people to quickly get problems solved or barriers removed and gives me chance to understand how people are doing. Our approach is to bring focus and priority to our plans. Our plans (Big Rocks) are simple, focused, and really, really hard to achieve. By building these plans together, our people are 100 percent invested.
What does your management team look like? CMO, CIO, CPO, CFO, president of our CPG division, and leads in franchise operations, company operations, and development.
How does your management team help you lead? They collaborate to determine the priorities and then they drive the initiatives, or Big Rocks. When they are operating at their highest potential, I am merely removing obstacles and encouraging great leadership.
Favorite management gurus: Do you read management books? Jim Collins, Warren Bennis, Simon Sinek. Currently reading <The Infinite Game> by Sinek; also love <On Becoming a Leader> by Bennis.
What makes you say, "Yes, now that's why I do what I do!"? When I see people in this company who started as a kid in the store go on to build a career as an officer in the company or franchise partner who in turn is giving back to help the kids who were once just like them.
OPERATIONS
What trends are you seeing with consumer spending habits in your stores? That as important as the products and services people want to buy, is the fact that they want to do business with companies they believe in. Unveiling your authentic character as a company in a way that is not self-aggrandizing is a delicate issue that I think is very important to consumers today. And of course, customers want what they want, when they want it, where they want it.
Has the economic recovery reached all of your customers? We have a very broad customer base. For many of them, Donatos represents a real treat so we need to be sensitive to their need for value. On the other hand, those who want our gluten-free or cauliflower crust have the desire and means to pay for those premium experiences.
How is the economy driving consumer behavior in your system? There are times in the year where value is more important than at other times. We also are using our data to target the right messaging to the right customers based on their needs. That allows us to deal with the economy on an absolute micro level. In other words, it helps insulate us a little more from broad economic forces.
What are you expecting from your market in the next 12 months? We are in major growth mode right now. The demand for "premium pizza delivered" is high, so we are responding with a more exponential growth plan.
Are your franchisees bullish or bearish about growth and adding additional units? They are more bullish than ever before.
Are commodity/supply costs any cause for concern in your system? One of our bigger concerns is on the area of distribution. With costs naturally rising and our brand growing nationally, it's a challenging puzzle for us to satisfy the needs of our franchise partners while fulfilling our responsibility for growth.
How are political and global issues affecting the market and your brand? Inasmuch as these trends are rooted in consumer demands, I don't worry too terribly much. But if, for example, customers' concerns about nutrition drive the need for menu labeling, then so be it. It's the customer that dictates what we need to focus on, not the government.
PERSONAL
What time do you like to be at your desk? I don't really. Mostly I try to do thinking time in my office. I get fairly antsy and need to get out to talk to people.
Exercise in the morning? Wine with lunch? I exercise in the morning. I do my fair amount of "whining" during exercise.
Do you socialize with your team after work/outside the office? Once every couple of months we have a social gathering with the leadership team. We also attend functions together… although my partner, CPO, and chairwoman is my wife… so we tend to see each other quite a bit outside of work!
Last two books read: <The Devil in the White City> by Erik Larson, <The Way of Zen> by Alan Watts.
What technology do you take on the road? Phone, earbuds.
How do you relax/balance life and work? I play music in a band, mainly on weekends. It allows me to exercise different parts of my mind and, frankly, let loose. I also have a big family with 6 kids and 3 grandkids… so there's that!
Favorite vacation destination: Italy.
Favorite occasions to send employees notes: We send every salaried associate in the company hand-signed birthday and key anniversary cards.
Favorite company product/service: Our new cauliflower crust pizza—The Cauliflower Garden with plant-based sausage.
BOTTOM LINE
What are your long-term goals for the company? To be a "billion-dollar company that gives more than it receives."
How has the economy changed your goals for your company? As I type, we are in the midst of the Covid-19 health crisis, so we are certainly fighting to maintain our sales and staffing. I believe we'll come out even stronger on the other end of this. Our intra-company communication and our collaboration is second to none.
Where can capital be found these days? Finding capital is not the issue these days. We have mostly traditional lending and are not heavily leveraged.
How do you measure success? Raving customers, highly engaged associates, strong profits, and high growth.
What has been your greatest success? Leading a deal with Red Robin Gourmet Burgers that will have a significant impact on the above.
Any regrets? I'm too busy to have regrets.

What can we expect from your company in the next 12 to 18 months? <Significant> growth, once this virus is contained.
Published: August 25th, 2020
Share this Feature
Recommended Reading:
Comments:
comments powered by

Disqus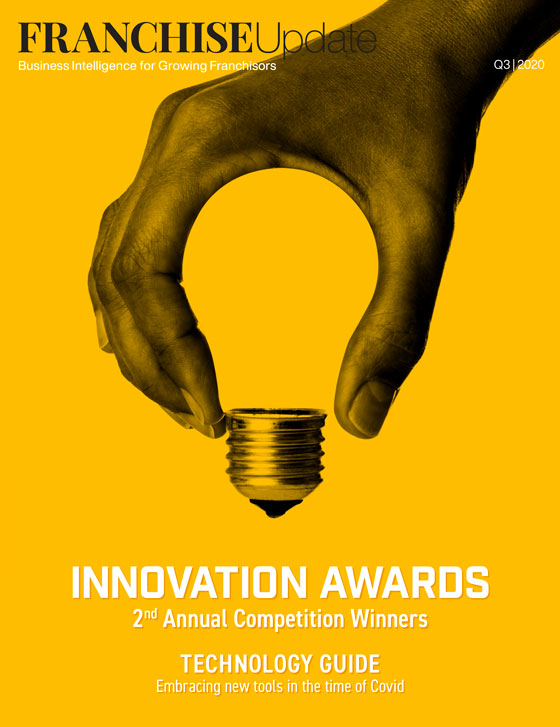 Franchise Update Magazine: Issue 3, 2020
Conferences
InterContinental, Atlanta
OCT 18-20TH, 2023
From lead generation to increasing sales, Hot Dish Advertising is the pro at getting your message in front of those who matter most--consumers...
ApplePie Capital provides a fresh new approach to franchise financing that is focused on your growth and success.