Mobile Attic comes out on top in our store redesign contest
Mobile Attic is on top these days-literally and figuratively. The Elba, Ala.-based firm is the winner of this year's Franchise Update Store Redesign contest. This entitles the five-year-old company to a redesign by Total Resource Group of Lincolnwood, Ill. We'll show you the new design when it's done.

Mobile Attic, which is in the portable self-storage business, is a joint project of two companies, both based in Elba (pop. 4,185): the National Security Group, an insurance holding company, and Cash Brothers Leasing, which rents containers and trailers to commercial clients. Mobile Attic now has about 40 locations, most in the Southeast, and a plan to reach 100 by 2008.

According to Josh Wilson, president of Mobile Attic, franchising came almost as an afterthought. The company began when residential owners began asking Cash Brothers if they could provide something similar to the commercial units they leased. In 2001, Cash Brothers created Mobile Attic to build attractive containers that could be delivered to a site and left there temporarily.

Although it began as a dealership network, Mobile Attic's owners quickly saw the value of franchising, and in 2003 the company started selling franchises. "We have a user-friendly operating system, and we think we can penetrate a lot of markets," says Wilson. "We control our own manufacturing, so we're not at the mercy of third-party providers. The benefit for our franchisees will be over the long term, so we're not trying to make a lot of money off a large franchise fee or large margin on the containers."

Mobile Attic's best-known competitor is PODS, based in Pinellas, Fla. "Lots of companies have tried to break into this market, but the big holdup is the quality of the product," says Wilson. "Some of the large self-storage companies tried to get into it. Their big drawback was designing a container that had longevity and a means of delivery."

Wilson says it's a capital-intensive business with a learning curve, and he's looking for franchisees who understand that. The fact that the containers are portable offers franchisees a real estate advantage over a traditional self-storage business: an office can be in a central location, but the containers can be stored in a less expensive area, which is not an option for land-based storage facilities. "If you need to pick up and move because you can sell the real estate at a good price, the office can be relocated," says Wilson.

As for site selection and expansion, the brand started out looking at territories of 250,000 to 400,000 people, using geographical boundaries whenever possible. "We've scaled that back because there is opportunity in much smaller markets," says Wilson, who's seen Mobile Attic franchisees succeed in towns of 60,000 to 70,000. "One of our most successful is in Dothan, Alabama [pop. 62,713]. Those guys are well over 500 units there. If we can grow that into markets like Birmingham and Nashville, we'll feel comfortable with that."

Mobile Attic is looking to embark on a branding campaign. Marketing Director Betsy Harris says, "We could use a new store design!" Mobile Attic has been invited to set up storefronts inside Wal-Mart stores in its franchised territories, so design will become a more important factor in attracting the attention of walk-by shoppers. The stores, Harris says, will provide moving and packing supplies for customers, and a convenient place for them to rent a Mobile Attic container.

"Our goal is to provide our customers with a luxury long gone in today's society-curb service-and to offer our franchisees a turnkey operation that includes a storefront in their local Wal-Mart store," she says. For Mobile Attic, the future's looking good. With an upcoming redesign, it will look even better.
Published: May 1st, 2007
Share this Feature
Recommended Reading:
Comments:
comments powered by

Disqus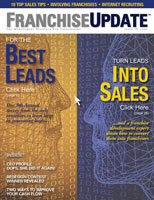 Franchise Update Magazine: Issue 4, 2006
Leasecake is location management made easy – from lease contracts and licensing agreements to ASC 842 compliance. Never miss a deadline, stay ahead...
Clayton Kendall provides franchise communities nationwide with comprehensive branded merchandise programs leading to greater brand exposure,...