MU Domination Grows: And What It Means for Franchising
MU Domination Grows: And What It Means for Franchising By Darrell Johnson

Ten years ago, when FRANdata began tracking the concentration of units controlled by multi-unit franchisees, it totaled 45 percent. Today, multi-unit operators control 55 percent of all franchise units. The pace of change has been consistent and rather predictable, with a current rate of about 1 percent each year. Whether this growth rate continues, speed ups, or plateaus has important implications to the franchise business model on many levels, including development, training, and support.

This trend has two big drivers. The first is that we raised a generation of franchisees with growth on their minds. They pushed through the older "buy a job" mentality with business plans aimed at multi-unit expansion from the time they started. The second driver is cooperative franchisors that went from being concerned about too much franchisee power to actively designing development programs around multi-unit models.

The result is that today the majority of franchised units are controlled by about 20 percent of all franchisees. A further analysis of those multi-unit operators shows the fastest-growing categories are operators with 26 to 100 units. Why is this happening, and what does it suggest for the next 5 years?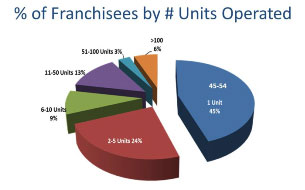 The U.S. economy has been, and will continue to be, in a slow growth phase. Economic downturns caused by financial crises tend to recover slowly over 7 to 10 years. We are now in the sixth year of the current recovery, and it appears we will continue on this path for the next few. In this kind of economy, businesses generally are guided by four economic considerations.
Sales growth becomes a market share game because the overall market is not growing quickly enough. The implication is that gains higher than 2 to 3 percent must come at the expense of competitors. Product differentiation and rising marketing budgets reflect this competitive condition.
M&A activity significantly picks up as an alternative to living with slow growth. In many industries, that means a consolidation phase.
A greater emphasis is placed on cost efficiencies to achieve profit growth. These two considerations often are addressed in tandem: acquire another company and consolidate operations.
The cost of capital becomes a major consideration for both M&A and cost efficiencies.
What's ahead
Let's look at what these factors suggest for multi-unit operators over the next 3 to 5 years. Clearly, brand marketing efforts are on the rise. Regional and local marketing programs are getting a lot more attention as well, and this plays to an efficiency of multi-unit operators. Most have a good feeling for local key marketing influencers and also enjoy the greater efficiency by distributing local marketing expenses across many units. A measure of how important marketing has become is the rapid growth in attendance at Franchise Update's Franchise Consumer Marketing Conference.
M&A activity, cost efficiencies, and very low (by historical standards) costs of debt capital for the foreseeable future all suggest the continuing, and perhaps accelerating, consolidation of franchising by multi-unit operators. One indicator is that transfer activity is rising at a faster rate than new unit growth.
As noted, the fastest-growing multi-unit categories are in the 26-100 unit range. These same economic conditions of slow growth, low cost of debt capital, and especially efficiency pressure of really small and really large operators are particularly favorable for this group. Therefore, I expect to see operators in the 26-50 and 51-100 unit categories continue to gain overall share. That growth will continue to come from new unit expansion, but increasingly by acquiring existing units.
These trends have significant implications to franchisors, who face the same economic considerations. Cost efficiencies are particularly relevant because a high percentage of franchisor budgets is allocated for meeting the functional support needs of franchisees. But as multi-unit franchisee categories shift, so do their functional needs. How franchisors adjust their services while focusing on their own cost efficiencies will be big influencers of the success of their brands in coming years.
Darrell Johnson is CEO of FRANdata, an independent research company supplying information and analysis for the franchising sector since 1989. He can be reached at 703-740-4700 or djohnson@frandata.com.
Published: October 24th, 2014
Share this Feature
Recommended Reading:
Comments:
comments powered by

Disqus

Multi-Unit Franchisee Magazine: Issue 3, 2014
Class 101 college planning franchise helps high school students get into better colleges and qualify for higher amounts of scholarships and financial...
Cash Required:
$50,000
Demand for The Bar Method continues to grow as more people discover the benefits of a barre-based workout and feel the empowerment after each...
Cash Required:
$125,000