MVPs Donnell Thompson & Ron Wooten Score! 2020 Pro Athlete Influencer Award recipients
Name: Donnell Thompson (Partner Ron Wooten)
Title: President
Company: Checkerboard Foods
Units: 12 Checkers & Rally's, 2 Denny's
Age: 61
Family: Wife and 4 grown children
Years in franchising: 29
Years in current position: 8 with Denny's, 3 with Checkers
Donnell Thompson and Ron Wooten are the 2020 Pro Athlete Influencer Award MVPs (Most Valuable Performers).
Thompson and Wooten are childhood friends who went on to play football together at the University of North Carolina and later played in the NFL—Thompson for 11 seasons with the Indianapolis Colts and Wooten for 7 seasons with the New England Patriots.
After retiring from football, both turned to franchising and have owned and operated franchises for Choice Hotels International, Zaxby's, Denny's, McDonald's, Del Taco, and Checkers & Rally's. Today, Thompson is president of Checkerboard Foods, which operates Denny's and Checkers & Rally's locations in Atlanta, Birmingham, Alabama, and Pensacola, Florida.
The sports influence is present throughout their business, with coaching and teamwork as hallmarks of their operation. Thompson says they strive to run successful businesses and to have a positive impact on the communities they operate inby taking care of their employees and serving their customers and local residents. They have been involved in several sponsorships and promotions in Birmingham, providing donations, meals for traveling sports teams, and offering GPA incentives. Last year, their Checkers locations in Birmingham offered free lunches to public school kids while the schools were closed because of Covid.
Thompson says he loves being in franchising and likens himself to being "nothing more than a head coach," putting the right people in the right places on the road to success. As his coaches always told him, "If you can be coached, you can succeed."
PERSONAL
Formative influences/events: Sports. Playing any kind of sports—football for me. It builds structure, team, and discipline. If you can be coached, you can succeed. That's what my coaches told me, and it's the same for our business.
Key accomplishments: My relationships with my longtime friends from the University of North Carolina. We've all gone through life and stayed close as we've grown through our lives. I've had these friendships for 35 to 40 years.
Next big goal: Growth. We're looking to grow in the Atlanta market by purchasing some other stores. And we are close to purchasing some stores in the Pensacola market. Right now is a great opportunity to buy locations.
Hardest lesson learned: You can learn from failures. You can't be afraid to pull the trigger. Just like in sports, you can't sack the QB if you're afraid to be offsides. You have to study the business and know when to pull the trigger. Sometimes you are right, and sometimes you are wrong. Celebrate the successes and work to overcome the shortcomings.
Best advice you ever got: As a young kid I had a mentor, Robert Osterneck, an early coach. He told me to be on time, always know what you're doing, study, and have fun and enjoy what you do.
What are you reading/favorite business books? I study the market a lot, looking at which way things are going and talking to people in the business. Know the players, know the market.
What's your passion in business? Development. I love being able to take a piece of raw land and turn it into great value. From there you develop the people to run the businesses.
MANAGEMENT
Business philosophy: Hands-on. I'm involved in all areas, but I don't get in the way. I make sure we are following the correct procedures. Also, knowing when it's time to make a change. If your QB throws two interceptions in the first half, it may be time to put somebody else in for the second half.
Management method or style: Setting the standard. Getting people in the right places and letting them be successful. It's important for me to get out of the way and let them succeed.
Greatest challenge: Staffing—trying to attract good people to replace those we lost during the Covid pandemic. We are down in sales because we are down in adequate staffing and are trying to get that back.
How close are you to operations? Very close. Hands-on. We are still small enough for me to do that.
How do you hire and fire, train and retain? We are still a small business so I am involved in this. We use what others use—Indeed, TalentReach, and word-of-mouth (and give bonuses to employees for this). We try to retain the good people we have by giving them decent pay and treating them right.
COVID-19
What have been the biggest impacts of Covid-19 on your business? Staffing and sales are down. The government essentially paying people not to work really hurt us. We're hoping that this ends and we get back to people wanting to come to work.
MVP QUESTIONS
Why do you think you were recognized with this award? I can't really say. I just get up and work hard every day. We try to be involved in the communities where we operate. I'm honored to receive this award.
How have you raised the bar in your own company? I'm hands-on and stay close to our management team. I'm a straight shooter with everybody. Let's do it right, or let's fix it so it is right. When I was playing football, if a meeting was scheduled for 3:00 and you showed up at 3:00, you were late. I try to use that approach for our business. Whatever the standard is, we try to exceed it.
What core values do you think helped you win this award? We try to run a good business, treat our team members well, follow the procedures, and be active within our communities.
How important is community involvement to you and your company? During Covid, in our Birmingham market, we offered free lunches to the kids while the schools were closed. These are the kinds of things that are just good to do. We are fortunate enough to be able to give back to the community. We will continue to do this.
What leadership qualities are most important to you and your team? Be coachable, follow the game plan. I'm really nothing more than the head coach, placing the right people in the right positions. Be willing to do whatever needs to be done for the business to be successful.
BOTTOM LINE
Annual revenue: $13 million to $14 million.
2022 goals: More growth. We look at every deal that comes across the desk. If someone calls us and has stores to sell, we will look at that deal.
Growth meter: How do you measure your growth? We use same store sales numbers. We can take that to the bank. Foot traffic is great but we can't take increased traffic to the bank. If something is down, we look at how we can control the controllables to fix it.
Vision meter: Where do you want to be in 5 years? 10 years? I think we can have 50 units in the next 5 years. I'm bullish on the Checkers brand. The model works. It's as good a concept as I've ever been in. The Checkers brand leadership is great to work with.
What are you doing to take care of your employees? We are small enough that we can help our employees on an individual basis. If someone has a flat tire and can't get to work, we'll buy them a tire. We've given loans to employees in need of housing. It's important to take care of our team members.
What kind of exit strategy do you have in place? I really don't. I still have a lot of good years left and I enjoy franchising. I'll probably be in this business until my wife rolls me to the funeral home.
Published: February 20th, 2022
Share this Feature
Recommended Reading:
Comments:
comments powered by

Disqus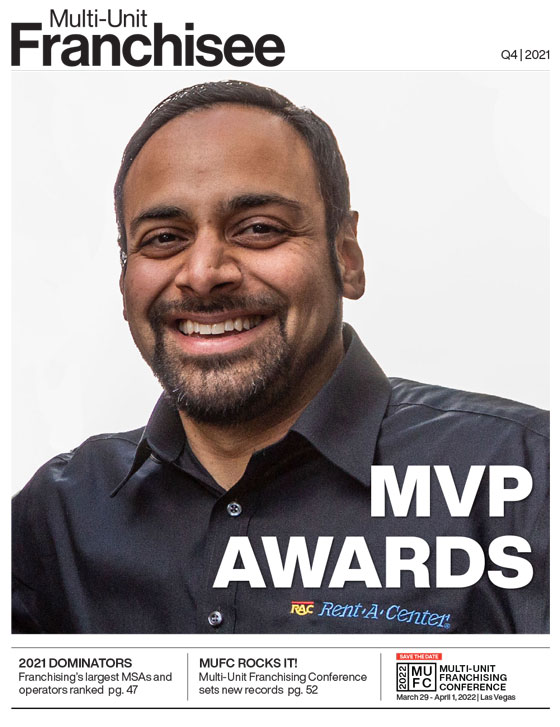 Multi-Unit Franchisee Magazine: Issue 4, 2021
With 5 locations currently open and several in the development pipeline, Bobby's Burgers by Bobby Flay has launched its full-scale U.S. and...
Cash Required:
$500,000
Tropical Smoothie Cafe is a healthier, quick-casual restaurant brand with 1,175+ locations in 44 states. One of its key differentiators is what the...
Cash Required:
$125,000