Mystery Shoppers Speak!: Analysis and Recommendations From Our Research Team
When Steve Olson stepped onto the stage at the Leadership & Development Conference in Atlanta in October, he once again had the unenviable job of reporting the good, the bad, and the ugly in franchise development as seen through the lens of Franchise Update Media Group's annual Mystery Shopper survey. There was a lot of bad.
"Only 19 percent of sales staff were available for our first telephone call. That's down 22 percent from last year," said Olson, president of Franchise Update. He went on to point out that 57 percent of the calls resulted in messages left on voicemail or with the receptionist. Incredibly, 24 percent of the sales staff never returned the call from our mystery shoppers, who posed as qualified prospects.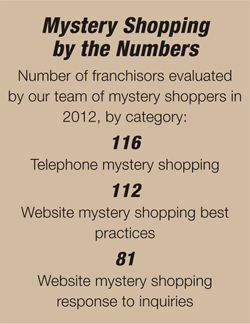 Website-driven leads didn't get any better service or attention. "Your website is the most important marketing tool in franchise history," said Olson. Still, the research found that 49 percent of franchisors never called the qualified prospects, 49 percent never sent emails, and 10 percent did not call or email the prospects. Toward the end of his presentation Olson quipped, "Was your sales team on summer vacation?"
The mystery shopping was carried out for the franchise brands that pre-registered for the conference and chose to have their sales teams evaluated. Their phone response and website effectiveness were then evaluated by the mystery shopper team. The results of this exercise provide valuable insights on how brands can build on what they're doing properly and shore up areas where they are weak. The data is also included in Franchise Update's Annual Franchise Development Report (see here).
To elicit real-world responses, the mystery shoppers posed as qualified prospects making phone inquiries or filling out application forms on franchisor websites. The telephone mystery shoppers evaluated sales team performance in critical areas such as response time, what information they requested, how they controlled the conversation, and how they directed the prospect.
Other researchers evaluated franchisor websites in areas that included SEO and navigation, how compelling, organized, and informative the content was, and how effective the design, multimedia components, and direct response elements were in driving qualified inquiries to the sales team. Researchers recorded the brands' ease of access, timeliness, responsiveness, and follow-up, which were then aggregated, analyzed, and presented at the conference.
For the inside scoop, beyond just the numbers, we went directly to the sources for further insights. We asked all research participants about their methodology and for their thoughts, observations, and suggestions on how franchise sales teams can improve their performance and effectiveness. Here's what they told us, in their own words.
Telephone Response
Marc Kiekenapp, Kiekenapp & Associates
First, we searched company websites for a franchise opportunity phone number. We then called to speak with a franchise salesperson and inquire about general franchise ownership.
We were surprised by the increase in "no callbacks." We also were surprised by the decrease in the amount of information salespersons gathered on the first call: the percentages were down in every category of information gathering.
Franchisors did pretty well at sending requested information, and also at returning calls in a timely manner once a message was left. This year, I was getting messages or callbacks more often within an hour or a few hours after the initial call (with the exception of the increase in no callbacks).
The higher-scoring franchisors seemed to stick to a guide for the first call: they asked for initial information, outlined next steps, and requested a follow-up for a second conversation to discuss the business and details. When next steps were presented, most were consistent with emailing general information and an application, wanting to schedule a longer conversation, and then sending the FDD with completed app.
However, franchisors did not do so well at building rapport. They were excited about the brand and shared information, but conducted less information-gathering about the prospective candidate: not keeping the first phone conversation short; rambling on about the product rather than talking about franchise ownership; and, in some cases, getting very specific on business operations.
Recommendation: I would suggest that franchisors refine their process and purpose for the first phone call. I'd also suggest setting up a phone system and designated person with backup for incoming calls.
Website Response
Jeff Sturgis, Franchise System Advisors
I submitted information on franchise information request forms on franchisor franchise opportunity websites (responding as a qualified lead).
The biggest finding is that of the 81 forms submitted (i.e., franchisors shopped), only 41 called me, about half. Seventy-two did send me an email, so I know they got the form. Doing the math, this means that 31 of the 72 people who emailed me didn't bother to call at all. In the past, this "no-call rate" has been closer to 25 percent, so for some reason franchisors feel less need to contact leads than in the past.
In addition to the lack of callbacks, the other surprising finding was the use of more links, videos, attachments, virtual brochures, etc. in the email I was sent. While I do believe it is good to provide information to a prospect, I would be concerned that franchisors think this supply of information replaces the need to actually pick up the phone and call the lead.
Overall, the franchisors that did make the calls seemed to do a pretty good job of engaging the prospect on the first call and asking some good questions. Most did a good job of keeping that initial call short and then setting up for the next step.
But it seems to me that most franchisors are still relying too much on the next step in the process being an application, rather than having a second, more involved phone call. I understand the philosophy of not wanting to waste time with a lead that is not serious or qualified, but I think franchisors are really missing an opportunity to engage people on a personal level earlier in the process. People still buy from people, and in the current and recent environment where most franchisors are saying leads are down, I don't know why they wouldn't take time to engage on a more personal level with a prospect.
Recommendation: I would encourage franchisors to be more diligent in developing a rapport with a prospect, asking questions, getting to know them through conversation and good questioning and listening rather than relying on automated processes or administrative steps, especially early in the process.
Franchisee Satisfaction
Michelle Rowan, Franchise Business Review
We surveyed franchisees using our standard satisfaction evaluation, which asks franchisees to rate their systems in the areas of financial opportunity, training and support, leadership, operations and product development, core values, general satisfaction, and the franchisee community. Each participating franchisor received an FSI (Franchisee Satisfaction Index) score as well as the average FSI for their particular industry.
The overall survey results for Franchise Update attendees were in line with our findings across the industry. Relationship (between the franchisees and franchisor) was one of the highest-rated sections. Franchise development teams are doing a good job at supporting both single- and multi-unit franchisees, even though the two groups require different types of support.
In terms of areas for improvement, setting realistic financial expectations with candidates is a common cause of franchisee dissatisfaction, and our survey for Franchise Update reflected this. Franchisors need to be realistic with the financial expectations they set for prospective franchisees. All too often, development teams (and Item 19s) paint a picture that is too optimistic--especially when it comes to earnings potential. Even if your top franchisees are pulling in huge numbers, it's important to "sell" candidates on the most likely scenario. When it comes to franchisee satisfaction, it's better to undersell your concept and have it over deliver.
We were surprised that only 60 franchisors participated in this free survey--even though franchisee satisfaction is a leading indicator of brand strength and performance.
Recommendation: If you aren't already assessing your franchisee satisfaction, you need to be--even if it's through an internal, less formal survey. Prospective franchisees want this information and, with more and more brands offering it, it's become a competitive advantage for brands that do. And, if your satisfaction comes back low, you need to address these issues before you sell more franchises.
Social Media
Jon Carlston, Process Peak
We conducted the social marketing benchmark analysis. This entailed research on the franchisor/franchisee presences on Facebook, Twitter, LinkedIn, and blog networks.
As expected, Facebook continues to make the most impact. Despite the significant audience Facebook represents, 68 percent of franchisors did not mention the franchise opportunity on their page. Only 17 percent had a franchise request form on their Facebook page. While Twitter can play an important role in consumer marketing for select brands, it represents only about 2 percent of the total social audience.
The most surprising finding in our research was the lack of consumer marketing fundamentals on the franchisor Facebook pages: 60 percent did not provide a link enabling visitors to search for a location.
In general, franchisors are doing a much better job of engaging their audience. The engagement percentage averaged 1.5 percent in 2012, compared with 0.6 percent the year before.
Most brands are still not leveraging their social presences to bring exposure to their franchise opportunity, and have not implemented programs to ensure that brand integrity is intact at the local level.
Recommendation: We encourage franchisors to develop a plan for franchisees to execute effectively and appropriately at the local level, therefore demonstrating to potential candidates the opportunities they would have to drive local business as a franchisee. Last, we would encourage them to work with marketing and ensure that the ability to request information on ownership is available through all their local presences.
Fast Response by Franchisors Jeff Gooch, eMaximation
As the data suggests, companies with marketing programs that respond to candidates quickly are poised to reap the benefits: 61 percent of applications are submitted within the first 24 hours following a brand's quick response.
Things move quickly and attention spans are short. Franchisors should check to ensure that their lead sources are passing their leads to them in real time and that they are marketing to their leads as quickly as possible, even on weekends and off hours.
Additionally, a significant number of applications are being completed within the first week. Companies would do well to establish lead nurturing campaigns that reach candidates several times within the first seven days. A drip email campaign that sends out relevant content at predefined intervals can help a franchise build trust and credibility and can serve to keep a company "top of mind" so that a potential franchisee will be motivated to take the next step.
Finally, we see an opportunity for franchisors to improve application rates among prospects who have been in their system for some time. Given the rising cost of acquiring leads, it makes sense for savvy franchise marketers to redouble their efforts to connect with prospects who have already declared their interest.
Recommendation: We suggest that franchisors create dedicated re-engagement campaigns targeting these cold leads. Companies should get creative in their marketing efforts to colder leads (a survey or a unique promotion, for example), though their message should remain relevant and should prompt prospects to take action.
Mobile Response
Michael Alston, Landmark Interactive Franchise Group
Using proprietary web server and tracking data, we analyzed mobile and desktop usage patterns across our network of online franchise recruitment sites, or portals (Franchise.com, FranchiseOpportunities.com, FranchiseSolutions.com, FranchiseGator.com, and BusinessBroker.net). The research covered more than 15 million online and mobile visits since we started adding mobile features more than 2 years ago.
We found that mobile channels are now a significant segment in the franchise recruitment/sales process. The mobile share of visitors to franchise portals has tripled since January 2011, and mobile phones and tablets now account for 20.7 percent of all visitors to the group's websites. Within that mobile segment, phones account for 57 percent of visitors and tablets for 43 percent. Tablets are the faster-growing category, with a share that has more than quadrupled since January 2011.
The number of mobile franchise prospects submitting online leads has tripled in the past 18 months, reaching 20.2 percent of online investment inquiries. Mobile users are high-value prospects and were 8.7 percent more likely to request franchise information with $100,000 to $500,000 in available capital to invest.
We were surprised that mobile lead submissions grew just as fast as mobile browsing and research. The smaller screens were not a barrier to filling in lead forms with investment information.
We were also surprised at how fragmented the mobile "audience" is. The different devices, screen sizes, apps, and browser choices are far more complex to develop for than the desktop web. Lead submissions were spread out among all of these different platforms.
Recommendation: Because no single mobile device or format is dominant, and because mobile activity is spread out over many platforms, our best advice is to avoid putting all of your mobile eggs in one basket (i.e., don't develop an iPhone app and call it a day). In fact, research suggests that users are using multiple screens at once (PC and phone, tablet and television) or switching between mobile phones, tablets, and the desktop web as part of the same research process, so an integrated solution seems best.
Published: January 9th, 2013
Share this Feature
Recommended Reading:
Comments:
comments powered by

Disqus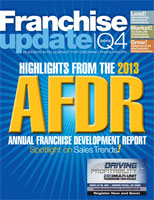 Franchise Update Magazine: Issue 4, 2012
Conferences
InterContinental, Atlanta
OCT 18-20TH, 2023
919 Marketing Co. is a national content marketing, PR and social media agency serving franchise brands. Our proprietary social relations approach...
April 25 - April 28, 2023, Caesars Forum, LV. The Multi-Unit Franchising Conference is the premier annual event for the country's leading...