Negotiate!: Franchisees are asking for--and receiving--better Franchise Agreements
Looking for deals in today's economy? Look no farther than the franchise agreement--but look carefully (and bring a lawyer).

Written by franchisors to protect their brand and their interests, franchise agreements have historically favored franchisors, with little room for negotiation, especially among more established brands. That not only is changing, it already has--the result of fundamental shifts within franchising itself, accelerated by today's economic upheavals.

"Franchisors are retrenching like everyone else," says Mario Herman, a Washington, D.C., attorney who represents franchisees. "Franchisors are hungry now because sales are really low, so franchisees who are in a strong cash position can dictate better terms for expansion or multi-branding," he says. "So I think they probably would look to be more flexible overall, especially new franchisors."

"Franchisees have some bargaining power, especially right now, with financing difficult," agrees franchisee attorney J. Michael Dady of Dady & Garner in Minneapolis. "Wealthy franchisees can use that to negotiate contracts." If a franchisor refuses to negotiate, Dady says he often advises his franchisee clients to walk away from the deal. Today, he's seeing more franchisors confronted with a deal-breaking item in the agreement come back and say, "It's hypothetical, let's take it out."

A "paradigm shift" is well under way in franchise agreements, says attorney Joyce Mazeropractice leader for Haynes and Boone's Franchise and Distribution Group and Restaurant and Foodservice Industries Practice Group in Dallas.

"There is a type of prospect--the large, experienced multi-unit developer or investor--where the risk profile is different. And it may mean the franchisor could view the relationship with a little more risk in order to get the opportunity for the upside," says Mazero. These prospects, she says, understand the business, are focused on financial returns, and will likely meet their development schedule.

Each franchisor has its own view of what the risk profile should be in any deal, based on the experience and financial wherewithal of the prospect, says Mazero. In short, she says, "The risk profile of the more financially able prospect should shift because the risk is different."

In assessing that risk against changes in the franchise agreement, says Dady, both franchisor and franchisee must ask themselves: 1) What is the gravity of harm that could result, and 2) What is the likelihood of that actually occurring, as compared with the upside?

Another possibility, suggests Mazero, is joint ventures in which franchisee and franchisor share the risk. "That's why you see more franchisors considering joint ventures with large developers. There is comparable experience on both sides that could bring about profits."
Cash means clout
"I've seen situations where franchisees have a larger liquidity and net worth than the franchisor," says Franklin Carson, who operates 47 Applebee's in central Florida. "That clearly changes the type of negotiation." For example, a large multi-unit franchise company already has its own human resources, purchasing, development, and marketing departments in place and doesn't need those services from the franchisor, he says.

"These types of franchisees are looking for opportunities to get involved with a company that has huge growth potential, and they are looking for more control of their own destiny," says Carson. That often means changes in the standard franchise agreement.

"A multi-unit operator who's successful and may have cash hidden away can go to a franchisor, and not necessarily dictate terms, but have more favorable ones than in the past," says Herman. "Cash is king." Specifically, he says, "I have found that franchisors will sometimes do separate letter agreements, not in royalties, but in venue, where you sue, the choice of law (arbitrate or litigate), and perhaps advertising. Other areas he's seen open to negotiation in the past year include size of territory (larger), waiving certain up-front fees, and a lower price for additional units in a multi-pack deal.

"If you want to do a deal now you must have a tremendous amount of cash--assuming you're willing to tolerate the risk," Carson says. However, he cautions, taking advantage of what appear to be good deals can be "incredibly dangerous" in today's uncertain economy. "Any franchisor that is nervous right now will try to sell as many as they can."

His advice? "Be extremely careful. Not only do your homework on the company and its finances, but on the principals of the company, and if they plan on staying around for a while."

"I certainly would be careful," Herman agrees. "The franchisor's interests are not necessarily consonant with yours. They get their percentage off your gross. I have had clients overreach and suck the profit out of their other units. It's like the banking system: the franchisor doesn't want closed units."

Many franchisors, he says, would be interested in successful owners taking over weaker units, but it's worth looking these gift horses in the mouth. "A lot of things can contribute to failure, but only a few to success," says Herman. "It's always a question why it's such a bargain. If it's too good to be true, it usually is."

Then there's the 800-pound albatross to factor in. "Going into brand new units in a dwindling economy, you may not have the strong demand you think you will have, nor the cash flow based on your pro forma," says Herman.

Even when money is tight, scrimping on attorney's fees on the front end, says Herman, can be penny-wise and pound-foolish. "I help franchisees who want to get into the right opportunity for them. I wish more would come to me ahead of time, so I'd have less on the back end."

When it comes to franchise agreements, "I negotiate significant changes," says Dady. His approach, like that of Herman, is to negotiate his franchisee clients out of onerous clauses before the agreement is signed. "Why fight? Get it out up front," he says.

Some areas of particular concern to him as a franchisee advocate include: rights of first refusal (which can depress sales price); indemnification and attorney's fees (who pays); and personal guarantees. "The issue of personal guarantees is negotiable," he says.

Bottom negotiating line? Says Dady, "Your ability to do so is a function of how much bargaining power you have, and how badly does the franchisor need you."
Showing the way?
More progressive franchisors have pushed the envelope themselves, eliminating restrictive clauses and terms from their franchise agreement to attract the kinds of operators most likely to help them achieve their development goals.

As Dunkin' Donuts prepared to expand nationally from its New England base, management recognized that its franchise agreement was not aligned with its vision--and could actually hamper the brand in achieving its goals. Meeting its goal of adding hundreds of units per year and potentially tripling locations from 5,000 to 15,000 in the next decade, changes had to be made in the old franchise agreement--and in the way corporate viewed its base of potential franchisees.

"When I joined the company three and a half years ago, the brand had already begun to look at the expansion plans," says Lynette McKee, vice president of franchising. "Knowing the rate and pace of the numbers we wanted to hit, we had to bring in new franchisees that mirrored our most successful operators."

The company, founded in 1950, combed through its existing franchise agreement paragraph by paragraph, she says, asking questions such as: Is this pertinent to the agreement? Is it important for the relationship? "The first year we did this, we looked at all the issues that came up and said, 'Okay, we could live with that.'" Or without it.

"We're looking at it from a new age," she says. "Who are the franchisees coming in today? And we looked at the relationships we've had with our great franchisees over the years," says McKee.

In developing its ideal profile for candidates to expand the brand beyond its traditional geographic base, Dunkin' conducted a survey to determine what the new breed of multi-unit owners wanted to see in a franchisor and its franchise agreement.

"One of the most important factors multi-unit operators considered was the leadership and the relationship the company had with the franchisees," she says. Without a high level of respect for the people behind the brand, she says, multi-unit operators seeking to expand their portfolio will likely look elsewhere.

Today, the minimum sale to new franchisees is five units, with the ideal in the 20-unit range. For existing franchisees seeking to add fewer than five units, "We absolutely will work with them," says McKee.
Relationships still rule
For McKee, though, no matter how big the deal (or the operator), success depends on building a good relationship between franchisee and franchisor from day one.

"What we look at even before we get into the conversations around the contract per se--and at that point they have reviewed it--is to see if, from a relationship standpoint, the personalities mesh, if it's a group we can have open conversations with later on and work it out, versus pulling out the contract and saying, 'Here's what you have to do.'" And, she says, sometimes you do have to pull the contract.

In evaluating a franchisor, she says, "Find out what the company is all about. How do they conduct themselves? How do they handle the relationship with their franchisees? Do they communicate a lot? Can you never get hold of anyone in the organization?"

Her advice: Look at the franchise community as a whole, and look at the franchisees within that system who may have had issues and see how the company dealt with them. Did they throw the contract in their face and say "You have to do this," or did they say, "Let's sit down and talk about this together?"

As franchising continues its shift toward multi-unit and multi-brand operators, that cornerstone of franchising--the franchise agreement--is undergoing fundamental changes of its own. Franchisors seeking to expand in today's market are re-evaluating their franchise agreements to be more favorable to larger, multi-unit operators and developers--and they're letting them know about it. Franchisors who remain wedded to agreements geared toward single-unit sales are being left in the dust. (See Franchise Market Update)

Bottom negotiating line? If you have enough units, a solid track record of success, and above all, cash to spend, you're in good shape to ask what your potential franchisor can do for you.
A Question of Balance
Ed Teixeira has worn many hats during his decades in franchising, including authoring a book for franchisees (Franchising from the Inside Out) and founding FranchiseKnowHow, a franchise consulting firm.Today Teixeira is back in the saddle growing a franchise company and negotiating franchise agreements. In January 2008, he signed on as COO at Vehicle Tracking Solutions (VTS) to help guide the company as it begins franchising its vehicle location and GPS fleet tracking systems.

"I've spent my career in operations as a senior executive, so I've dealt with attorneys on both sides," says Teixeira. "I always try to strike a balance, recognizing the franchisor has certain interests they have to protect, and the franchisee does, too."

Teixeira breaks the franchise agreement into two categories: 1) the "sacred cows" (royalty, termination, noncompetes, and nondisclosure); and 2) the business issues (e.g., territory, advertising obligations, performance requirements/quotas, and the cure/default period for termination). "Typically the more mature the franchisor, the more difficult to negotiate terms," says Teixeira.

Attorney's fees, he says, have long been a potential bone of contention in franchise agreements, where the franchisor can recover fees but the franchisee cannot. "I've often been willing to meet halfway on attorney's fees. I like to make it reciprocal or cut it out entirely," he says.

He says today's franchise agreements are much tighter than in the past and have been tested through litigation--which makes it all the more important for franchisees to have good franchise counsel "to provide good insight and encouragement along the way," he says.
Published: March 17th, 2009
Share this Feature
Recommended Reading:
Comments:
comments powered by

Disqus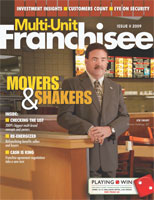 Multi-Unit Franchisee Magazine: Issue 2, 2009
If you are looking for a business that is meaningful and fulfilling, you should take a closer look at Bruster's® Real Ice Cream Franchise!
Cash Required:
$125,000
Senior Care Authority® is a leader in senior care options, eldercare franchises, and advocacy services. Contact us to start your senior care...