Old School Adds New Tricks: Marketing a Mature Brand to Millennials
How do you keep a 75-year-old brand relevant?
There is no single answer to that question. But Krispy Kreme's CMO, Dwayne Chambers, brought a number of insights (as well as dozens and dozens of free donuts) to a recent meeting of retailers interested in connecting with Millennials.
With the audience on a suitable sugar high, Chambers started by offering that the Krispy Kreme purpose is "to touch and enhance lives through the joy that is Krispy Kreme." The purpose is deliberately not around selling more donuts--lots of companies can do that. Not every company can bring customers joy!
Not every company can grow with no paid advertising either. But Krispy Kreme has--for more than 15 quarters now. They focus on customer experience, local marketing, and social media, with 4.6 million Facebook "likes."
To be relevant today means engaging Millennials without alienating core Boomer and Gen X customers. For Krispy Kreme, the path to that engagement is "to build positive, meaningful, long-term relationships by making emotional connections with our team members, guests, and communities." That really begins with team members.
Example: Chambers was visiting a Krispy Kreme where he was unrecognized; the front-line team members had no idea he was the CMO. A friendly lady behind the counter greeted him, "How are you today?" To which he replied, "Oh, I'm all right." To which she replied, "Well sir, step up here and let me make you great!" Culture like that creates a rewarding customer experience.
And that fits nicely into the overall appeal of the brand: it's all about rewards. Office managers bring donuts to a business meeting as an unspoken reward for attendees showing up--and even getting there early (or at least before the donuts are gone). Parents take their kids out for Krispy Kreme donuts on a weekend morning for a special treat, including free Krispy Kreme paper hats that kids of all ages love.
For years, Krispy Kreme has had a tradition of flipping on their iconic Hot Light, but only when the donuts are freshly made and rolling down the line. Chambers describes this as "donut theater." That's also when the addictive smell and taste of the donuts is at its most potent for Krispy Kreme's cult-like followers. (Customers camp out overnight for new store openings.)
Whenever the Hot Light comes on, people spontaneously turn their cars around to make an impulse buy--while they still have the chance.
Now there's an app for that. Three hundred thousand people have downloaded the brand's Hot Light Online app. It shows every U.S. location with freshly baked donuts right at that moment, enabling Krispy Kreme fans to receive alerts whenever their favorite locations flip on the Hot Light.
In another example of bringing the past into the present, Krispy Kreme celebrated its 75th birthday with a cross-country bus tour, traveling 50,000 miles to bring donuts to 500 locations in 37 states. The Krispy Kreme Cruiser was no ordinary bus. Chambers found a 1960 Flxible Starliner in storage (it was formerly the Ray Charles Orchestra bus) and restored and branded it. Customers could track the location of the bus--it even had its own website.
And wherever it arrived, the bus came bearing donuts, drawing crowds, and making personal connections while allowing guests to participate in creating a fun event. The tour also created opportunities for fans to take Krispy Kreme event photos and videos to share with their friends online. That's important, because both participating with brands and sharing with friends are high values in the Millennial culture.
Jeff Fromm, executive vice president of Barkley (Krispy Kreme's agency) and co-author of Marketing to Millennials, says that, in addition to offering customers functional and emotional benefits, brands that want to win the loyalty of Gen Y must offer participative benefits. They want to co-create your brand, in part, by what they share about your brand.
Perhaps you've heard the Millennials' marketing term: "shareworthy." Photos and other content that rank high in "shareworthiness" are those that make Millennials appear adventurous, connected, and cool to their friends.
That's why having shareworthy events--like overnight camp-outs at new store openings or spontaneous flash crowds showing up when the 1960s-vintage bus arrives with donuts--are good for marketing to the under-35 crowd. They'll tweet about the events and share photos. The same advantage comes from having a Hot Light app that can be shared by word of mouth, mouse, and thumb.
Fromm advises, "You have to embrace and understand technology to relate to Millennials, who happen to have the greatest spending power of any generation in history." Chambers concludes, "The key is to embrace Millennials in a way that is true to your brand and is authentically who you are."
---
SMG Chief Evangelist Jack Mackey, CFE, helps clients transform the customer experience. For a complimentary copy of "The Millennial Consumer: Debunking Stereotypes," go to www.smg.com/research.
Published: July 31st, 2013
Share this Feature
Recommended Reading:
Comments:
comments powered by

Disqus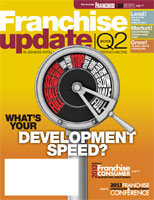 Franchise Update Magazine: Issue 2, 2013
ApplePie Capital provides a fresh new approach to franchise financing that is focused on your growth and success.
Leasecake is location management made easy – from lease contracts and licensing agreements to ASC 842 compliance. Never miss a deadline, stay ahead...