One-Stop Shoperator: Young Multi-Brand Zee Mixes Concepts to Expand Locally
Andy Lanz got started in franchising right out of the University of Wisconsin in Madison. With the help of his parents, the newly minted economics graduate purchased a Cousins Subs franchise in nearby Verona. Then he added a Figaro's Italian Pizza franchise as well as a Chocolate Shoppe Ice Cream operation, and put them all together inside his first 2,500-square-foot store.
By combining concepts, he could to cater to more than one taste or time, and was able to build steady traffic throughout the day. It just made sense, he says. Grouping franchises also helped his customers, giving them gourmet sandwiches and pizza for lunch and dinner and ice cream in the afternoon--an idea that worked well in the little town just outside of Madison.
"Verona is one of the fastest-growing communities in the area," says Lanz, "and I felt a little less competition than other places in the area." Soon after, he started to branch out into other locations.
Now Lanz owns five Cousins, two Chocolate Shoppes, one Big Apple Bagels, and a Figaro's. Most of these brands are grouped together as co-branded locations, which also helps him cut back on his fixed costs.
Choosing the right concepts to mix together took some research, says the young multi-concept operator, who was able to get a fast start on Cousins, a brand he knew well as a customer. "Cousins was always my favorite sandwich shop," he says. "That's how I got started looking at it." After that he began surfing the Internet in search of complementary brands, tracked down the Chocolate Shoppe and just kept going.
But the real key to his success, he says, has been his ability to attract a good group of employees to prepare and serve the food. After all, he says, "The restaurant business is really more about the people than the food." Just about anybody can make a good sandwich, but if you want customers to keep coming back day after day, you need to have friendly, likable people behind the counters. To do that, he budgets extra time to get to know the people who are applying to work, probing them to find out more about what makes them tick to get a better idea of how they will handle customer relations on the front lines.
"Part of hiring is just having a feel for people," says Lanz, "finding out who will be outgoing and talk to your guests, and who's reasonably hard-working." By taking more time for job interviews, he's been able to reduce his remedial work with problem employees to a minimum.
Lanz just doesn't talk the customer service talk. He helps set the pace, and provides an example by making sure he's in one of his stores every lunchtime, serving food and talking it up with employees and customers.
Nights and weekends you can often find him at a local event, but he isn't just out to have fun. A real go-getter, Lanz doesn't wait for the business to come to him. He goes after the market wherever he can find it, specializing in marketing his food favorites at events in the area. It's a lucrative sideline, he says, which has helped him weather the economic downturn in his region. And he plans to keep on building up that end of the business in the year ahead.
"This year we have over 50 special events scheduled," he says. That way he can build his revenue without adding to his fixed costs. And he stays focused on making daily, incremental steps forward. For Lanz, winning at franchising takes long-term commitment, and he's all in for the long haul.
QUESTIONS
Name: Andy Lanz
Title: Owner
Company: Lanz Restaurants LLC
No. of units: 5 Cousins Subs, 2 Chocolate Shoppe Ice Cream, 1 Big Apple Bagels, 1 Figaro's Italian Pizza
PERSONAL
Age: 29
Family: Nope.
Years in current position: 6.5
Years in franchising: 6.5
Key accomplishments:
Going from one store to four stores in 6.5 years has probably been my biggest accomplishment.
Biggest mistake:
I've made a lot of mistakes. At certain points I've been a little too optimistic and grown too fast.
How do you spend a typical day?
I usually visit at least a couple of the stores. I work lunch in one of the stores. I do quite a bit of paperwork every day. Bookkeeping and setting up marketing, that kind of stuff. I'd rather be on the floor, working with customers.
Work week:
I do a lot of special events. This year we have over 50 special events scheduled. And it covers everything: the state hockey tournament, fairs, firework displays. I work with a local entertainment center and we donate a percentage of sales back. We sell subs and ice cream at the events.
Favorite fun activities:
I love to go to Badger games, both football and hockey. And I have pet turtles.
Exercise/workout:
I probably don't work out nearly as much as I should.
Favorite stuff/tech toys:
I'm not really big into that, but I couldn't live without my BlackBerry.
What are you reading?
I read the news about half an hour a day.
Do you have a favorite quote or advice you give?
Adversity builds character.
Best advice you ever got:
Laugh at your mistakes, but don't repeat them.
Formative influences/events:
My parents have had a great deal of influence on my life. My Dad owned an insurance agency for 25 years and my parents had a large self-storage business when I was growing up, so I think that's definitely where I got my drive to invest and build a business.
How do you balance life and work?
I spend a lot of time with my business. At first I was much worse at it than I am now. I definitely learned to force myself not to work and do fun things too.
Management
Business philosophy:
In the restaurant business the most important thing you can do is have the best people, the friendliest people that you can find. Anybody can make a sub, but doing it in a way that builds relationships is always the hard part.
Would you say you are in the franchising, real estate, or customer service business? Why?
Definitely the customer service business. I bought a franchise, but taking care of customers is really the core of everything.
What gets you out of bed in the morning?
I like to make little improvements every day. If you make your business just a little better every day, over the long term it makes a huge difference.
What's your passion in business?
A lot of this goes back to people. I love my regular customers and getting to know the people.
Management method or style:
I'm a younger guy and I'm pretty relaxed. I think most of my employees have a good idea of what I expect and I make it very clear. Aside from that, I tell my guys to have fun.
How close are you to operations?
I have four stores. I get to an average of a couple a day and I usually work lunch in one of the stores each day. So I'll be in each of my stores at lunch once a week, on average.
Have you changed your marketing strategy in response to the economy? How?
We have done more discounts and specials than in the past. However, great food and great service are still the best ways to retain loyal guests.
How do others describe you?
I'd like to think that other people think of me as a nice guy, but my employees know I have high expectations.
How do you hire and fire? Firing?
I don't do very much of that at all. Usually if you hire the right people you never have to fire them. As far as hiring goes, I use a couple of tools. The most important is a structured interview. I ask a lot of hard questions that gets them to open up. More than just "Tell me about yourself."
How do you train and retain?
I make sure that people start out with clear expectations. And the franchisors provide a lot of that as well.
How do you deal with problem employees?
I guess all people are different. It depends on the person. Of course I don't have a lot of problem employees, but when I do we just like to make sure they understand what the expectations are and why they aren't meeting them. If we can help them, great. If we can't, we part ways. Most things can be worked through.
Bottom Line
Annual revenue:
I prefer not to say.
2011 goals:
My biggest goals are to grow my event business and grow sales overall. We've had a couple of tough years, like everybody, but I think things are starting to look up a little bit. We'd like to see things turn around.
Growth meter: How do you measure your growth?
I measure everything, maybe too much. As far as growth, I'd say same store sales is what we want to see grow.
Vision meter: Where do you want to be in 5 years? 10 years?
I would imagine still running my restaurants. I imagine that I will have grown in some ways, store-wise. I guess I'm a one-thing-at-a-time guy and now I'm focused on growing the restaurants I have.
How has the most recent economic cycle affected you, your employees, your customers?
Obviously it's been tough on everyone. Our customers are a lot more cost-conscious than ever before and so are we. We pay attention to our bills more closely than ever.
Are you experiencing economic growth/recovery in your market?
I think things are starting to look up and we've come through it. It could have been a lot worse.
What did you change/do differently during the recent tough economic times that you plan to continue doing into the future?
Before the downturn I was used to having consistent sales growth. It was easy to let the little things go because rising sales fix all problems. Over the last few years we've been very careful about every cost. I make sure we're getting a competitive deal from every vendor and I think in the long term that will be beneficial.
How do you forecast for your business during trying times? Can you even forecast at all?
It's tough. No one knows what will happen in the next two years, or three or four or five. My goal this year is to have some kind of growth.
Where do you find capital for expansion?
To be honest I haven't looked in a couple of years.
Is capital getting easier to access? Why/why not?
That's obviously a little tougher. Have you used private equity, local banks, national banks, other institutions? Why/why not? We've used local banks mostly.
What kind of exit strategy do you have in place for your business?
At this point I don't really have one. It's not a great time to leave a business and I don't think it will happen anytime soon.
What kinds of things are you doing to take care of your employees?
We have incentive programs. Our corporate office mystery shops, where they send people in to buy subs, find out if the service is good, is the restaurant clean. If an employee gets 100 percent, they get a $100 bonus. That happens pretty often, and managers have a bonus system in place as well.
How are you handling rising employee costs (payroll, healthcare, etc.)?
I don't know if there's a lot we can do to handle that, other than to make sure our restaurants are running as efficiently as possible.
How do you reward/recognize top-performing employees?
The bonuses are the most formal thing I do. A lot of it is making sure your employees know they're appreciated.
How is social media affecting your business operations?
Social media has not had an effect on my business at this point.
Published: June 17th, 2011
Share this Feature
Recommended Reading:
Comments:
comments powered by

Disqus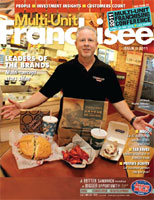 Multi-Unit Franchisee Magazine: Issue 2, 2011
The Joint® Chiropractic is reinventing chiropractic care. Our vision is to become the largest, most respected provider of chiropractic services...
Cash Required:
$100,000
America's mid-market Alehouse sensation bringing handcrafted food, regional beers, Crazy Good Wings and Fingers, sales, and profits!
Cash Required:
$250,000