Out-Sourcerers: Mastering the Art of Hiring Out
Franchisees of all sizes are increasingly discovering that business goes better with outside help. Many have found the key to bottom-line success is to focus on what they do best and find the right fit to outsource the rest.
Former corporate controller and CPA Joel Karg has the know-how to tackle any financial function at his multi-unit Sky Zone franchise. He also knows enough to hand off time-consuming tasks to someone else.
Karg and his franchise partner David Beckett have chosen to outsource the payroll, tax, human resources, information technology, and social media marketing needs of their Columbus, Ohio-based company, which operates three parks in Dayton and Pittsburgh, with a fourth under construction. Going outside for help has allowed the duo, who honed their franchise management chops as executives at Stanley Steemer, to spend less time pushing paper and more hours strategically growing their indoor trampoline park business.
"We work hard, we don't ever take our foot off the accelerator. But you have to be in tune to see if there is a better way. Am I doing the best I can? Should I do this or have someone else do it?" says Karg. "We are boots-on-the-ground people, but every time we have taken a step back and handed something over it has worked out well for us."
The options are endless
Outsourcing is a natural avenue for franchisees, in many ways mirroring the franchise model. And thanks to technology that erases geographical boundaries and provides ready access to highly qualified professionals, the options for lowering operational costs and freeing up time for building the business are more plentiful than ever. Outsourcing can be used to serve short- or long-term needs, to focus on a special project or market, or to handle daily tasks to keep the office running smoothly.
And these days, the options are endless. Payroll, accounting, lead generation, social media marketing, and more can be outsourced through a third-party provider, often through the cloud (software-as-a-service). Franchisees also are turning to outsourcing for site selection, legal needs, sales, vendor negotiations, human resources, as well as task-oriented work such as taxes or web design. Franchisees also can rack up savings by using trusted third parties to eliminate the need to hire additional staff for such positions as bookkeeping, and by employing virtual administrative assistants, or even temporary C-level executives.
"Outsourcing is something we are always talking and thinking about," says Tropical Smoothie Café franchisee Glen Johnson, president of Little Rock-based Tropical Tango. "Even within the outsourcing companies we are currently using, we are always seeing if there is a better option."
With 15 Tropical Smoothie Cafés in Arkansas and Oklahoma and expansion plans for Texas, he included outsourcing in his business plan from the start, contracting payroll services when he opened his first café in 2011. As his portfolio grew, so did his outsourcing needs. Over the years he has looked outside for accounting, human resources, bill paying, site selection, vendor and lease negotiations, co-op management, and advertising. And with eight new stores scheduled to open this year, Johnson will consider any outsourcing tool that leads to quicker, better decisions, cost savings, and back office efficiencies.
"It all comes down to return on investment, and to me, time is the most valuable thing," he says. "If it's cheaper for someone else to do it, takes less of your time or your team's time, and if the end result is as good or better than what you can do internally, then it's worth looking into outsourcing."
"If I'm in the back office writing checks, I'm not with the customer and I'm not seeing the competition, new products, or what the market has to offer," says Mike Alia, a 17-year multi-unit franchisee of Gloria Jean's Coffees. "All we have in this business is time. If we waste time doing the little things, we can never grow the business," says Alia, who outsources payroll, accounting, and real estate functions.
Spend money to make money
Outsourced contractors provide multi-unit franchisees with the most up-to-date technology, as well as providing scalability, saving on both staff hires and the need for internal maintenance time and expense.
"I've run into plenty of folks along the way who tried to keep payroll in-house to save a dollar or so," says Karg. "I knew right out of the gate that it is not something you want to invest your time in. It is such a commodity-type service that you end up wrapping up too much time and money, and the filing penalties and things of that nature are just not worth the risk."
Along with hard cost savings, increased efficiencies, and the invaluable "soft" cost benefits of time to focus on growth and productivity, outsourcing can provide additional intangibles that may have previously seemed out of reach, especially smaller or early stage franchisees. For example, creating an outsourcing team can give a small company the feel of a larger one and provide access to a higher level of talent--even more vital if the franchisee lacks the expertise of more seasoned operators.
"What you are getting is a panel of experts in their fields," says Karg. "You are using their knowledge, rather than saying 'I have to know it all.' I don't have to know it all. I just need to have access and business relationships with folks who are good in those areas. Unless you are a really large company, it is really hard to cover all the disciplines you need to cover on your own."
And as franchisees expand into multiple brands or markets that require new or expanded procedures and processes, outsourcing to gain needed expertise can be increasingly critical to the success of their new venture.
Alia, who operates four Gloria Jean's stores in three different markets in Indiana and Wisconsin, relies on outside lease negotiators to make sure he gets the best deal possible. "They know the financials of the malls, the traffic, the competition, and the market," he says. "They are experts and charge a small amount of money for what they really do."
In-house or outsource?
Many factors go into the decision of whether to keep a task in-house or to use an outside source. Where do you spend your time? How critical to your business is the job, function, or task? Are you able to let it go? And especially for smaller or startup franchisees, can you afford it at all at this stage?
Tom Burtzlaff, president of CMIT Solutions of Columbia, a provider of IT outsourcing services, looks to contractors to help him run his own business. A franchisee of two territories near Columbia, Md., and an area developer for four additional territories in Central Maryland and Northern Virginia, he outsources legal services, accounting, payroll, human resources, bookkeeping, benefits administration, and telemarketing.
"As a multi-unit franchisee, it can be easy to be dragged into the day-to-day administrative aspects of your business," he says. "I always say that our team's most important value is to work on the business, not in the business."
Burtzlaff recommends creating a list of tasks that must be accomplished each week for the business to thrive. "Highlight the tasks that someone else could do more efficiently. Then begin the outsourcing search to find who can provide those services to help the business reach new heights," he says.
Baskin-Robbins franchisee Gary Yarbrough believes in a "must be present to win" philosophy for his four San Diego area stores. So he uses contractors for taxes and legal help and established a creative tie with a local college for marketing assistance.
Yarbrough says he has been able to keep payroll in-house, but with two new stores in the works, he expects that to change. "If I don't have time to get out in the neighborhood and help market my place, and the accounting is keeping me from being free, I have to hire a bookkeeper," he says.
Taking a hard look at business operations also can help a franchisee know when not to outsource a function. Outsourcing might not be the right choice if a specific operational or logistical task is too difficult to integrate into a third party's process or system, the service doesn't create enough value to justify the cost, or if what you want to outsource is too important to delegate to someone who doesn't have a vested interest in your success, says Tropical Smoothie's Johnson.
Finding outsourcing
Once the decision to outsource is made, Burtzlaff suggests taking advantage of existing business and professional relationships to find the best third party for your needs. "Our HR partner is also one of our clients and has referred us to several other clients as well. In addition, we often recommend our HR partner to other businesses looking to outsource in that field. Outsourcing truly can be a win-win for all parties involved," he says.
"We've found extreme success with this tactic," he adds. "Our accountant recommended our current bookkeeper, our healthcare broker recommended our payroll company, and our franchisor's marketing team recommended our telemarketing company."
In addition to referrals from other business owners, trade associations, and online marketplaces, franchisors also can be a source for less-expensive outsourcing than may be found locally, or can provide reliable referrals for contractors who have worked with other franchisees in the system. Franchisees also can save time and money by selecting a single provider that can integrate multiple services, such as bookkeeping, accounting, and payroll.
Tropical Smoothie's Johnson has switched payroll services to a company with easier-to-use software and is in the process of outsourcing bill paying to more seamlessly handle invoices in three states. He also is taking advantage of the franchisor's decision to hire in-house real estate specialists to help franchisees manage brokers and assist with site selection and negotiations. He used to pay an outside company for that service. "By corporate bringing everything in house, it is saving us money," he says.
Maximizing the benefits
Outsourcing a previously hands-on task does not mean the franchisee can be hands-off. It is not uncommon for businesses to outsource a service without managing the results.
"You have to trust and verify," says Alia. "Trust who you are working with and, every once in a while, verify that they are giving you the best and most competitive service in the market."
"We use the term managing at 30,000 feet, versus managing in the weeds," says Karg. "What you are doing is taking yourself out of the weeds on a certain task that is time-consuming and keeping a thumb on it. You still have to manage it. You can't put it on cruise control. Outsourcing should take you a fraction of the time to manage."
He views Sky Zone third-party contractors as business partners. "Even though they may not be on our payroll, they are very much a part of our business and we want them to know everything that is prudent," he says. "The devil is in the details. If you don't communicate changes, the changes don't get made holistically. If you aren't keeping everyone in the loop, it ends up affecting something negatively."
Getting the most out of outsourcing means frequently evaluating operations and making adjustments as needed. Sky Zone, for instance, added social media marketing in 2015 and is in the process of bringing a portion of IT services back in-house to most efficiently troubleshoot and serve technical issues inside its parks.
Published: June 13th, 2016
Share this Feature
Recommended Reading:
Comments:
comments powered by

Disqus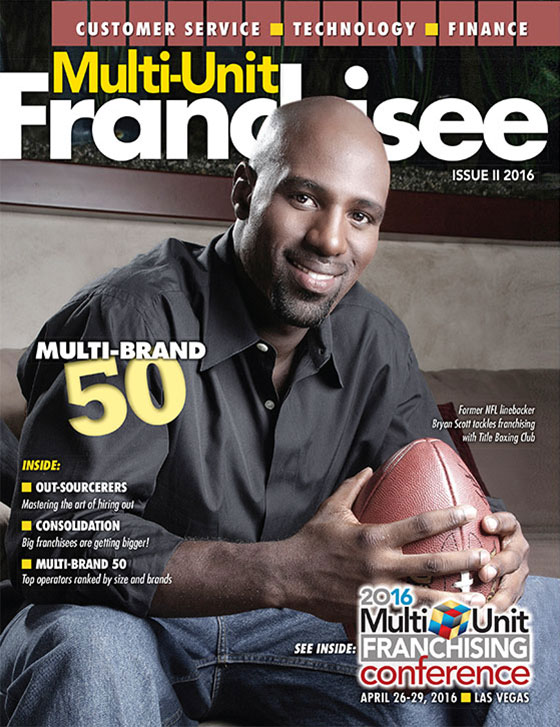 Multi-Unit Franchisee Magazine: Issue 2, 2016
Discover franchise opportunities with one of the world's largest chains of ice cream specialty shops.
Cash Required:
$100,000
Massage Heights is a passion brand, a lifestyle brand, and a spa franchise brand that truly helps people live their best lives by encouraging them to...
Cash Required:
$175,000