Passion for People: Making a Difference in the Lives of Others
Joe Brumit's passion for people epitomizes a Noble Cause MVP Award winner. Humble, generous, and always focused on helping others do better, he has built a legacy of giving back that has become part of the culture of the Brumit Restaurant Group, which he founded 30 years ago.
"We are trying to make a difference in other people's lives," says Brumit, who operates 53 Arby's across North and South Carolina from his base in Asheville. "I don't know that a lot of people in business really concentrate on that anymore. It is more about bottom line and me, me, me, versus what I can do for other people. We really have the philosophy of what can we do for other people?"
Brumit and his wife Janice are noted philanthropists whose already significant contributions of time and money to a wide range of charitable, civic, and nonprofit organizations continue to grow.
Brumit's lasting impact on the communities his restaurants serve is seen at every turn. Staunch supporters of education and children, The Janice W. Brumit Pisgah House at UNC Asheville and the Brumit Center for Culinary Arts & Hospitality at A-B Tech Community College are named in their honor; while the company's JoyFull Holidays at Home program, created in partnership with the Arby's Foundation and Eblen Charities, provides food for children and their families in need during school breaks, and inspired Arby's "School's Out, Food's In" nationwide meal card program.
Brumit is marking his 50th year in fast food, which began with his first job in high school at a Burger Chef in Oakridge, Tenn., where he mopped floors, cooked, and worked the counters. He calls himself semi-retired, but his commitment to others is here to stay.
"My wife and I are going to concentrate on traveling a little bit more, volunteering a little bit more, and giving a little bit more back," he says. "There is no exit strategy to sell the company. We want this company to continue once we are long gone."
Name: Joe Brumit
Title: Chairman & CEO, Brumit Restaurant Group
No. of units: 53 Arby's
Age: 65
Family: Wife Janice
Years in franchising: 30 in franchising, 50 in fast food
Years in current position: Since 1994
Personal
Formative influences/events:
My last job with Burger King Corp. My title was franchise district manager, but essentially I was a field consultant working with franchisees. My last area was the Atlanta market, where I worked with a lot of retired corporate executives from Burger King who became franchisees. Being exposed to those people was rewarding, educational, and helped me decide that I wanted to become a franchisee. It was quite an experience. I had a special bond with a man who previously was senior vice president for all of the brand's European operations. I learned a lot from him about being a good leader, doing business on the up and up, doing the right thing, and doing what you say you are going to do--all the good things you learn as a young person.
Key accomplishments:
Arby's Franchisee of the Year award honors twice and other recognition. What matters more to me is our recognition from the community. My wife Janice and I were the recipients of the United Way's Tocqueville Community Service Award. These types of awards really mean a lot to us.
Work week:
I am semi-retired. During a typical work week, I check in to see if anyone needs me, work out, get cleaned up, and have a lunch meeting with someone in business or a nonprofit almost every day of the week. After lunch, I go to the office for three to four hours. I don't go to the office on Fridays, but I am available any time my team needs me.
What are you reading?
Angry White Men by Michael Kimmel and Relentless by Tim S. Grover. I listen to a lot of books on Audible. I am just finishing the After series of books by William R. Forstchen.
Best advice you ever got:
"Whether you think you can or think you can't--you're right." (Henry Ford)
Management
Business philosophy:
I've seen this in a quote lately: "I either win or learn, I don't lose." We all make mistakes. We all have lost at things we have tried to do. But I don't look at it as a loss, I look at it as an educational opportunity.
Management method or style:
I am a very balanced leader. I know what my strengths are, and I use my strengths to the best of my ability. I am not a hard driver, which is why I surround myself with people who are and who can compensate for my lack of strength in certain areas.
Greatest challenge:
Everybody's greatest challenge, quite honestly, is people. People development. Making sure your team is constantly learning, growing, and never getting stale. Constantly challenging them. For us it is as much what we do in life as it is what we do in business.
How do others describe you?
What I hear quite a bit is, "Joe is just a nice guy and he is good people." At the end of my life, if I leave this world and people say this, it means a lot to me.
How do you hire and fire, train and retain?
I'm not really hiring and firing any more. For the past nine years, it has been all about taking the strong people on my team I already had and developing them to be the best they can be, so they can be the ones in the future to do the hiring and firing. That is where we have been for a long time now. JoAnn Yoder, president, and Greg Catevenis, my CFO and senior vice president, are running the day-to-day business and are partners in the business. They are making those decisions, and I trust them to do that.
Bottom Line
Annual revenue:
Slightly over $60 million.
2018 goals:
Our goal was to have sales growth in the 2 to 4 percent range. We are nailing right in the middle of that, up 3.5 percent year-to-date. Improve our cost of sale and labor numbers from last year, which we have done. Drive the bottom line even higher than last year, and I think we are doing a pretty good job of that as well. Last year we opened six stores and remodeled six, which was a little bit of a push and stretch for our team. So we decided we were going to back off on that and opened only three stores this year and remodeled two. We are concentrating a little more on doing things better and more profitably.
Growth meter: How do you measure growth?
Cash flow growth and same store sales.
Vision meter: Where do you want to be in 5 years? 10 years?
I want to be where my team decides they want to be. I want to help guide them. To me, the growth we do as a company from this point forward is for the team and for my partners. It is not about me. I would love to see us grow by three to five stores a year unless an acquisition comes along. If we are sitting at about 70 stores in 5 years, we will achieve what we want to. As long as they are profitable units, we would like to continue the growth pattern we are on now.
What are you doing to take care of your employees?
We offer the same things as all our competitors out there, but I think we do a better job of developing our people. I am continuing to develop my team, to develop their team, to make everybody better. It's been said, "The best way to get ahead is to help others get ahead first." If we all focus on doing that, it makes our whole team better. Also, while we are becoming a pretty large company, we try to keep that family feel for our whole company and treat everyone accordingly.
What kind of exit strategy do you have in place?
Death. I have JoAnn and Greg running the day-to-day business. I'm semi-retired, but I still look at the numbers on a daily basis and am engaged with them when they need me--and sometimes more than they need, just because it is part of what you have to do. There is no exit strategy to sell the company. We want this company to continue once we are long gone.
MVP Questions
Why do you think you were recognized with this award?
We try to do the right thing as a company and as a family. We are very involved in the community and fund a lot of different programs in our community at large and region. We are trying to make a difference in other people's lives.
How have you raised the bar in your own company?
I look at what JoAnn, Greg, and other people in our company are already doing in our community, giving back and being involved in organizations that are the same or different from those we have been involved in. They are following in our footsteps and learning to give back. And that is huge for me to see that the next generation is following in our footsteps.
What innovations have you created and used to build your company?
Our approach to developing people and being involved in our community. I think being a little bit different from the norm has helped us a great deal.
What core values do you think helped you win this award?
Many years ago, we adopted the core values that Arby's has had for years: Dream Big, Work Hard, Get It Done, Play Fair, Have Fun, and Make a Difference. If you live those, I don't know how much better life can get.
How important is community involvement to you and your company?
We partner with and support many organizations including United Way, Child Abuse Prevention Services, the Autism Society of North Carolina, and Toys for Tots, among others. We are very proud of our JoyFull Holidays at Home program with Arby's and Eblen Charities and our support of UNC-Asheville and AB-Tech Community College.
What leadership qualities are most important to you and your team?
Lead by example.
Published: October 12th, 2018
Share this Feature
Recommended Reading:
Comments:
comments powered by

Disqus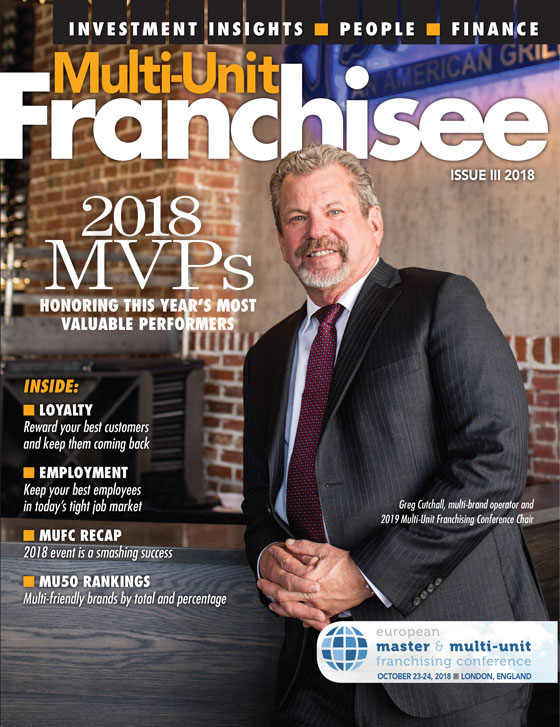 Multi-Unit Franchisee Magazine: Issue 3, 2018
Basecamp Fitness is empowering entrepreneurs to build an innovative fitness franchise in their markets while helping create happier, healthier...
Cash Required:
$200,000
Pizza Factory houses hardworking owners, family-friendly dining and high-quality products. Restaurant design options include a Pizza Factory Express...
Cash Required:
$90,000