Community Leadership: "We Give to Get, to Give Again"
For Alexander C. Johnson, giving back to his community is part of his nature. This second-generation franchisee is now paying it forward, sharing his know-how and leadership skills with the next generation as they navigate their way through the food and hospitality industry.
Advocacy for others is a core company value for Johnson, CEO of Pretzel Power and the recipient of our 2018 MVP Community Involvement Leadership Award. Johnson operates five Cinnabon and five Auntie Anne's Pretzels locations in the San Francisco Bay Area and says he's "in this for life." This wasn't always the case. He was on his way to law school when he opted instead for an MBA to pursue business ownership as an entrepreneur. Johnson says this was the best decision of his life.
"I spent my childhood and young adulthood working in my parents' stores," he says. "They had three Auntie Anne's stores and ran them very ma-and-pa style. After deciding against going to law school, I spent about 18 months building the infrastructure we needed to begin growing." These days, Johnson is all about growth, with plans to ultimately be a multi-state and multi-country franchisee--with a commitment to every community his business serves.
His contributions are vast and varied, ranging from sponsorships and fundraisers for schools, nonprofits, and local police and fire departments to mentoring youth. His company was ranked the area's #2 LGBTQ-owned business by the Silicon Valley Business Journal, based on ownership and number of employees. In addition, he actively lobbies on behalf of business and labor issues.
Most recently, Johnson signed on as an industry leader to serve as sponsor for the California Restaurant Association's new job readiness training program, Force In Training (FIT)--a first-of-its-kind training program for high school students to teach job skills such as how to conduct a job search, prepare a resume, and be a good leader.
Johnson, an Auntie Anne's Franchisee of the Year before the age of 30, knows firsthand the power that believing in others can have to change lives. He recently attended a graduation ceremony of a former employee who had approached him looking for a second chance. Johnson gave it to him.
"He was headed down a dark path of drugs and alcohol," Johnson recalls. "I hired him and was able to mentor him in business. After several years of employment, he was overseeing one of our locations. He left to start his own business and obtain a degree in entrepreneurship. The company he built is now a multi-million-dollar business and is thriving."
Name: Alexander C. Johnson
Title: CEO
No. of units: 5 Auntie Anne's Pretzels, 5 Cinnabon
Age: 29
Family: Second-generation franchisee
Years in franchising: 8
Years in current position: 2
Personal
Formative influences/events:
Working in my family's stores growing up. Learning the value of a dollar early in life.
Key accomplishments:
Getting my MBA. Winning Auntie Anne's Franchisee of the Year before age 30.
Work week:
Never typical, always changing. That's why I love this business!
What are you reading?
The Economist.
Best advice you ever got:
It's not about pretzels, it's about people.
What's your passion in business?
Becoming successful by helping others. We give to get, to give again.
Management
Business philosophy:
We are in the people business first and foremost.
Management method or style:
Autonomy. Believing in others to do the right thing and hold themselves accountable.
Greatest challenge:
Saying no.
How do others describe you?
Innovative, driven, helpful.
How do you hire and fire, train and retain?
Lead by example.
Bottom Line
Annual revenue:
$6.2 million.
Growth meter:
Number of stores. I have 10 now and would like to keep adding.
Vision meter: Where do you want to be in 5 years? 10 years?
In 5 years I would like to operate in multiple states. In 10 years I would like to be multi-country.
What are you doing to take care of your employees?
Birthday and anniversary date recognition, bonuses, vacation time, group events, traveling out of state to attend leadership seminars, and providing praise and recognition whenever possible.
What kind of exit strategy do you have in place?
No exit strategy. I am fulfilling my family's legacy and am in this for life.
MVP QUESTIONS
Why do you think you were recognized with this award?
My partnership with the California Restaurant Association and Force In Training--hiring and mentoring high school kids, putting on local school fundraisers, supporting local law enforcement, the chamber of commerce, and being named the Silicon Valley Business Journal #2 LGBT-owned business. I also am actively involved in local and state lobbying efforts on business and labor issues.
How have you raised the bar in your own company?
We hold ourselves accountable by doing what we say and by being transparent. We constantly ask how we are adding value and look for ways to improve communication and the sharing of ideas.
What innovations have you created and used to build your company?
We try to speak the language of our crew members, which means doing everything digitally. We conduct training on iPads using a very robust training software. Labor and inventory management is all done on the Restaurant365 software. Our stores run on the Revel iPad-based POS system. We embrace technology any way we can.
What core values do you think helped you win this award?
Empathy and humility and generosity. Work should always be fun.
How important is community involvement to you and your company?
Our locations are all clustered densely in the San Francisco Bay Area, so all of us live and work in the same community. Our customers are often our neighbors. We hire from the same pool of people who visit our locations. It's important that we give back to the community that has given us so much.
What leadership qualities are most important to you and your team?
Autonomy, transparency, humility, and generosity.
Published: August 24th, 2018
Share this Feature
Recommended Reading:
Comments:
comments powered by

Disqus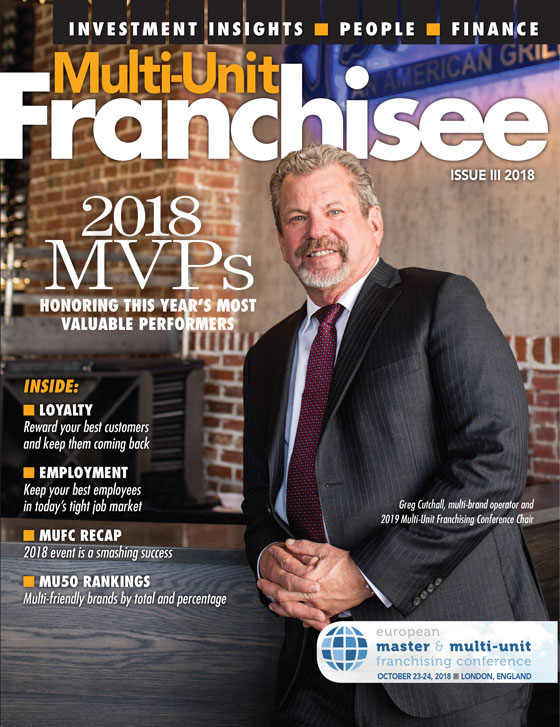 Multi-Unit Franchisee Magazine: Issue 3, 2018
BoConcept was born in Herning in 1952 and has grown from a small firm to Denmark's most global furniture brand, with over 300 stores in more than 60...
Cash Required:
$500,000
Tropical Smoothie Cafe is a healthier, quick-casual restaurant brand with 1,175+ locations in 44 states. One of its key differentiators is what the...
Cash Required:
$125,000