Performance Enhancing: How You Can Be Prepared For And Reform A Site That's Gone Bad
It's every multi-unit operator's nightmare: You have a solid group of healthy performing units until you notice one beginning to decline - lower sales numbers, declining traffic, increased customer complaints, unusually high employee turnover. Or maybe you decide to take on a new unit that has been a low performer. It can be a difficult situation, but it can also provide an opportunity filled with high returns if handled properly. Here are some approaches, tips and insight to what some area developers have done to turn around poor performing units.
LACK OF SUPERVISION & CONTROLS
James Walker heads up Cinnaworks, an Anaheim, Calif.-based company that operates 118 Cinnabon stores throughout the U.S. During the last year, Walker reopened six poorly performing Cinnabons located in malls in places like Chicago, Indianapolis, and in the states of Maryland and Pennsylvania. What Walker found almost across the board was the lack of basic good management in the stores. "One of the main problems we found was really an operational issue," he explains, "The managers were not doing an adequate job and it was reflected in poor service, poor quality, and poor attitude among the employees." So Walker and his team set out to correct the problems and reopen the stores.

"We were fortunate that the six locations that we reopened were all near some of our existing locations," he says. The resources already nearby were helpful in getting things up and going and in recruiting and re-staffing. In fact, in his Indianapolis store, Walker actually promoted from within one of his existing locations to name the manager of the new store. From there, he says it's important to train properly and implement a system of cost controls that maximize labor and minimize materials costs. Of course, after re-launching, keeping an eye on monthly financials is imperative.

Operational problems are familiar to Roland Spongberg as well. His WKS Restaurant Corp. operates 29 El Pollo Loco franchises in southern California. "We encountered a poor performing unit when we took over a store in Paris," he says. Visiting a poorly performing store as a "customer" is a good way to identify what's going on, according to Spongberg. Inconsistent service is nearly always a warning sign of a poor store manager. He says he generally hires a new manager when trying to turn around a store, but tries to keep as many of the employees as possible. From there, he says a few weeks of training and cross training goes a long way.

Gary Grace has had his share of unit management problems, too. He operates 32 Supercuts stores in the Los Angeles area. "The store is only as good as its manager and this is so critical," says Grace. He believes, when possible, it's important to give the existing store manager a chance to be a part of turning things around, but admits, "It's tough to get a leopard to change its spots." Grace says he gives the existing managers some specific performance goals and targets and a timeline for making improvements. But like others, Grace has had to make the change. "When you make the right changes it won't take long to see results. For example, after one management change that I made, I saw store sales go up 23 percent in the first month following the change."

Store managers have posed headaches for Lyndon Johnson, who operates 11 Church's Chicken franchises throughout Oklahoma. He agrees with Grace and says he likes to give existing poor performing store managers an opportunity to be a part of the turnaround. "I like to give them a chance and see if they're willing to adjust," he says. If a new manager is needed, Johnson emphasizes the importance of knowing your organization's culture and what kind of people will fit best. "I always try to look internally, because those folks are already familiar with our approaches and philosophies. I have even been able to promote someone to manager from within a poor performing store itself," he adds. One other tip according to Johnson, if you see that the existing store manager is going to be unable to turn things around, you may want to consider keeping him around while you search for the replacement. In Johnson's book, a bad manager can be better than no manager at all. "It's not only important to find the right person," he says, "But you also must provide them with the playbook and the game plan for where you are going."

When Brad Dionne took over an underperforming Merry Maids operation in Everett, Wash., a few years ago, it was being run by a husband and wife out of their garage. The couple was using few management systems and employing even less marketing. "When I took over, we moved the operation to a nice office facility, hired a good manager, dedicated employees and began doing more marketing," says Dionne. In less than a year, he was getting improved results. He's currently in the middle of restoring two operations he took over in the Los Angeles area. "Sometimes you have to break things in order to fix them. That's what we do when we get rid of a bad manager," he explains. "I know that we live and die by the quality of our managers, so we do lots of interviewing, lots of discussion, and lots of evaluation," says Dionne. "Attitude and skills are so important in the day-to-day operations of our units."
LOCATION, TRAFFIC & COMPETITION
But what if you have a strong manager and a qualified team in place and are still experiencing less than optimal store performance? Consider the old real estate axiom that states the three most important parts of real estate are location, location, and location. A fact that is only too true in franchising.

"Bad sites happen," says Lewis Gelmon, founder and chairman of Cirrus Lease Services in Toronto. "It is so vitally important for organizations and area developers to have effective site selection policies." Gelmon says operators need to know their customers, where they live, their travel paths, their buying habits, and look for locations that will match those criteria. Unfortunately, sometimes poor sites are chosen, neighborhoods transform, competition creeps in, and traffic flows change. When possible, Gelmon encourages multi-unit operators to try to renegotiate lease agreements for poorly performing store sites. "Approach the landlord, let him know that the store is struggling and may have to be closed unless you can get it back on its feet, and that you could really use his help by adjusting rent or in some way renegotiating the lease agreement."

James Walker couldn't agree more. "We always look at the cost of reopening a store and we examine lease terms," he says. Walker emphasizes that low volume-low sales stores must have a lower lease cost than his higher performing locations. "We're actually paying less rent on each of our six recently reopened mall stores than any of them were paying at the time they were closed."

Gary Grace knows all about location issues. He gives the example of one of his stores that had declining numbers over a period of time. After carefully evaluating the situation, he made a management change; in fact, he made three management changes before identifying that an ethnic shift in that store's neighborhood was the main culprit in the store's decline. Unfortunately, in that case, he was unable to salvage the operation and chose to shut down.

Another example of location related causes of poor performance occurs when units are located in shopping malls or strip centers and other tenants, especially the anchors, move out. "I had a location in a strip center with a large grocery store and home improvement store that moved out," says Grace. "Unfortunately, that tends to cause a snowball effect, the large tenants leave, smaller tenants leave, and customers leave." He says in some cases you simply must decide what your options are, how much time you have, and if your monthly losses are greater than your rent. As Johnson says, "A good store in the wrong place is just simply not going to succeed."

Strip shopping centers can pose other problems. Roland Spongberg took over a store that was buried between a Wal-Mart and a Von's grocery store. In effect, the store was lost in a crowd. "After adding new and improved signage and lighting, we were able to nearly double the per week volume in just a short time," adds Spongberg. He also cites a solution for limited customer parking often common in crowded retail areas - start delivering your product directly to the customer.

Construction work, especially on nearby roads, can also wreak havoc on a store's performance. It's happened to Lyndon Johnson on more than one occasion. "I've had the volume significantly reduced because of rerouted traffic and street or highway construction near my store," he says. Unfortunately, there's often not much you can do about this problem except wait it out.

Yet another problem could be new competition showing up down the street, maybe even in a brand new state-of-the-art shopping center that's drawing tenants and customers out of the old center you're in. Many franchise locations have found themselves under the assault of not only a new competitor, but that competitor's value pricing and a marketing/coupon blitz to generate awareness and steal business. Johnson says he has found that his locations generally suffer lost traffic initially after the competitor comes around, but over time, as long as his stores continue to provide the consistent value and quality his customers have come to depend on they will return. "I'm not going to fight a price war. We provide great service and great value every day and our customers know that. As I've said before, the grass is not always greener on the other side," explains Johnson.
NEW AND IMPROVED
When you have taken over or made changes at a poorly performing site you must get the message out, say area developers. Consider beefing up your marketing efforts - at least initially. Promote that you have new stores, under new management, with new attitudes, and featuring new products and services when possible. "Aggressive marketing never hurts a franchise," says Johnson.

"You need a really good model store in your system that has in place all of the things that work best. You then copy those elements into place at each of your stores," says Dionne. "Refine your systems and processes and implement that model at each location. Then, constantly measure progress. As I always say, whatever gets measured, gets managed."

Walker agrees and says that closely monitoring monthly financial reports after you've implemented changes is critical. "If you're making the right changes you will see results."

Lyndon Johnson says, "You want changes that give the customer a new and consistent experience at above average levels. Do this and you will increase performance."

Words to live by if you're trying to turn around a poor performer.
Published: April 18th, 2006
Share this Feature
Recommended Reading:
Comments:
comments powered by

Disqus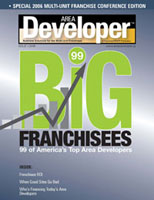 Multi-Unit Franchisee Magazine: Issue 1, 2006
Get more than 35 years of experience behind you and the opportunity for years of success ahead of you as a Jackson Hewitt franchise owner. Our...
Cash Required:
$50,000
Vitality Bowls specializes in acai bowls, smoothies, juices, salads, grain bowls, wraps, toast & panini, made with unique superfoods like pitaya,...