Phase Two: Economic Cycles Shed Light On Tomorrow
One of the most challenging components of making decisions to invest in franchise units is trying to predict the future. Predictions require assumptions, and in these difficult economic times, when global events have direct ramifications domestically, developing a reasonable set of assumptions is hard.
Or is it? Using history as our guide, the U.S. economic forecast for the next few years is rather predictable. Hundreds of years of economic downturns caused by financial crises like the one we experienced in 2008 follow a pattern that consists of three phases.
For the first two to three years there is a significant contraction in lending as borrowers deleverage and bank concerns over loan losses trump their desire for earnings. Until the impact of the downturn is understood in credit loss ratings, banks (and their friendly regulators) are unable to determine whether they have adequate capital reserves. The result is an unwillingness to lend to just about anyone. From 2008-2010 that's exactly what happened as borrowers deleveraged and banks significantly reduced lending, so score one for historical predictability.
The second phase of three to five years is characterized by a choppy economic recovery and increased competition for credit. Business and consumer deleveraging both slow and then start climbing again. Simultaneously, banks start to lend again, but on very conservative terms and only to well-qualified borrowers. Banks have quantified their losses during the previous phase. They know their capital positions, but still do not have enough earnings pressure to push credit out. The chief credit and chief risk officers hold sway over the chief lending officers. While banks have the capital to create the ability to lend, the challenge is their willingness to lend. Small businesses can solve the willingness part with information about their business and its operations that makes it more compelling than the next small-business borrower prospect.
Does all this feel familiar today? I believe we entered the second phase in 2010 and that the choppy recovery and conservative lending will continue for the next two to three years. Perhaps the most significant difference in this second phase downturn is not its depth, dramatic by historical standards, but the amount of information that consumers, businesses, and banks have to try to decide what to do next.
For franchising, that information is transforming what franchisors are beginning to pay attention to. In what many of you might consider a cruel twist of fate, we have banks to thank for this, and it will have ramifications well into the future, especially for multi-unit operators. Banks are beginning to evaluate a brand's performance before looking at an individual borrower's request. They have applied common sense and determined that a brand's historical unit, system, and franchisor performance is a good predictor of franchisee success, hence, loan success. In essence, they are asking, "Is this brand creditworthy?"
FDD information is insufficient to make that determination, so new information is being created. Unit continuity rates, real failed unit rates, and the underlying operational/financial causes, sales/investment ratios, time from opening to breakeven, and so forth are becoming expected information in the lending community. Under the logic that you get what you measure, lenders force franchisors to report the outcomes and focus on the causes, which is why Bank Credit Reports are in demand by lenders today. All this is good news for the franchise business model and multi-unit operators, even if the reasons it came about are painful to live through.
That brings me to the third phase, which I'll call the new normal. When the choppy economic recovery stabilizes (probably around 7 percent unemployment, high by historical standards, but I think a realistic expectation) and banks begin to widen their credit boxes, we will have arrived. I'm not sure what that economy will look like then, but I will make a few observations.
We have benefited from a four-year period of almost unprecedented low cost of capital. For planning purposes, I suggest making investment decisions with a cost of capital of 9 to 12 percent in the out years starting around 2015 or 2016. Our national debt levels and the growing need for capital in developing countries will likely cause our rates to rise, perhaps dramatically.
Several demographic trends are hard to ignore, just as they are hard to alter. Consumer preferences are changing as Baby Boomers transition into a less active period and the under-30 age group dominates consumer spending. Finally, housing will stabilize in the next few years as the backlog of mortgage delinquencies and bankruptcies works slowly through to resolution. That in itself will make consumers feel better about the economy.
Perhaps the best way to address the third phase in the context of making business decisions today is to follow the advice of one of the 20th century's top management gurus, Peter Drucker. "The best way to predict the future is to create the future." Multi-unit operators are among the most entrepreneurial of business people. You create the future every day.
---
Darrell Johnson is CEO of FRANdata, an independent research company supplying information and analysis for the franchising sector since 1989. He can be reached at 703-740-4700 or djohnson@frandata.com.
Published: August 3rd, 2012
Share this Feature
Recommended Reading:
Comments:
comments powered by

Disqus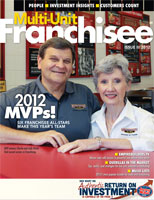 Multi-Unit Franchisee Magazine: Issue 3, 2012
Minuteman Press is the world's largest & number 1 rated printing & marketing franchise. Our business model features multiple revenue streams,...
Cash Required:
$30,000
Craveworthy Brands is a hospitality-first company with a portfolio of unique, engaging, and scalable brands dedicated to delivering truly CRAVEABLE...