Pizza Inn: 2 Years In, and CMO Denise Pedini Says Things Are Looking Up
Denise Pedini came to Pizza Inn in 2016 with the experience, knowledge, and consumer marketing savvy needed to guide the 60-year-old company's rebranding campaign. She first came in contact with Pizza Inn working on the agency side, later becoming its associate brand manager and then its advertising brand manager. She also had spent time as a private marketing consultant, and at JCPenney. Earlier in her career, she spent 4 years at Pizza Hut in brand management. Today, as Pizza Inn's executive vice president of marketing, she is playing a major role in the brand's renewed vitality.
Her experience includes brand strategy, creative management, marketing planning, and social media and digital advertising. She knows how to analyze needs, execute plans, and meet objectives. For example, last year the brand asked its most loyal customers for insights on its popular buffet. The feedback was clear: focus on the buffet, provide more options, and make it available all day. "We used this research and changed our marketing strategy to give our customers what they want," she says.
In the past two years, the brand has hired an advertising agency to help rebrand Pizza Inn. They've also replaced numerous vendors and suppliers and made adjustments to how marketing dollars are spent. The moves were based on strategy, as well as on cost and capabilities.
"We have added new technology in the last two years, which has benefited us as whole," she says. "These efficiencies and new innovations have been key to our sales success in the last five quarters."
Pedini understands that her role as Pizza Inn's marketing leader involves understanding customer demand, building relationships and working with franchisees, and balancing corporate expectations. "Marketing leaders must manage based on data, knowledge, and previous experience," she says. "To provide recommendations or lead your team to execute a different approach, you have to test and provide proof of how the idea will work."
The proof, she says, is in the pie.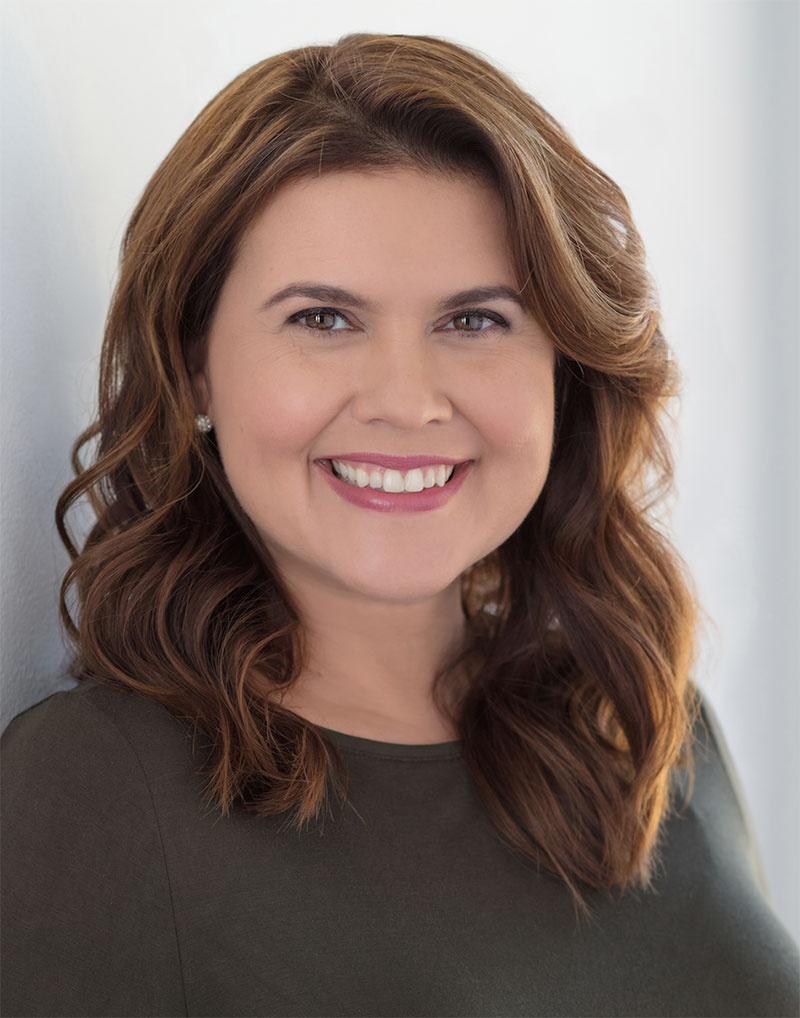 Describe your role as EVP of Marketing:
I'm in a unique situation as we are 100 percent franchised with no corporate locations. I report to both the president and the franchise board. Although this setup has its challenges, it is great to have that close relationship with both. I've been able to balance both sides and all views of ideas, generating great compromise and growth.
What's the most challenging part of being a CMO today?
With any company that's been around 60 years, and with many franchisees a part of the company almost as long, it's sometimes a challenge persuading them to take risks and make changes. However, working with the franchise marketing board over the last two years has helped bring new ideas to the table that have contributed to our five straight quarters of positive same store sales growth.
What are the most important keys to being an effective CMO leader today?
With franchisees, the most important key to success is trust. It's important to understand their needs and how to create marketing strategies that bring them success. Gaining and maintaining trust in your abilities to lead them in the right direction is essential. Another key trait of an effective marketing leader is the ability to listen to both the wants and needs of your franchisees in balance with what corporate deems most crucial to the system as a whole. Marketing leaders must manage based on data, knowledge, and previous experience, rather than on hunches. To provide recommendations to the board or to lead your team to execute a different approach, a marketing leader must test and provide proof of how the idea will work rather than going strictly by intuition.
How do you prepare a marketing plan and execute the strategies?
I first review all of the data, what our sales trends have been in the past, and see what our competition is doing. We have some great menu innovations in our back pocket that we haven't used recently. We like to bring these back to our buffet and to add variety for our customers. This has been really effective.
How do you measure marketing results and effectiveness?
We look at our sales numbers, traffic data, and feedback received from our key franchisees. We also weigh feedback from our customers. We have some loyal Facebook followers who always let us know if we are promoting their favorites on the buffet. They also let us know if we have removed something they want back.
Discuss your core consumer marketing strategies and objectives.
Last year, we conducted extensive marketing research. We did both quantitative and qualitative studies with our most loyal customers. Their message was consistent: focus on the buffet, give us more options, and make the buffet available all day. We used this research and changed our marketing strategy to give our customers what they want.
How do you go about creating a "customer-centric" marketing and brand philosophy?
When I came on board two years ago, we hired an advertising agency, Johnson & Sekin, to rebrand Pizza Inn. The direction we gave the agency was to ensure that our customers know we are a part of their community, and that we not only care for them as customers but also as part of our family. This is where our new tagline "America's Hometown Pizza Place" came from. Pizza Inn is the place they can have celebrations, fundraisers, and make wonderful memories.
Describe your marketing team and the role each plays.
We have a small but very powerful team. Tiffany Betts is our senior marketing manager who is the expert in field marketing. She is on a first-name basis with all our franchisees and is most knowledgeable about each restaurant and what is needed to drive sales in their local area. Cherilyn Wilson is our marketing manager and is responsible for our loyalty program, email marketing, and oversees all our franchise communication. Tracee Hoffman is our senior graphic designer and creates all LSM materials for each franchisee. She has been with Pizza Inn for almost 20 years. As the "fabulous four," we work closely together to ensure all marketing plans are executed and that our franchisees get exceptional support.
How is today's consumer and marketing data helping you fine-tune your marketing initiatives?
We continue to add new technologies to increase the variety of data we receive from our customers. This year alone, we are adding a new online ordering system, as well a new POS system, arming us with more data. This allows us to broaden our reach to even more customers, and on a much more personal level. Two years ago, we hired Punchh to create a loyalty program for our restaurants. Not only has this driven more frequency to our franchise locations, it has also given us substantial customer data we didn't have before. This data allows us to reward our most loyal guests, incentivize our lapsed guests, fine-tune email campaigns, and focus on areas that need more attention.
Describe the evolving role of social media in your brand's marketing efforts.
A year ago, we strongly invested in growing our Facebook following. This has been a very successful investment for us (quickly approaching 100,000 followers of the main brand page alone). More and more people use social media as a means of communication and for news, so it just makes sense to speak to our local communities and fans on a platform they use every day.
How do you work with other internal departments, and does technology help?
All of our departments are very collaborative to make sure everyone is informed, not only about what is happening now, but also what is planned six to eight months out. Texting is a favorite means of immediate communication and updates among our group.
How do you manage costs and budgets for the marketing department?
Our franchise board treasurer and vice president, Daven Acker, and I work together to ensure all marketing needs are met within our yearly budget.
Do you see vendors as business partners? Why/why not?
Yes. All our vendors are true partners. We personally selected our print vendor and advertising agency based on the fact that they are small businesses and have the same close family feel that we have at Pizza Inn.
How have marketing strategies/tools changed over the past decade?
How have you adapted? When I came on board, we completely changed the way we were branding ourselves and how we were spending our marketing dollars. With board and corporate approval, we hired a new advertising agency to assist in rebranding. We also changed almost all of the vendors we were using. Some of these changes were based on strategy and others on cost and capabilities. We have added new technology in the last two years, which has benefited us as a whole. These efficiencies and innovations have been key to our sales success in the last five quarters.
How is your marketing/branding strategy developed, and how does it flow through the system?
We create our marketing calendar eight months ahead of time. This gives everyone time to prepare and communicate what we will be doing to drive sales. This plan is presented to the franchise marketing board in our quarterly board meetings. All topics and promotions are voted on and approved by the board before they are set into motion.
What advice would you offer aspiring CMO executives?
Be intentional in your plan. Vividly outline and know what you want in your career and have a plan to achieve it. Take jobs based on the experience you will receive and not necessarily on the salary you will receive. Don't be afraid of change. Change is good. Change can push you and can make you excel in more ways than you know. Invest in yourself. Take a college class, join a networking group, or find a mentor who will help guide you in directions that you didn't think were possible.
Published: October 7th, 2018
Share this Feature
Recommended Reading:
Comments:
comments powered by

Disqus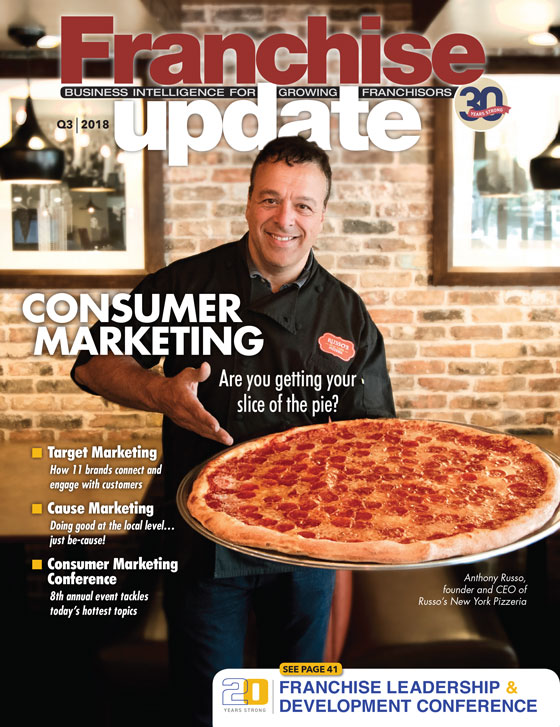 Franchise Update Magazine: Issue 3, 2018
June 20-22, 2023 Marketing-Operations-Technology. Be a part of this ground-breaking new space for ideas, inspiration and networking for Franchise...
Bring Order to Your Business. All-in-one management, print, and design solutions at your fingertips, on one platform