The Journey and the Promise: 2018 Franchise Consumer Marketing Conference Brings It All Back Home
The dual themes of the "customer journey" and "brand promise" dominated this year's Franchise Consumer Marketing Conference. Both played a role throughout Franchise Update's 8th annual FCMC, held each year for franchise marketing executives seeking to gain an edge, keep up with change, and meet one another to share experience. The event took place June 19-21 at the InterContinental Buckhead in Atlanta. This year's Platinum Sponsors were Silvercrest Advertising and Visualogistix.
The customer journey has been significantly changed by technology, particularly smartphones, and has permanently altered the marketing landscape for franchisors. Today's consumers are living, thinking, and buying in a world ruled by technology at their fingertips and growing expectations of near-instant gratification.
Meanwhile, brand promise and purpose remain front and center. Successful brands define their brand promise, develop it, spread it through the system from top to bottom, and maintain it as the brand grows over time. Then, most important, they must continue to deliver that promise consistently, to every customer, every day.
Day 1: Marketing & branding
The conference kicked off with two all-morning sessions. "Mapping the Customer Journey" focused on seeing your brand through the eyes of the customer, creating a map of their journey, and figuring out how best to meet their needs every step of the way. Martha France, director of marketing at Vya, facilitated.
As ever, technology and its effects on consumer buying habits was front and center. "Today, the smartphone is the remote control to the world," said Mark Montini, CMO at Floor Coverings International. "It's now about pushing a button and getting what you want."
Panelists agreed that for brands to stand out today, it's imperative to create an exceptional customer experience focused on touching consumers all along their journey in as many ways as possible, using both traditional and digital media.
Montini suggested not getting overly caught up in the attribution game. He said to try lots of channels to see what works for your brand to reach targeted customers. The results, he said, are more important than precise attribution.
Also, how you sell to customers is just as important as what you deliver, he said. One effective way to create loyal customers, is to eliminate friction in the customer journey, he added. "Amazon and Uber are easy, simple, and fast."
The concurrent opening session, "Develop a Brand Promise and Purpose," focused on keeping the commitment you make to your customers, and how to follow through consistently. Ali Rausch, director of marketing at Chicken Salad Chick, facilitated a panel of marketing pros from four brands: Dawn Kroeger, director of marketing and communication at Two Men & A Truck; Eddie Matias, director of creative and marketing at uBreakiFix; Christina Bourg, senior vice president of marketing at Rotolos Pizzeria; and Amy Przywara, CMO at Sylvan Learning.
Rausch presented her Brand Positioning Pyramid, a hierarchy beginning with purpose, and moving upward through core values, brand attributes, brand personality, brand vision, and brand position. "Think about why you do what you do, and what you need to tell others about that," she advised.
The two all-morning sessions were followed by the opening of the Sponsor Networking Gallery. This was the first opportunity for attendees to visit suppliers and vendors and discuss challenges, strategies, and solutions. It was also the place to grab some lunch before the afternoon sessions began.
Economic outlook
Conference Chair Terri Snyder, EVP and CMO at Checkers & Rally's, welcomed the group back from lunch and introduced Darrell Johnson, CEO of market research firm FRANdata, for his annual presentation on economic trends and statistics--and their probable effects on franchising in the coming months and years.
Johnson's presentation was called "Connecting with Consumers." His first question to the audience mirrored what already was on the minds of many: "How willing are they going to be to connect with you?"
He noted that while consumer confidence is at it highest since November 2000, and disposable income and consumer spending are up, much of the spending increase has been fueled by rising household debt, with credit card debt at an all-time high. "In the 15 years since 2003, we've almost doubled household debt, which will be a drag on the economy," he said, ominously adding, "Most of you deal with discretionary spending."
Compounding this, with the Fed talking four rate hikes this year, raising prices might prove difficult. "Change is coming after 10 years of slow growth," he said, with "accelerated disruption" on the horizon. Other external factors that could negatively affect franchising include trade wars, tariffs, immigration, and other political maneuverings from Washington.
And then there's technology change and its effects on consumer behavior. The rate of technology adoption by U.S. households, he said, "is now almost a vertical line," meaning not only that new technologies are being adopted rapidly, but also that older ones are in decline, causing further disruption.
To thrive in the coming "transition economy," he said, marketers must develop new strategies. One of them is mass customization at the unit level--using big data to update their marketing materials and customizing it for one franchisee at a time, "times 100." He also encouraged marketers to develop new ways to measure outcomes and compare results, and to focus their measurements on their franchisees' financial and business results.
A peek into the future
Next up was keynote speaker Anders Sörman-Nilsson, an innovation strategist and futurist who shared a lively, engaging, and often humorous perspective about the state of technology and consumer trends, and where it all likely is headed.
He used his experience growing up in Sweden, where his family owned a men's clothing store founded by his great-grandfather, contrasting that with how today's consumers think and act, and focusing on bringing the best of both worlds to each transaction. He spoke of a "seamless brand experience" where the customer journey crosses the divide of the physical and digital. But marketers must figure out for themselves what that looks like for their brand and customers.
In his book Digilogue: How to win the digital minds and analogue hearts of tomorrow's consumers, he explores this theme more deeply. Simply put, he said, "You have to do both." Echoing two of the points made by Johnson, he said 1) consumers are taking matters more into their own hands, and 2) we are entering a new economy he called the "transformation economy."
In his role as a futurist and trend-watcher, he closed with a question: "Imagine it's 2025 and your business went belly up. What did you miss?"
Building sales and brand
A fast-paced general session panel led by Rocco Fiorentino, CEO of Prime Hoagies, concluded the day's educational offerings. Panelists for the "Build Sales Overnight and Brand Over Time" session were Rich Hope, CMO at Jersey Mike's; Dave Randall, senior manager, marketing strategy and analysis at Great Clips; Jodie Conrad, vice president of marketing at Fazoli's; and Kyle Noonan, founder and co-CEO of Free Range Concepts.
Discussion questions Fiorentino directed at the panelists included: "How do you know who your customers are?" and "How do reach them?" Related topics included loyalty programs, mobile apps, discounts vs. promotions, eliminating barriers to participation, operational excellence, listening to customers, working with suppliers, community involvement, and who to hire to make this all real.
An early evening welcome reception in the Sponsor Networking Gallery was followed by a special event for first-time franchisor attendees, who met with Advisory Board members and made new connections with them, as well as with each other.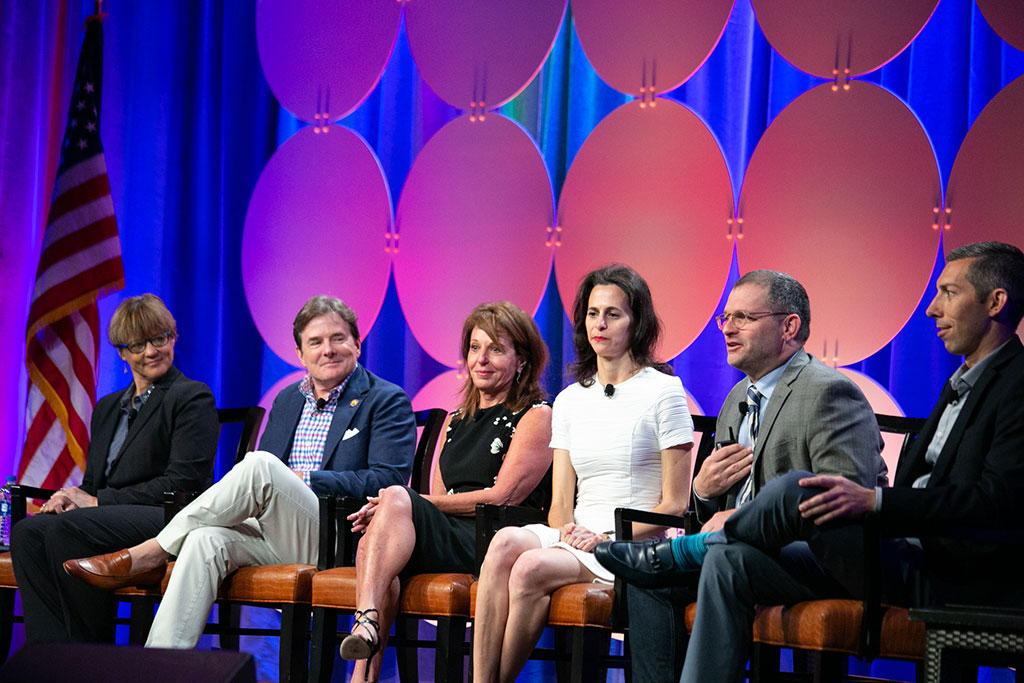 Day 2: Three breakout tracks
Wednesday began again with a welcome from Conference Chair Terri Snyder, who introduced the morning's general session, "Guarantee Delivery of Brand Promises." Huddle House CMO Alison Delaney moderated a panel that included Susan Boresow, president of Title Boxing Club; Tom Carr, vice president of marketing at Chicken Salad Chick; Damian Hanft, senior director of learning at Arby's; Gary Magenta, senior vice president and chief change architect at Root, a consulting company; and Serena Saitas, head of brand strategy at Real Brand Consulting.
Panelists shared how the brand promise should be carefully crafted and how they implemented changes at their brands. Boresow and Saitas described how they had worked together to transform the brand promise and positioning at Title Boxing from its start as a value product with value pricing in 2009, to a premium product with premium pricing in 2015. Saitas framed branding as a business opportunity, and described how she had helped Boresow shift consumer perception of the Title Boxing from a more violent, male-oriented concept to a safe, welcoming place for women.
Three concurrent breakout sessions completed the morning: "Bring Your Promise to Life in Franchise Development" (Deliver Promises Track); "Smartphones and Today's Consumer" (Technology Track); and "Lead Attribution for Effective Buys" (Media Track).
In the lead attribution session, facilitated by Kathi Woolsey, director of business development at Visualogistix, the panelists were Jennifer LoBianco, CMO at Huntington Learning Center; Heather McLeod, vice president of marketing at The Cleaning Authority; and Stephanie Rice, senior national marketing associate at Yelp.
Then it was back to the Sponsor Networking Gallery for lunch and more visits with suppliers and other marketing executives.
After lunch, Dan Santy and Adam Pierno of Santy Marketing squared off in an entertaining mock battle of "Digital vs. Traditional Media." One of the big takeaways was the difference between perception and reality regarding the effectiveness of one vs. the other. While digital is perceived as more effective, it turns out traditional media (especially television) is more effective at reaching consumers. They anticipate and look forward to the development of better ways to measure TV, radio, and print.
Three more concurrent sessions followed: "Marketing Team: Staff Today for Tomorrow's Needs" (Deliver Promises Track); "Innovative Tools for Marketing Support" (Technology Track); and "Build Your Budget To Meet the Customer's Changing Consumption" (Media Track).
The event's second keynote speaker, sales and customer service expert and author Scott McKain, wrapped up the day with a sparkling presentation and "challenge session." With the aid of his news anchor voice, a creative set of stories and slides, and experience working with brands all over the world, he guided attendees through roundtable exercises built on his "Four Cornerstones of Distinction."
The Networking Reception and dinner at Maggiano's Little Italy put a festive close on the day as attendees unwound and got to know one another in a less business-like setting, including a highly competitive trivia contest. (Marketers like to win!)
Day 3: Bringing it all back home
Thursday morning's closing workshop, "Deliver on Your Promised Executional Plan," centered on helping attendees bundle the previous two days into a plan they could put into action as soon as they returned to the office. Led by Art Coley, founder of CGI, attendees split into groups to brainstorm on the tools and tactics they'd need to implement real change in the coming year. Coley was ably assisted with input from Ashley Trail, brand marketing manager at Your Pie, and Marci Kleinsasser, vice president of marketing at Handyman Connection.
Next year's FCMC will be held June 17-19, 2019 in Atlanta at the InterContinental Buckhead. Visit www.franchiseconsumermarketing.com for more information, photos from this year's event, and to register for next year's conference.
FCMC By The Numbers
125+ Number of franchise brands
8,000 Number of units
$13 billion Annual system-wide revenue
Job titles
42 Marketing
26 Director
23 Vice President
18 CEO/President
12 CMO/EVP
8 Other
Published: August 18th, 2018
Share this Feature
Recommended Reading:
Comments:
comments powered by

Disqus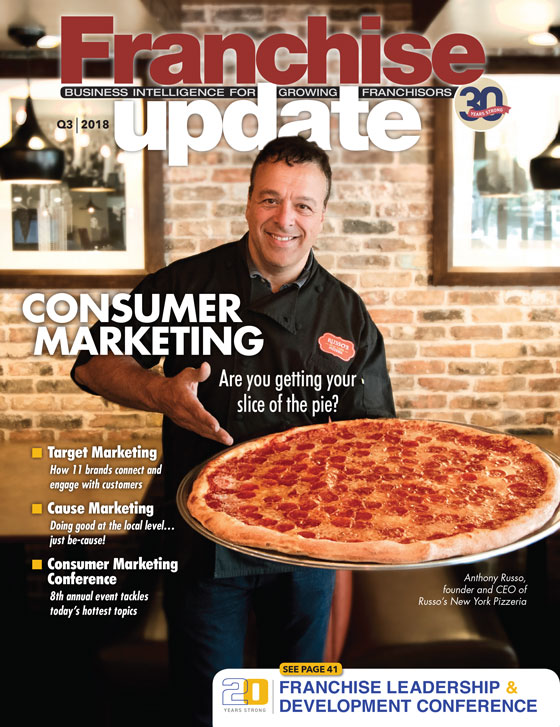 Franchise Update Magazine: Issue 3, 2018
The business messaging platform that lets you text from your office phone number directly on your computer, so you can actually get a response.
Sociallybuzz, founded in 2009, is the #1 Social Media Marketing Agency to help franchisors and franchisees increase their revenues, drive sales, and...