Put Your People First: Creating a Magnetic Culture
What makes a great company culture? Free food? Extra vacation time? Flexible hours? Employers spend more than $720 million on engagement every year, yet only 30 percent of the workforce is actively engaged. That's because it takes more than "stuff" to truly engage team members.
PeopleMatter recently partnered with workplace culture guru Laurie Ruettimann for a webinar on what it takes to build and develop a culture that helps you find and keep happy, passionate, loyal people. She says creating a magnetic culture boils down to six key things: 1) Mission-driven organizations are more fun. 2) Culture is a choice. 3) Straight talk with team members beats buzzwords and legalese. 4) Learn from the best; improved engagement and retention are possible. 5) Money is part of the equation, but there's more. 6) Loyalty is a two-way street, and it goes a long way.
That all sounds great, but where to start? We chose three clients who are rocking the culture game and wanted to share what they're doing inside and outside their organization to better engage team members and give themselves a competitive edge.
Texas Roadhouse
If you think creating a magnetic culture is hard with a handful of locations, try making that happen with more than 400. But that isn't stopping Texas Roadhouse. Their motto is also their commitment: "The Texas Roadhouse story is simple. Legendary Food, Legendary Service--all with lots of Legendary Fun!"
Founder and CEO Kent Taylor is vocal about putting team members first and customers second. I think it's safe to say that kind of sentiment from the CEO makes employees at Texas Roadhouse, affectionately known as "Roadies," feel incredibly valuable. Even during tough economic times, the casual dining chain has continued to invest in recognition and celebration events because they understand that if they take care of their people, their people will take care of their guests. Isn't that what it's really all about?
In an effort to further take care of their people, Texas Roadhouse started Andy's Outreach Fund--a way for employees to help other employees and their families. If a team member is affected by a death, fire, natural disaster, or financial hardship, the fund provides money to help them. The Texas Roadhouse culture is one by design, not by default. It's about giving employees a sense of identity, meaning, and belonging.
Tender Greens
I love the goal of Tender Greens' founders: to have all employees look back and say that Tender Greens was the best job they ever had. I don't know about you, but that makes me want to work there. Sure, Tender Greens also wants customers to have access to healthy, delicious food that feeds the belly and the soul, but all of that starts with their team members. Tender Greens also understands that if you put your people first, everything else will take care of itself.
Something that really touched me about Tender Greens' culture is their Sustainable Life Project, which provides a structured, working and learning environment to youths living in the foster system--with the goal of guiding and supporting them through a critical transitional period to help them become empowered, self-sufficient young adults. That means offering paid culinary internships, cooking and nutrition classes, and the opportunity to apply for a full-time job at the end of the program's six-month period. People like to be a part of an organization that gives back and helps make the world a better place. It makes them feel like they're a part of something bigger than themselves, and that's a feeling you can't replace.
Boloco
One of the things that's made Boloco successful is the epiphany John Pepper, co-founder and CEO, had one night. Pepper was mopping the floor after an employee hadn't shown up for his shift and realized that "mopping sucks." That made him question a few basic things: Who in their right mind would choose to do this work? Who would agree to get paid so little to do it? Where did people ever think this job would lead?
Pepper realized that the company was playing a losing game by focusing on how it could get the most out of its people while paying them as little as possible. He asked himself, "What kinds of things can we do to give mopping meaning?" From there, Pepper began focusing on people--not just because of all the humanitarian positives, but also because he believed it would build a better business. To hire and keep the best talent, Boloco began offering employees transportation discounts, comfortable lounge areas, and higher-than-average wages--which led to record sales and profits in the years that followed.
Fast food has traditionally been a terrible place to work, says Pepper. Boloco's mission is to better the lives and futures of their people, and they use a burrito to do it. Pepper said he learned a few very important lessons in his early years with the company:
Make sure your organization has a purpose statement that inspires people. Answer the for the company. Then communicate it clearly and often so everyone gets the picture. And use technology to reinforce it.
Understand the mission, vision, and values of your company and help employees understand them as well.
Work on becoming an authentic, self-aware leader who engages in behaviors that make people feel you believe they matter. Be open, curious, and vulnerable with your team.
These three organizations have one thing in common: they've created a magnetic culture that gives their team members meaning and a sense of purpose. More important, they have anchored this in making the team members more important than the customers. By doing that, they are taking care of the people who will then take care of their customers. Every company has a culture. Why not make it one you and your team members love?
Julie Moreland is senior vice president, strategy and people sciences at PeopleMatter. Call 877-300-6222 or email info@peoplematter.com.
Published: March 24th, 2016
Share this Feature
Recommended Reading:
Comments:
comments powered by

Disqus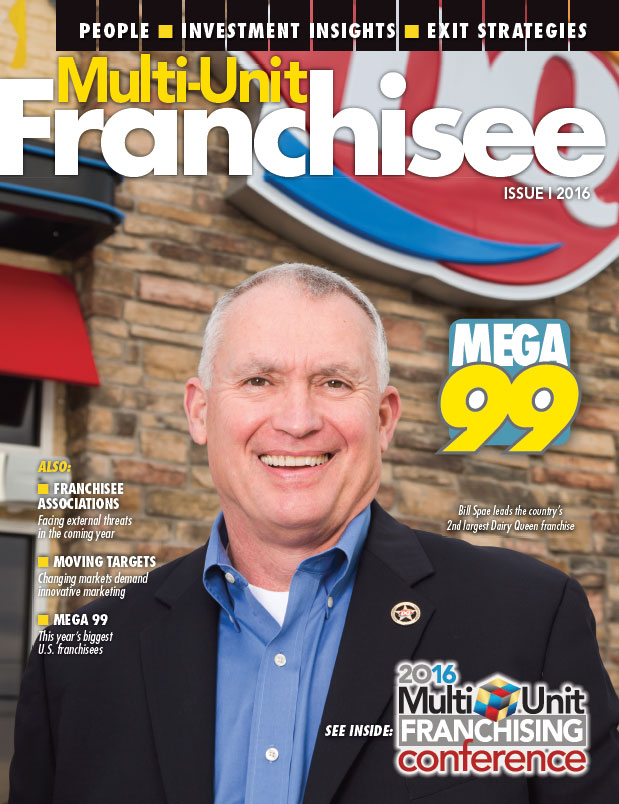 Multi-Unit Franchisee Magazine: Issue 1, 2016
Sport Clips is a winning concept-a great haircut experience for men and boys in a sports-themed environment. With almost 1900 stores and expanding...
Cash Required:
$200,000
Salata is a 90-plus unit, built-to-order salad and wrap kitchen providing quick, healthy meal options. Known for excellent customer service, the...
Cash Required:
$300,000