Replicating Your Franchise DNA
Area reps: your best bet for development success

The Human Genome project, a rapidly developing area of genetics, is the subject of much conversation today. In classical genetics, the genome of an organism is a complete genetic sequence on one set of chromosomes. The ability to understand these building blocks of life will lead to medical breakthroughs that will transform our lives in the future. Metaphorically speaking, a "Franchise Genome" could be viewed as a manifestation of how a franchisor's DNA can be sequenced, understood, and passed along to franchisees.

Traditionally, a franchise company is given birth through the backbreaking work of its founder. It is not uncommon for the founder to toil for years to refine the business model into a successful business. When deciding how to leverage all of this hard work, acquired expertise, and success, franchising emerges as a viable alternative for expansion.

One of the most difficult challenges an emerging franchisor faces is transferring the core business expertise, values, and vision (the DNA of the business) to a newly recruited management team who in turn train franchisees. Although the founder may be skilled at managing the core business, franchising is a different animal. The same skills that lead to the creation of the successful core business do not necessarily translate into the ability to grow and manage a successful franchise company. This bifurcated world creates challenges for new franchisors as they attempt to expand the franchise.

Emerging franchise companies can expand their business model internally, through direct franchising, or externally through an area representative. Successfully expanding a business model through franchising is dependent on how well the DNA of the business can be replicated and passed along to franchisees. Choosing the right expansion strategy is critical.
Direct franchising
Direct franchising is an internal expansion strategy in which a franchisor retains a franchise development team to recruit qualified franchisees. Most emerging franchise companies fail to effectively execute this strategy for two basic reasons:
Emerging franchise companies rarely have the financial resources to retain highly qualified franchise development talent.
In order to attract a qualified internal development staff, a compensation strategy is often structured around a low base compensation with aggressive commissions and bonuses paid for "closing the deal." Naturally, there is a shift from interviewing and awarding franchises to "selling" the franchise to secure the financial incentives. Many times, under-qualified franchisees are allowed to enter the system simply because they can write a check.
Area representative franchising
Another franchise expansion strategy available to emerging franchisors is the external strategy of area representative franchising. In this franchise expansion strategy, the area representative brings significant financial resources, business acumen, and expertise to the table.

If an area representative franchising program is properly structured, the financial incentives are closely aligned with those of the franchisor. There is no immediate need to "sell" franchises, which facilitates a focus on recruiting highly qualified franchisee strategic partners. The alignment of financial interests leads to an increased ability to engender the franchisor's values, vision, and mission and merge them with the business strategy of the area representative, and ultimately pass along the franchisor's DNA to the franchisees.

The invisible hand of capitalism is at work in the franchisor/area representative/franchisee relationship because the area representative's motivations are aligned with those of the franchisor since their own capital is put at risk. There is an understanding that recruiting unqualified franchisees lowers the future return on investment because under-qualified franchisees require a disproportionate amount of support.

A successfully executed area representative franchise expansion strategy does five things for an emerging franchisor:
1. Funds a franchise recruitment program with off-the-balance-sheet financing by using an area representative's capital to fund franchise marketing programs to drive new franchise candidate lead flow.
2. Provides the ability for an emerging franchisor to recruit highly qualified executive talent to grow and to manage the franchise system regionally.
3. Aligns the financial incentive of the franchisor and area representatives to focus on recruiting qualified franchisees, which leads to increased revenues at the unit level, instead of a focus on simply selling franchises.
4. Enables the DNA of the franchisor to be passed along to franchisees by qualified and financially motivated area representatives who have a vested interest in the success of their region.
5. Enables the brand promise to be delivered at the local level because the franchisor's DNA is operative at the unit level.

Area representation is one of the most powerful methods of capital creation to fund and manage franchise expansion. The alignment of financial interests facilitates the recruitment of the right type of franchisees.

When considering an expansion strategy, an emerging franchisor should consider how to ensure that their DNA is engendered into their franchisees. When executed properly, there is no better franchise development strategy than area representative franchising.

Marvin L. Storm is Managing Director of Blackstone Hathaway, which specializes in using area representatives as a franchise growth strategy. He can be reached at 925-376-2900 x201 or mstorm@blackstonehathaway.com.
Published: January 11th, 2010
Share this Feature
Recommended Reading:
Comments:
comments powered by

Disqus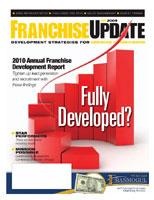 Franchise Update Magazine: Issue 4, 2009
MSA provides domestic and international franchise advisory services to franchisors and companies seeking to establish franchise and licensing systems.
Clayton Kendall provides franchise communities nationwide with comprehensive branded merchandise programs leading to greater brand exposure,...