Rocco Fiorentino Finds a Rich Mix with Krispy Kreme
It might have stopped there, but he remodeled another bagel shop called Bagel Nosh. It was popular, but ahead of its time, and the stockbroker who owned it asked Fiorentino if he would like to buy it. That gave him two bagel shops.

Then Fiorentino took a step others might not have: "We took the two totally different restaurants and reconcepted them into a new prototype in 1989." Bagel Builders was "anything on a bagel"-a new idea at the time-and it started an expansion that in two years led to offering the concept as a franchise. "That was the first time I was involved personally in a franchise," he says.

By 1996, Fiorentino had 43 units, and stepped back to take stock. It was the height of the IPO craze, and everyone was going public. In the bagel segment, Brueggers and Manhattan went public, but they were not as large in Philadelphia as Bagel Builder.

"We thought the Boston Market was coming out with a new bagel concept, and the market was at the peak, so it was the time to sell," he says. "A number of the publicly traded companies were after acquisitions and we were positioned quite well-we had good franchisees, good locations, and good unit sales."

So the decision to sell was made, and the buyer was New World Coffee/ Manhattan Bagel Company.

Fiorentino agreed to stay on for three years as a director-an agreement that stretched to five years. At Manhattan he was vice president for business development, handling sales and real estate.

But he'd always wanted to run his own business again.

The opportunity came with Krispy Kreme, a 65-year-old company doughnut maker that has incredible customer loyalty. Go figure: it's high-cholesterol, high-fat (200-350 calories per doughnut), and not cheap. But, as consultant Jeff Johnson says, if you're a salesman and you show up with a box of Krispy Kreme glazed doughnuts, you're guaranteed a crowd.

"I think I've always been a huge fan of Krispy Kreme," says Fiorentino. "I love the fact that it's very difficult to knock this brand off-someone would need 65 years of heritage and a recipe second to none and a boatload of loyal fans to do it. The barriers of entry are substantial enough for me to be comfortable."

He became an area developer, with a deal to do 16 stores in the Philadelphia area and another seven in western Pennsylvania to add to the more than 280 Krispy Kreme stores already in business in the U.S. and Canada.

"It's one of the most truly vertically integrated companies I've ever seen," Fiorentino says. "They manufacture their own equipment, their own mixes, and roast their own coffee. That makes the barriers to entry huge. If you can be part of an absolute brand, why would you risk starting your own?"

The grand opening of the first Philadelphia store attested to the popularity of the brand-and the wisdom of Fiorentino's decision. Fans waited in line all night to be first (there was a prize-a dozen doughnuts a week for a full year); 64,674 doughnuts were sold the first day and about 250,000 were sold in the first four days.

That's the kind of opening any franchisee would love, and bears out Fiorentino's assertion that Krispy Kreme has one of the best rates of return in the industry.

Fiorentino's company is called Freedom Rings LLC-in part because doughnuts are called "rings" in Philadelphia. And it is just the start-but it also has its challenges.

"Our challenge is real estate," he says. "Like everyone else, we need the same spot at Main and Main."

He's already planned for and met other challenges. Being a multiple-unit franchisee requires a lot more infrastructure. You have to identify clearly what that infrastructure should be and create it: finance, human resources, operations with a vice president, and some regional directors. It isn't just a matter of finding another manager for another store.

"There's a lot of overhead to start up," he says. "You have marketing, real estate (because you can't rely on brokers), construction, contractors, attorneys. You can't support all that with two or three units, but you have to commit to it up front."

A lot of multiple unit operators have gotten there without thinking about that up front commitment. "Some of us become multiple-unit franchisees by design, some by default," he says. "Some start with one store, and then corporate offers another unit, then a third, and suddenly you're in multiple-unit territory without an infrastructure. That's when it gets hairy. You'll make less money with two or three stores than with one."

Krispy Kreme is in partnership with Fiorentino, and was committed to the design from the start. "They wouldn't do it any other way," he says. "They started early on being concerned about who they were selling to and would that franchisee be able to build the brand. They've done an awesome job. Everything's sold out, and there are only 20 developers for all 50 states."
Published: August 14th, 2004
Share this Feature
Recommended Reading:
Comments:
comments powered by

Disqus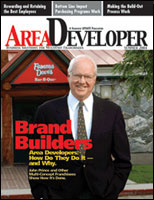 Multi-Unit Franchisee Magazine: Issue 3, 2004
Anytime Fitness makes wellness approachable for millions of members and gives franchisees the opportunity to be a part of a worldwide family of...
Cash Required:
$225,000
MassageLuXe® is a fast-growing massage franchise providing massage services to clients, primarily through multi-unit area developers & single...
Cash Required:
$100,000