Roma and Suresh Patel Team Up for Success: 2022 MVP Influencer Award for Husband & Wife Team
Name: Roma and Suresh Patel
Title: Co-owners
Units: 14 Tropical Smoothie Cafes with 10 in the pipeline
Age: Roma Patel, 45; Suresh Patel, 52
Family: 2 sons, Mihir, 24 and Abhi, 20
Years in franchising: 7
Years in current position: 7
Roma and Suresh Patel are the 2022 Influencer Award for Husband & Wife Team MVPs (Most Valuable Performers).
Co-owners of their company, the couple operates 14 Tropical Smoothie Cafes, with more on the way. In operating their business, they say that they soon learned that they couldn't do everything themselves and quickly figured out how to delegate effectively. As a husband-and-wife team, they have established separate roles that allow each to focus on their individual strengths.
The Patels, whose Tropical Smoothie Cafes are located in the Cincinnati area, are planning to open 10 more, at least 3 of them before year-end.
PERSONAL
Formative influences/events: We've had many formative influences during our career including Roma's father and other franchisees, but the support and guidance we've received firsthand from the Tropical Smoothie Cafe executive team has been so influential. They've been so involved with their franchisees, and it's shaped our management style. They are always hands-on and fully transparent with their franchisees regardless of how busy they are, and we've applied that style of management when onboarding new crew members and opening new cafes.
Key accomplishments: Our continued expansion in Cincinnati has been a key accomplishment for us. We currently have 14 cafes open with more in the pipeline for this year.
Next big goal: We want to continue to push our cafe expansion and open more than three cafes this year.
Hardest lesson learned: One of the most difficult lessons we've accepted is that we can't do everything ourselves. It's impossible to run a business by yourself, which is why we've learned to delegate effectively. Roma and I have established separate roles for one another that allow us to stay focused on our individual strengths and what's important.
Best advice you ever got: The best advice we've received was from Roma's father. He told her when she was young, "You can't work hard just for one day, you must be persistent in your efforts every day to reach your goals."
Favorite book: Think Big, Act Small by Jason Jennings. The book shares the building blocks of thinking big and acting small in business management. We found it very informative.
What's your passion in business? I'm passionate about the restaurant space and developing new relationships with our team and community members for every cafe opening and beyond. Another one of our passions is inspiring better and giving back to our local communities. This year we donated free smoothies to healthcare workers and local schools in Cincinnati to show our appreciation and support for them after such a hard 2 years.
MANAGEMENT
Business philosophy: Our business philosophy mirrors the values of Tropical Smoothie Cafe, which is why we decided to franchise with the brand. If you aim to inspire better in communities and provide a differentiated guest experience and a frictionless experience for crew members, the business will thrive.
Management method or style: We like to maintain a coaching management style. We personally train and travel from cafe to cafe to ensure each crew member knows who we are and that they are fully supported.
Greatest challenge: Like many other companies, staffing has been the biggest challenge for our cafes, especially recently. We are grateful for all our crew members who have stuck with us through the pandemic.
How close are you to operations? We try to stay as close as possible, and because Suresh and I manage different aspects of the business we're involved on every level of operations.
How do you hire and fire, train and retain? We primarily use Indeed to hire new crew members, and we thoroughly train our managers so they know how to appropriately address any employee or guest issue that arises. For every new cafe opening, Roma visits and helps train crew members and managers in every position. We ensure these trainings are comprehensive because the managers handle training after opening. Our hands-on approach to training is a large factor in helping us retain our crew members.
COVID-19
What have been the biggest impacts of Covid-19 on your business? Like almost every business during Covid-19, staffing was an issue for our cafes. We are grateful for all of our crew members who stuck through that difficult time with us.
MVP QUESTIONS
Why do you think you were recognized for this award? Our strong work ethic and joint business management. Without that, we wouldn't have been able to grow our business as we have.
How have you raised the bar in your own company? By staying involved with all aspects of the business and working with the mentality that no one is too big for any task. We can make smoothies, we clean up, we know the operations inside and out, and always step up if a cafe needs additional hands.
What innovations you have created and used to build your company? We have formed a core group of individuals between all of our cafes that has implemented new training tactics based on the ever-changing industry to increase efficiency and productivity throughout each cafe.
What core values do you think helped you win this award? Determination, respect, servant leadership, and focusing on the growth and well-being of our cafes and team members. We value their contributions and wouldn't be winning this award today without a strong and determined team behind us.
How important is community involvement to you and your company? Very important! We give back to local schools and fundraise any chance we can. Our community is a huge reason we're here today and why we have the opportunity to open even more cafes.
What leadership qualities are most important to you and your company? Accountability in leadership. As leaders, we find it crucial for our teams to align on the goals of our business and to focus our team on those. We have set clear expectations for ourselves and our cafes to uphold our mission and values. Roma and I acknowledge our mistakes and learn from them so we can continue to move forward and lead our cafes effectively.
BOTTOM LINE
Annual revenue: $1 million-plus.
2022 goals: We hope to open the three Tropical Smoothie Cafes in Cincinnati we have in the pipeline, and plan for additional expansion in that market, among others, going into 2023.
Growth meter: How do you measure your growth? Based on the number of cafes we open per year, and the number of cafes we have in the pipeline for the next year.
Vision meter: Where do you want to be in 5 years? 10 years? Retired! Just kidding. We can't imagine stepping away from the business in 5, 10, or 15 years. It's something we love waking up to do. Somewhere in that timeline, we hope to be one of the top developers in the Cincinnati market. Our goal is to open more than 25 cafes.
What are you doing to take care of your employees? We have worked to develop a culture where people feel like family, and that extends to our team members. We make sure each team member feels like they belong, and we really aim to build mutual trust. We often host team outings and treat them to lunch several times a week just to get to know them outside of work. We also have some generous perks, like holiday bonuses.
What kind of exit strategy do you have in place? Our nephew has been helping us with the operations and training sides of the business for the last few years. We hope at some point down the road he'll be able to take on a bigger chunk of the business for us.
Published: September 9th, 2022
Share this Feature
Recommended Reading:
Comments:
comments powered by

Disqus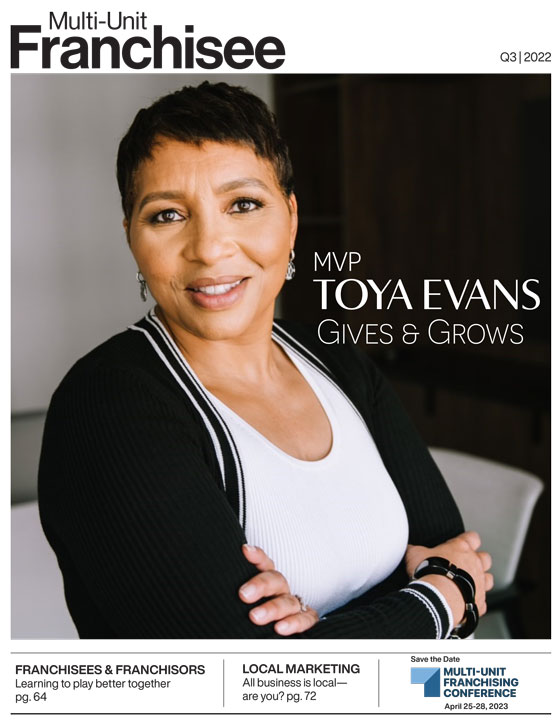 Multi-Unit Franchisee Magazine: Issue 3, 2022
Hungry Howie's is currently EXPANDING! Top Markets are available for single or multiple unit development. Get the EDGE over the competition with...
Cash Required:
$220,000
Invest in a Dairy Queen® franchise opportunity and immerse yourself in familiarity. We invite you to get started today. Success has never been so...
Cash Required:
$400,000