MVP Doug Porter Is a High Flyer: 2022 Veteran Entrepreneurship MVP Award
Name: Doug Porter
Title: Team Leader (Owner)
Company: Sport Clips
Units: 5
Age: 65
Family: Wife Ann, daughter Alison, 32, son Scott, 30
Years in franchising: 5
Years in current position: 5
Doug Porter is the 2022 Veteran Entrepreneurship MVP (Most Valuable Performer).
Selected for outstanding, performance, leadership, and innovation by a veteran, Porter earned a degree in hotel administration from Cornell University before joining the Navy and flying more than 2,000 hours in carrier-based jets. He then worked in advertising before serving as CEO of the Chicagoland Ronald McDonald House Charities. The 65-year-old has been a Sport Clips franchisee for the past 5 years and currently operates 5 locations.
PERSONAL
Formative influences/events: 1) Athletics in high school and college: teamwork, goal-setting and "play to win." 2) BS from the Cornell School of Hotel Administration: really learned a "customer service" focus and the impact that can have on a business. 3) U.S. Navy pilot: evolved leadership approach and teamwork under challenging conditions on North Arabian Sea cruises (also what is important and what isn't).
Key accomplishments: Family growth and the adults the kids have turned out to be. CEO of Ronald McDonald House Charities in Chicago, building four Ronald McDonald Houses in 10 years to serve 150 families a night who are facing the most difficult times of their lives with a seriously ill child.
Next big goal: Rebuilding the Sport Clips business to what was before Covid, under very different circumstances.
Hardest lessons learned: Control what you can control, don't sweat the rest. An optimistic, "can-do" attitude does make a difference. A leader can't have a bad day.
Best advice you ever got: Life isn't fair, get over it and move forward.
Favorite books: In Love and War: The Story of a Family's Ordeal and Sacrifice During the Vietnam Years by Jim and Sybil Stockdale, and Call Sign Chaos: Learning to Lead by Jim Mattis.
What's your passion in business? Customer service and helping each team member become the best stylist/person they can be.
MANAGEMENT
Business philosophy: Work on the business, not in the business, and ensure everything I do is adding value that someone else can't.
Management method or style: Spend time with your people, listen and show sincere interest. Show them that you care about them. That is how you get their respect and loyalty.
Greatest challenge: The past 2 years with Covid, the number of new skill sets, closures, and financial pressures beyond our control.
How close are you to operations? I dove in at the start of my ownership to understand how to interpret all the numbers we have access to, how they relate to each other and the drivers of the key metrics. Then I backed off a bit so I don't interfere with the managers and stylists (after all, I have no skill in hairstyling). At the current time I visit each store at least once a week (unannounced) to make sure I have a relationship with all the employees, build trust, answer questions, and then move on to the next store.
How do you hire and fire, train and retain? First, I believe in having the hiring managers all aligned on our philosophy/principles for hiring (e.g., hire for attitude, train for skill, etc.). Then the area manager (responsible for my five stores) will do the bulk of the hiring (with me as a backup), with the specific store managers assisting. The managers and I work on the training program framework and specific goals we have. I'm really involved at the management level (assistant store managers and above) and focus on role playing, not so much the functional skills like scheduling, ordering, etc. I make sure they understand my intent since you can't possibly cover every situation that could arise. I'm very involved in terminations to ensure we are following all the (crazy) California laws and that all employees are treated fairly.
COVID-19
What have been the biggest impacts of Covid-19 on your business? The unpredictability of government-forced shutdown (3+ times). I couldn't give employees all the answers they wanted. The mental health of team members. Divisive issues in society creeping into the business (vaccines, masks, etc.).
MVP QUESTIONS
Why do you think you were recognized with this award? No one thing. My overall approach to business, clients, and team members.
How have you raised the bar in your own company? Being present and offering benefits that are probably unexpected during these Covid times.
What innovations have you created and used to build your company? Marketing (free neck trims and massages at community events) to demonstrate the brand and recognize that the world doesn't need another barber shop and just hand out coupons! Don't just "sponsor"—implement an innovative strategy with organizations to build the business; help them and get an ROI.
What core values do you think helped you win this award? Consistency, frequency of communication. A leader (owner) can never have a bad day. Having a positive vision.
How important is community involvement to you and your company? Very important. Be seen, be present. In a B2C operation, that is where are clients come from. As a national franchise, Sport Clips is a strong supporter of community involvement, both on the national level and the local franchise level.
What leadership qualities are most important to you and your company? Absolute trust, integrity, truthfulness. Bring clarity to chaos. Clear any obstacles for the team so they can excel at their job.
BOTTOM LINE
Annual revenue: $1.75 million.
2022 goals: Stabilize the business and gain a good handle on where the industry is headed.
Growth meter: How do you measure your growth? Client count and other internal metrics to measure specific components of the business (e.g., product sales). Decrease turnover to below pre-Covid levels.
Vision meter: Where do you want to be in 5 years? 10 years? "Comfortably" in business. Have a succession plan in place. Promote and support team growth, personally and professionally.
What are you doing to take care of your employees? Sincerely listening to them with interest. Taking decisive action to show I have their best interests at heart. Actively promoting Sport Clips' "Cut It Out" program to address any domestic violence issues. And I've added a mental health counseling benefit to our list of available resources.
What kind of exit strategy do you have in place? Build the business to increase its value. That gives you the most options down the road.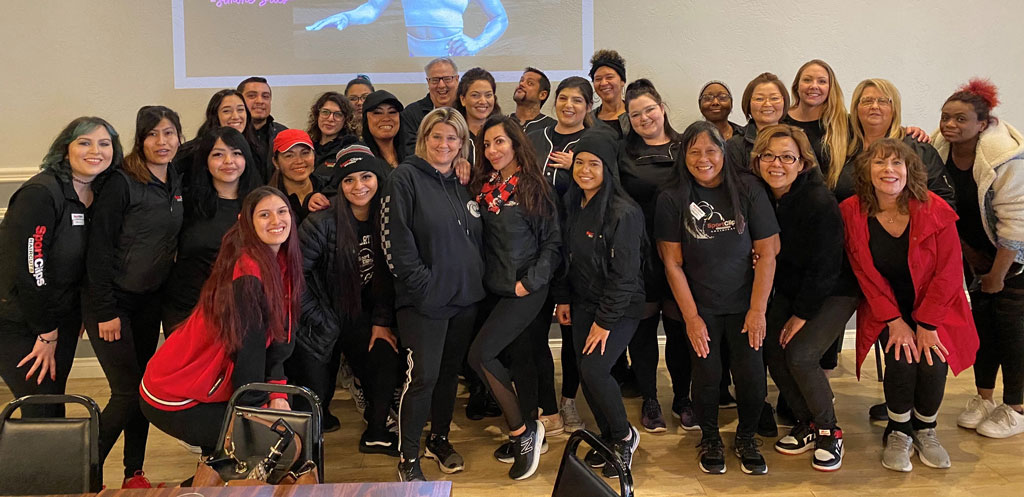 Published: September 10th, 2022
Share this Feature
Recommended Reading:
Comments:
comments powered by

Disqus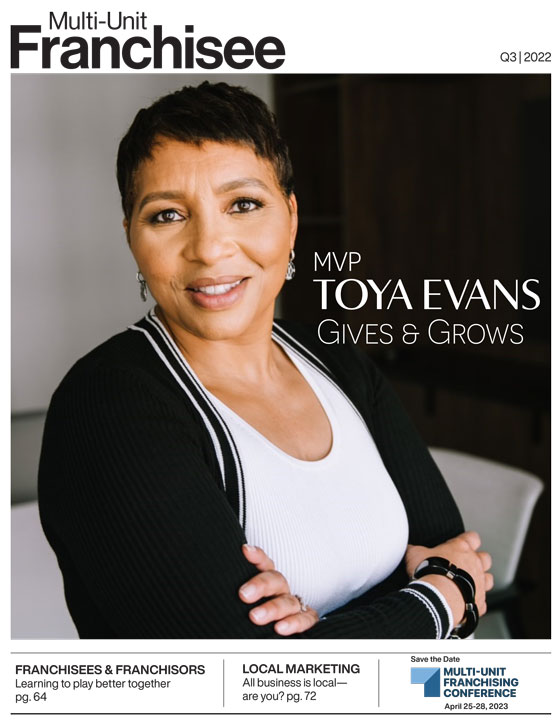 Multi-Unit Franchisee Magazine: Issue 3, 2022
Make your mark on the billion-dollar esports industry while making a positive impact as a franchise owner!
Cash Required:
$50,000
Established in 2011, Wing It On! is the only authentic, Buffalo-inspired chicken wing experience in the fast-casual wing game. We know the details...
Cash Required:
$150,000