Rough Times Ahead? Multiunit Operators Find Opportunity Even In Adverse Times
The news is depressing, the economy is sinking, financing is hard to get, the market is down, gas prices are up, and competition is fierce. So why are all these multiunit franchisees smiling?

In my 30-year career as an entrepreneur, I have seen the roller coaster of business go up, down, and around. Today, it certainly seems like times are tenuous at best and bordering on downright depressing. One thing has remained constant in the last three decades: for every door that closes, another opens. I believe that while there will be fallout in the near term in the franchise business, there will be great opportunities for those who are prepared.

Operators of multiunit and multi-concept franchises are trained to deal with adversity and challenge. Good operators expand within their existing brands and are prime candidates for expanding to other concepts. Multiunit operators are a unique group, and their skills will remain in high demand by franchisors, lenders, venture capitalists, and others that provide the fuel for the franchise business but do not want to drive the bus. If you operate a successful multiunit franchise operation, you should be prepared for the opportunities that will arise during a down market.

In my involvement with the International Franchise Association and at other industry events over the years, I have learned of the multitude of emerging franchisors with great concepts seeking franchisees with capital and operational skills to expand their brands. The majority of franchisor members of the IFA own fewer than 50 units, and these brands are actively seeking new franchisees. Also, don't count out the big boys.

Many of the major franchisors with hundreds and even thousands of units are looking for successful multiunit franchisees to expand their markets or take over for existing franchisees seeking an exit from their systems. Sometimes taking over a troubled franchisee can be a very profitable event for a multiunit operator with the capacity for expansion and the savvy to buy at the right price. Many franchisors do not want to operate units, and a strong multiunit franchisee can provide a solution for a difficult situation. Good operations and adequate capital solve many problems, and there are a host of turnaround success stories.

The key to taking advantage of a down market is to be ready for the opportunities and carefully pick your deal. Make sure your existing operation is efficient and that you have the management to take on a new venture. Be sure you have adequate capital and a strategic plan of how you want to grow. Consider the opportunities and choose carefully. The best way to find opportunity in a down market is through the relationships you have developed with others in the industry.

At the 2008 Multi-Unit Franchising Conference in Scottsdale many strong multiunit and multi-concept franchisees will gather with emerging franchisors and other industry leaders to network, learn something to help their business, listen to some entertaining speakers, have some fun, and make some deals.

I hope you will join me April 23–25 at the Hyatt Regency at Gainey Ranch for what is becoming the premier gathering for growth-oriented multiunit franchisees and franchisors seeking new franchisees that can make a difference in their chains. I hope I see your smiling face there.
Published: August 7th, 2008
Share this Feature
Recommended Reading:
Comments:
comments powered by

Disqus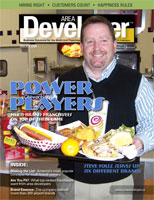 Multi-Unit Franchisee Magazine: Issue 2, 2008
MassageLuXe® is a fast-growing massage franchise providing massage services to clients, primarily through multi-unit area developers & single...
Cash Required:
$100,000
At Twin Peaks, expect to enjoy scratch-made food, sports on TVs from every angle, frosty 29° beers, and the fun and friendly Twin Peaks Girls....
Cash Required:
$2,000,000