Second Life: Innovator Finds Purpose and Prosperity in Franchising
Gary Hughes turned 50 and decided he'd had enough of the corporate executive life. Based in the Seattle area at the time, he also decided he'd seen enough big city congestion to last a lifetime. Hughes soon found a picturesque, midsized town to call home and moved to Clarkston, Wash., pop. 50,000. "I used to say that we're so far out into the boondocks it's 120 miles to the nearest freeway," says Hughes gleefully.
He gave up the manufactured housing industry and a busy schedule that involved frequent flights around the country, and searched for a one- or two-store franchise deal that could support a life devoted to more laid-back endeavors, like hunting and fishing. "I found out that hunting and fishing was as much work as running a business," he says--and that it didn't pay as much.
Hughes has always thought for himself, starting early in life at achieving the ambitious goals he set. As a 16-year-old high school dropout and self-described youthful rebel, he took the advice of an Air Force buddy and enrolled in college, where he went on to graduate with a 3.9 GPA.
Later in life, when he entered franchising, he dove in with the same vigor that had served him in his suit-and-tie days, eventually building a 33-store chain of ColorTyme franchises in 7 states, specializing in rent-to-own furniture, appliances, and electronics. As a franchisee, Hughes instituted several innovations in his stores, spurring the franchisor to follow his example by adding financial services at all of the brand's stores--a smart move for a franchise that caters largely to customers who often don't have a bank account.
His second career has met with resounding success. Named Franchisee of the Year on five different occasions, he has taken the time to advise his colleagues in the business. And he still makes a daily habit of going through each day's numbers with a fine-tooth comb as he navigates through the worst economic downturn in recent history.
All this (and more) helps explain why Gary Hughes was selected as one of the first annual MVP award winners by Multi-Unit Franchisee magazine.
Franchising not only gave him a new purpose in life, it also gave him the money and time to travel the world, build a collection of exotic cars, and contribute generously to the local college and hospital and sponsor needy kids at the local Boys & Girls Club. Hughes believes that when a community supports your business, it's important to give back and help others.
Today, at 71, he has scaled down to 12 stores, each run by a partner, with an eye toward eventually selling out his interest. He's already helped set up nine of his former employees with their own franchises and partnerships, starting them down the same entrepreneurial path that has rewarded him so richly.
"Franchising has been very beneficial for us, especially in national product purchasing, national advertising, and training--and it's been a fabulous experience for me," says Hughes today. And he still likes to fish. His last fishing trip was in Costa Rica, where the daily catch can easily exceed 100 pounds.
Hughes likes to say, "What gets measured gets done." By any measure, his life and franchising career has been a success.
2010 MVP AWARD WINNER
You were recognized for demonstrating outstanding performance and innovation in growing your organization and your brand(s). Tell us more about what you did.
The most significant innovation I brought to the ColorTyme system was financial services as an additional product. I found that our customers were, by and large, non-banking customers and had a need for services like check cashing, money orders, wire transfers, and small loans. I introduced the financial services as an additional product, which was then adopted by the franchisor and made available to others. The other thing I believe I was recognized for is helping nine different previous employees become franchisees or partners in franchises.
As a multi-unit franchisee, how have you raised the bar within your organization?
By allowing top-performing managers to become partners and franchisees.
What core values do you feel led you to win the MVP Award?
Giving back to the community. For the past 10 years I've paid the tuition for the Boys & Girls Club for all the children in our community entitled to free lunch programs, about 500 kids per year. That's for the school year and the summer program, allowing kids that might be left home alone to be in an organized environment. I have also contributed a significant amount of money to our community college for a new nurse training facility, The Gary Hughes Health Sciences Building. And I've contributed to the community hospital's new women's imaging center.
Name: Gary Hughes
Title: CEO
Company: GCH Management
No. of units: 11 ColorTyme; 1 RimTyme
PERSONAL
Age: 71
Family: Married, 3 children, 5 grandchildren, 1 great-grandchild.
Years in current position: 20
Years in franchising: 20
Key accomplishments:
Raising three great kids. I was Franchisee of the Year five times; 16 times Top 10 Franchisee; and chair of the Franchise Advisory Council five times. And I graduated from college with a 3.9 grade point average after not finishing high school.
Biggest mistake:
Quitting school at the age of 16. I was a rebellious kid.
Smartest mistake:
Selling 27 stores in 2005. A lot of people felt that was a mistake, but it turned out to be a peak time in the market for a return.
How do you spend a typical day?
First thing in the morning I review the previous day's numbers, and then I send and answer emails and call and talk to partners and managers.
Work week:
I work hard during the week and I play hard on weekends.
Favorite fun activities:
World travel. I've been to 169 countries so far. I'm attempting to hit 200 by the end of 2011. And then there's skiing and fishing. On a trip to Costa Rica I caught 20 tarpon, which weighed 60 to 125 pounds each.
Exercise/workout: Not enough.
Favorite stuff/tech toys:
I'm not much of a high-tech guy. My favorite stuff is my collection of cars. I have some really great exotic cars: Aston Martin, a Bentley, Corvette, Shelby Mustangs.
What are you reading?
The Big Short by Michael Lewis.
Do you have a favorite quote or advice you give?
I have a couple. My favorite is "What gets measured gets done." I also like "Work expands to consume all available hours." Best advice you ever got: Go back to school.
Formative influences/events:
When I was in the U.S. Air Force I had a roommate who was a college graduate. He counseled and advised me and said I should go back. At the age of 18, peers are more influential than old folks like your parents.
How do you balance life and work?
By planning leisure time with the same intensity I plan business time. I have reservations for trips in September, October, January, and next June.
MANAGEMENT
Business philosophy:
If I take care of the employees, they take care of business. Would you say you are in the franchising, real estate, or customer service business? Why? The customer service business first and franchising second. Without customer service, you wouldn't have a franchise.
What gets you out of bed in the morning?
The excitement of a new day. Coming up with new marketing ideas and plans, new pay scales, the excitement of business.
What's your passion in business?
Developing pay and bonus plans that reward top performers, number one. Number two: developing marketing and advertising programs.
Management method or style:
I provide the tools to managers and employers and then get the heck out of the way.
Greatest challenge:
Dealing with the government. The regulations on the loan side of the business are a constant challenge. You have to keep up with new regulations by state almost every day.
How close are you to operations?
I'm close to the home office operations: the daily numbers, financial statements, and expenses; not stores and actually dealing with the customers.
Personality:
An intense businessman and loyal friend. Certainly honest and fair.
How do others describe you?
I called a couple of employees and asked them. One said intense businessman and loyal friend. The other said kind, honest, aggressive, fair, and generous.
How do you hire and fire?
Hire for attitude and aptitude, not experience.
How do you train and retain?
ColorTyme provides great training programs: online for entry- and mid-level employees, and home office training in Dallas for management and multi-unit manager training.
How do you deal with problem employees?
Review their problems and set goals and monitor their performance.
BOTTOM LINE
Annual revenue: $13 million
Growth meter: How do you measure your growth?
Total revenue per store, units on rent, and loans outstanding.
Vision meter: Where do you want to be in 5 years? 10 years?
I want to be fully retired and my partners full owners of their operations. All managers are partners in the operations, and partners have the opportunity to buy me out over time.
How has the most recent economic cycle affected you, your employees, your customers? Are you experiencing economic growth/recovery in your market?
Growth over the past 12 months was 1 percent over the previous 12 months. That's far less than what we're used to. So the economy has definitely slowed our growth. Our customers are primarily blue-collar folks. They've had their work hours reduced, and many are laid off. It's been a challenging time for our customers. Many of them are running out of unemployment benefits. I don't see a significant sign of recovery. I have seen a bottoming out, and we have a bright future.
What did you change/do differently during the recent tough economic times that you plan to continue doing into the future?
I watch all expenses very closely, including employee hours. We have eliminated overtime, and we make sure delivery routes are arranged the most efficiently to save fuel. We watch every expense.
How do you forecast for your business during trying times? Can you even forecast at all?
We are forecasting only 1 to 3 percent growth. In normal times we would forecast 5 to 10 percent growth.
Where do you find capital for expansion?
My bank account. Since the sale in 2005 we've been self-financed.
Is capital getting easier to access? Why/why not?
That's not an issue.
Have you used private equity, local banks, national banks, other institutions? Why/why not?
We've used local banks in the past.
What kind of exit strategy do you have in place for your business?
I expect the partners to buy me out.
What kinds of things are you doing to take care of your employees?
We have good medical insurance plans, vacations, 401(k), and incentive trips, based on goals.
How are you handling rising employee costs (payroll, healthcare, etc.)?
That's the stuff you have to face, pay it, ignore it, and tend to business.
How do you reward/recognize top-performing employees?
We provide a performance report on all employees' performance every Monday. They're ranked on how they performed in their jobs compared with all others, with cash bonuses for top employees and profit sharing for managers. We have annual incentive trips for people who meet their goals.
Published: January 24th, 2011
Share this Feature
Recommended Reading:
Comments:
comments powered by

Disqus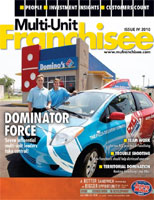 Multi-Unit Franchisee Magazine: Issue 4, 2010
With more than 300 active locations in 30 states and dozens more in development, American Family Care is America's #1 Urgent Care Franchise.
Cash Required:
$550,000
Starting your own Snapology education franchise is affordable, flexible, and provides a great opportunity for success. Find out more today on how you...