Selling? Get the Right Attorney
Deals require industry-specific expertise
After several months of testing after an initial diagnosis by your family doctor, you now must schedule surgery for a heart condition. What do you do next? First, you get recommendations from hospitals, other doctors, and reliable friends for the best specialists. You meet with and interview several of those recommended, ultimately choosing the right person for your specific situation. After all, entrusting your family doctor with something clearly outside their realm of expertise would be ludicrous, right? You want the best specialist available.
So how could you have a different mindset regarding a critically important economic decision, such as the sale of your business? We see this happen every day. And in many cases, the seller's folly jeopardizes a successful outcome.
When selecting an attorney to handle the sale of a business, many owners rely on their longstanding relationship with their existing attorney. Let's call him Ted. He's a comfortable choice, as familiarity and trust already exist. The seller has confidence in Ted's competence, earned over the years. More important, the seller feels an intense loyalty to Ted, feeling he has earned the right to handle such a critical legal matter. Selecting anyone else would be disloyal.
This is an interesting dynamic, since Ted does not possess the experience to best handle this situation. In the example above, the family doctor would never offer his services or even be considered for a procedure he has not been trained for and performed dozens of times. However, this distinction appears to blur when making the decision to handle a specific legal matter, especially something that might be considered more of a general business practice, such as contract drafting and negotiation. In reality, this distinction should be very clear.
Over the years, Ted has successfully handled dozens of different legal matters for the business (franchise agreements, real estate purchase agreements, bank agreements, vendor contracts, and so on), demonstrating his effectiveness in dealing with these aspects of the business. However, the process of selling a business can be very different. How hard can it be, you ask? So what if Ted hasn't done many M&A transactions? He is smart and the seller trusts him to "get through it." What's critical to understand here is how the M&A process is unique and differs from other legal aspects of the business.
The emotional investment associated with the possible outcome turns M&A transactions into a whole different beast. For many sellers, this is the culmination of a lifetime of effort. At the very least, it is a significant economic event. Regardless, it has a very different overall feeling than a "day-to-day" business transaction. This also is true for the buyer--which cannot be overemphasized. With nerves already running hot, this is not the time to learn along the way. It is imperative to avoid the pitfalls that come from inexperience.
An experienced M&A attorney understands the issues and what is customary for that particular business, therefore effectively communicating his expertise to the client, along with setting realistic expectations. Any mistakes or complications throughout this process get magnified tenfold and jeopardize the transaction. We have seen many transactions fall apart from being overrun by insignificant issues that should have been avoided.
Additionally, the M&A process is more than just a negotiation of the acquisition sale agreement. Lease assignments, asset inspection reports, franchisor transfer documents (if the business is a franchise), estoppels, guarantees, non-compete agreements, and other factors specific to the industry all require definitive knowledge. On the surface, the acquisition document might appear similar to other types of purchase agreements, but like most things, the devil is in the details. Understanding the subtleties of how these contracts differ substantially affects the outcome. The addition or deletion of even one word in the agreement can considerably affect the meaning of a provision, resulting in a "non-market" position. Attorneys with industry-specific knowledge typically don't make these mistakes.
Finally, it is important to note that not all M&A experience is the same. For instance, M&A issues that are customary in one industry might be very different in another. We have seen experienced M&A attorneys with familiarity in different industries incorrectly "dig in" on issues that are not customary in franchise or restaurant industry transactions, thereby complicating matters. Additionally, there are variances among brands, especially with franchise companies. What is common practice in one concept might be very different in another.
Our advice is to follow the path of selecting the best specialist for the job. In many cases, a client's current attorney has the requisite M&A experience and is well-suited to the task. In a situation where that is not the case, consider using your existing attorney as the point person, but employ a specialist to work alongside them. We have found this to be an effective solution in many instances, with the added efficiency typically saving time and costing you less in the long run. Ultimately, all you need to remember is this: If your current counsel is not the right person for the task, don't compromise. Find the right surgeon for your specific situation.
Dean Zuccarello is CEO and founder of The Cypress Group, a privately owned investment bank and advisory services firm focused exclusively on the multi-unit and franchise business for 24 years. He has more than 30 years of financial and transactional experience in mergers, acquisitions, divestitures, strategic planning, and financing in the restaurant industry. Contact him at 303-680-4141 or dzuccarello@cypressgroup.biz.
Published: August 17th, 2015
Share this Feature
Recommended Reading:
Comments:
comments powered by

Disqus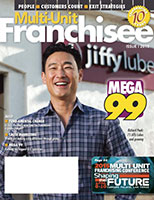 Multi-Unit Franchisee Magazine: Issue 1, 2015
If you're interested in a bold do-nut business opportunity one with strong multi-unit appeal a Shipley Do-Nuts franchise offering is one of the very...
Cash Required:
$225,000
Since 1962, customers have trusted Big O Tires for all their tire and automotive service needs. Today, we have over 465 locations across the country,...
Cash Required:
$50,000