Shedding corporate culture took some doing for Ellen Hui
When native San Franciscan Ellen Hui left a career in banking in 1989 to take on her first Popeyes Chicken and Biscuits restaurant, she experienced a big culture shock.

"I was as dumb as they come," she recalls. "In banking, there was a certain lingo and way of dressing and talking. The restaurant was a different culture of service, and it took me a long time to understand that."

Before that epiphany, her assistant manager Alex had to say to Hui - more than once - "Lady, go to the back and let me take care of this," Hui recalls. "I didn't know how to handle customers' complaints. If they said, 'I don't want this piece,' I just said, 'Why not? They're all the same size.' I didn't realize that I should just smile and give the customers what they wanted."

She can smile now when she remembers those growing pains, because she has a firm grasp on the nuances of customer service, the restaurant business, franchising, real estate development, and running her own company, EBR Investments, in San Francisco, as president and CEO.

Hui says she doesn't sleep much, but she wakes up invigorated. "I love getting up in the morning, I love my family, I love my employees, supervisors, managers, and customers," she says.

EBR operates six Popeyes units in the Bay Area and is developing others. In addition, she's signed on with Extreme Pizza to place three to six locations in nearby Santa Clara County in the next year or so.

An energetic Hui comes by her entrepreneurial bent naturally. When she was growing up, her family always had businesses. At one time or another, they had a grocery store, a restaurant and deli, an ice cream store, and a coffee business.

As a young woman, she viewed her parents' hard work as "survival, rather than entrepreneurial," says Hui. "Their philosophy was that you have to have your own business to be self-sufficient, and that the harder you work, the greater the reward."

Hui earned her MBA in finance at Golden Gate University and went to work for Levi Strauss, and then for Bank of America. But she didn't want to wind up in the business world "at the end of the day, tied to salary and bonuses."

So when someone suggested they go into the restaurant business together, she began researching the possibilities. "I wasn't going to buy just any restaurant," says Hui. "I wanted to make sure that it was something unique."

Some of her colleagues at the bank who ate lunch at the Popeyes down the street "dragged" Hui down there one day. "I thought, 'Wow! I'm hooked," she recalls of her first experience with the New Orleans-style fried chicken and biscuits concept.

Within a year, she and her partner had taken over their first Popeyes unit, which was grossing $450,000 a year at the time. Within three years, sales were $800,000.

Hui had confidence in her product and franchise and was comfortable following the operations manual, which she calls her bible. "I was buying a tried-and-true formula for success. But I still was able to insert my own two cents in terms of customer satisfaction and training. We could decide how we wanted to present the meal, invite the customer back, and take care of issues when the customer wasn't happy," she says. "I quickly learned that if the guests are happy, you're happy."

Don't know much...
When she started, Hui says she didn't know much about franchising. All her family's ventures had been start-ups. "I'd hear Dad talk about paying a nickel for a bun and 15 cents for the meat and selling the sandwich for a dollar, and I thought, 'Wow, 80 cents profit - that's pretty darn good.' He knew all about the profit and loss statement - he just didn't know what to call it."

After a while, even though she loved her new business, long hours on her feet were getting to Hui. "I was also a little embarrassed because I'd come from the bank to do this," she says. One day, her friend Glenn Helton, who is now in charge of 100-plus Burger Kings, came in and gave her a pep talk.

"He said, 'Get with it! You have one store and you're making how much money? Think of it in multiples: two restaurants, then three and four. That takes you from running a store to running a company.' He was right."

She and her partner took on their second unit in 1993. When it closed in bankruptcy, sales were about $550,000. In three years, they topped $1.8 million.

Things were coming together, and Hui and her partner opened their third store in 1995, making $40,000 in their first week. They then picked up the whole territory, opening a total of 12 locations over the years. When they decided to end their partnership, each kept six stores. Hui is now back in growth mode, opening a couple of new stores next year, and plans several others over the next five.

Hui says she learned how to hire the right people by trial and error. "I'd think I had the right people, but after I worked with them for a while, I'd see we didn't share the same philosophy. When that happened, I'd lose a little confidence, but I learned that the more you hire and the more you let go, the more you narrow down the profile of the person you want to work with."

She says her eyes were further opened to the kind of relationships that could be built between franchisors and franchisees when she served on brand advisory committees under then-President Jon Luther (now CEO at Dunkin' Donuts).

Nothing but the best
Not only does Hui surround herself with the best people, she also views her relationships with Popeyes and Extreme Pizza as partnerships. "The key to a successful partnership is mutual respect, and that's what we have," she says.

The longer she's in franchising, the more Hui appreciates the value of some other business advice from her parents, who always invested in real estate. "When I was in college, I wanted a BMW and I only had $500 in my savings account. My father said I should use my savings to buy land. And I said, 'How is that going to get me my BMW?' He said, 'Buy it for X, sell it for Y, and the difference gets you your BMW.'"

After some time as an area developer, Hui realized she had become, in effect, a real estate developer. She finds that aspect of the business fascinating and can often be found in the wee hours of the morning drawing traffic patterns.

She is convinced that an area developer needs to do her own research and to stay connected with a constantly changing population. "It's up to us to keep the brand young. We have to be involved in what kids today are looking at and listening to. We can't keep doing things exactly the way we've done them in the past. We have to keep current with the market and address food trends and other issues," she says.

The mother of three teenagers, Hui believes it's important for her stores to be involved in the community. "We're not a huge company with a huge budget, but if we can come up with $200 to send a deserving kid to camp or work with Dell to get a computer for a student who really needs it, we've affected lives," she says. "Small things can make a difference."

She also stays involved in professional organizations. "I'm also on the road quite a bit. I attend several trade conferences each year, so I can stay on top of the financing and the new equipment that's out there," she says. "You have to be your own advocate, to educate yourself so you know the right questions to ask."

Since she works in health-conscious California, Hui is especially interested in testing new food products, such as salad and fruit options. And the more involved she becomes with Extreme Pizza, the more excited she is about the future of the gourmet pizza restaurants launched in the Bay Area by CEO Todd Parent. The franchise currently has 30 restaurants.

"I love the whole experience of an Extreme Pizza," she says. "The names of the pizzas are so edgy. Peace in the Middle East has hummus and tomatoes and olives and fresh basil and feta, and Green with Envy is a pesto pizza. The ingredients are fresh, and it has a good price point. The owners of the company are younger and living in California, so they also get the environmental vibes here."

The veteran businesswoman says it's not difficult to choose franchise brands she wants to work with. "I think you have to be in it for the love of your product and brand. If you follow your heart, the rest - the money - will follow."

Although she can well afford it, Hui, who likes tennis and skiing, still hasn't bought that BMW. She jokes that maybe she will someday, when her three "wonderful" children are all launched into the world. For now, she continues to dangle it, carrot-like, in front of herself. "Anything worth having is worth working for," she says, which sounds like another piece of advice from Dad and Mom.
Published: November 2nd, 2007
Share this Feature
Recommended Reading:
Comments:
comments powered by

Disqus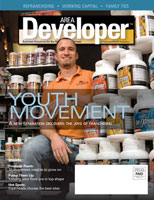 Multi-Unit Franchisee Magazine: Issue 4, 2007
Massage Heights is a passion brand, a lifestyle brand, and a spa franchise brand that truly helps people live their best lives by encouraging them to...
Cash Required:
$175,000
With 500+ restaurants in development worldwide, Wayback Burgers is America's favorite hometown burger joint and one of the world's fastest-growing...
Cash Required:
$250,000