Show Them the Money
Leverage your Item 19 to increase sales

With the Amended FTC Rule mandatory as of July 1, Franchise Updat asked franchisors in different industries, and of varying size and maturity, for their thoughts on the pros and cons of using Item 19 of their FDD as a sales tool. Short answer: great idea, and a real competitive edge—as long as the brand is doing well and you keep it legal. The devil, as usual, is in the details.

As a franchisor, you're in control of what to disclose in your Item 19. "You get to decide all of that," says Charlie Simpson, executive vice president and COO for the 2,700-unit Great Clips brand. "Develop something that's flattering to you—as long as you're factual and truthful."

In a nutshell, says Fred Harms, vice president of development at Kiddie Academy (92 units open and 63 in various stages of development), what you want to say to franchisees is: "Look, this is your average ROI EBIDTA. It ranges from a low of this to high of this, and low is really horrible. You have some unprofitable franchisees. Are you better than average? I can tell you how to be." In the sales process, he says, Item 19 is the franchisor's response to the question on every candidate's lips: "How much money can I make?"

Perhaps the most important benefit of your Item 19 is to give candidates the information they need to create a realistic scenario about what lies ahead if they sign—not only of their potential ROI, but of what's required to achieve that in their market. This allows both franchisor and candidate to come to a decision quickly, and prevents disappointments down the road.

"It expedites the process. We send you the FDD, and within a month you'll know if our franchise is a match with your financial goals," says Paul Pickett, vice president of development at Wild Birds Unlimited, which has just under 300 franchises. Without a financial performance representation (FPR), he says, it could take months of figuring before the candidate finally realizes, "This is the right franchise for me."

Pickett tells candidates from the start that the first couple of years are very challenging, and that they may not break even. The rationale from day one, he says, is to be clear that Wild Birds is in specialty retail and it takes a time to build and develop a customer base.

"Our concept is built on repeat business," he says. "It's not a get-rich-quick business. We don't want people to come into the system with unrealistic expectations and be unhappy with their decision," he says. "The more information they have before they enter our system, the more likely we have a very good match."

Beyond the first couple of years being challenging financially, success at the brand also involves a lot of hard work. "We want people to know that. You have to be committed to working your tail off. Sixty-hour work weeks are not remotely unheard of for the first two years. So if you want to do this, you better be prepared."

On the day he spoke with Franchise Update, Pickett had just lost a candidate for that very reason. "They even had a discovery day with us, and you hate to lose anybody who's a strong candidate," he says. The candidate told him, "I've decided I just don't want to work that hard."
Detail, detail, detail
Shelly Sun, who co-founded BrightStar Healthcare with her husband JD Sun, is a big believer in presenting a realistic—and detailed—picture of the likely road ahead for her franchise candidates.

As a CPA by background, Sun appreciates the value of numbers. And as a franchisee (she and JD still own two hotels they bought in mid-2004), she understands what candidates should know when considering a franchise. That's why she includes so much information in her Item 19—which fills nine pages of her FDD.

"I put myself in the franchisee's shoes and asked, 'What did we want to see?' That's why we went to the extreme of reporting that we have," she says. "I don't think I would have been as caring a franchisor," says Sun, had she not already been a franchisee when BrightStar began franchising. "It's given us good perspective."

This is the first year BrightStar (about 60 units open and commitments for another 120 to 150) has been able to report results for franchisees open a full year (for 2005–2007 she reported results from company-owned stores). "Eighty-three percent of our franchisees broke even in the first year," she says. Average time to break-even is 7.3 months, with a range of 2 to 13 months and a mean of 6 months. "I know my model's a great one," she says, and if new franchisees can tough out the first 6 months they'll be fine.

Sun provides candidates with a mocked-up P&L in spreadsheet form to help them build a realistic model they can use to make their decision. She says her financial background gives her a conservative outlook. "The number-one reason businesses fail is undercapitalization. I'd rather have more people shy away if they're not adequately capitalized."

BrightStar's Item 19 shows the strong correlation between earnings and the number of sales calls made by its successful franchisees. "It's a gut check: Will you be able to make those sales calls?" she asks. "They will absolutely fail if they don't." If they follow the franchisor's recommendations on sales calls, advertising, marketing, and recruiting, she says, they will land on the right side of the bell curve.

Managing expectations, however, is a "hard, tricky piece of our industry," she says. "That's why we like to have as much data in there as possible."

The reaction from candidates to this approach has been good, she says. "We're perceived very positively. They're looking at three to five concepts. The others are not telling them the bad and the ugly, only the good." And her take on Item 19 as a sales tool? "We absolutely use it."
"Actual results may differ"
Great Clips presents its Item 19 numbers in a "waterfall" model, says Simpson: average sales for the 938 units included in its current FPR are divided into eight groups (less than $150,000 in the bottom group, and $450,000+ at the top). Average expenses are broken out into three categories: labor, occupancy, and all other. The numbers are laid out neatly for candidates to analyze, with average annual cash flow (average sales less average expenses) displayed clearly for each of the eight groups.

"When presented with information like this—1.2 percent are losing money, and 6.7 percent are doing over $100,0000—human nature is 'I'm better than average,'" says Simpson.

"We probably provide more information than others," says Simpson. "Some people don't put in expenses the way we do. We like to show people that labor is a huge expense in this business, almost 49 percent, and rent is another 10 percent," he says.

In fact, after presenting his Item 19 at an IFA convention not too long ago, he says, "I got a lot of pushback from other franchisors. I asked them, 'Why are you uncomfortable with this?'" After all, he reminded them, candidates will find out the truth anyway from franchisees during validation.

It's helpful, says Simpson, for candidates to know what the downside is before signing a franchise agreement. "How much money can I lose? Can I afford that? Is that a risk I'm willing to take?" It's also useful to know the upside. "If I'm really good, instead of average, what's my upside potential? Instead of $52,000 it's $133,000," he says. "For each volume classification, can I do that, is that realistic?"

The goal, he says, is to provide each candidate with the best picture possible of what the business will be like. "We want to show reality more than optimism," he says. "The way we do that is we provide a lot more information." Still, he cautions, while all the information Great Clips provides is useful, it's still only averages. As every FDD's Item 19 section warns in capital letters, "ACTUAL RESULTS MAY DIFFER."

And, like Pickett at Wild Birds Unlimited, Simpson tells candidates not to expect to make money, at least not a lot, in their first years. The 938 salons included in the most recent FPR are all two years or older. "The people we want are looking beyond two years. We tell them right up front it's not a get-rich-quick scheme."

Nevertheless, with a track record of nearly 30 years, and the overwhelming majority of franchisees in the black after two years, Great Clips' Item 19 is a real plus when candidates compare the company against the competition. "It does make a good sales tool," says Simpson.
Trust, but verify
Before presenting any actual numbers in Item 19, franchisors present a lengthy list of disclaimers and qualifiers. Lawyers, of course, have a role in this (and rightly so), but so does reality: the information presented in Item 19 comes from franchisees who, as attorney Rupert Barkoff semi-facetiously notes on page TK, keep three sets of books: one for the franchisor, one for the government, and one for themselves.

The point, of course, is that franchisors try to protect themselves from litigation, and in their Item 19 they do so in copious detail before presenting any figures detailing sales, expenses, or other factors that could affect a candidate's ROI.

Harms says that while franchisors today are becoming more educated and comfortable with including more information in their Item 19, most are still not ready to embrace a "full-blown" model. One reason, he suggests, is they don't get the most reliable information from their franchisees—and they're not doing the auditing themselves.

There are ways to enhance the credibility of your Item 19 figures. One is to use outside firms to collect the data from their franchisees. "We had a third party that gathered the data from our franchisees at one company," says Harms. "We were pretty sure it was accurate."

"We use a third party to research and report on operational and financial metrics," says Charlie Chase, president of the Handyman Connection. "We use a third party so it's valid, and a big sample size so it's reliable. At the end of the day we have a series of business metrics that we can use and publish in our FDD," he says.

In a way, this turns the brand's Item 19 into a kind of "democratic process," he says. "Each franchisee who participates get a vote. People looking for a franchise get to hear it from the franchisees."
Practice safe sales
Franchisors also must protect themselves from themselves—their sales staff, specifically. "When the candidate asks them 'How much can I make?' can you have total confidence they won't tell them something?" Simpson asks. "I think most people in most franchise companies fudge that one way or another. You don't want to put your franchise company in that position."

The size of your company, as well as the size and quality of your sales staff, also can be factors in determining what, and how much, to disclose in your Item 19, he says. "If you're the only one, you can trust yourself. With six sales staff, how can you be sure?"

"Quite frankly, I would never go to a franchisor that doesn't make earnings claims. I'd be afraid of getting sued because some salesperson will overstate things," says Harms. "A number of franchise attorneys have championed the idea that if you don't have earnings claims, that cocktail napkin will become the earnings claims in court."

Says Pickett, "One of the reasons we have no litigation in our FDD is we give people lots of information prior to joining our system so they don't have unrealistic expectations."
Competitive edginess
As an increasing number of franchisors offer greater levels of information in their Item 19's, not doing so is becoming a competitive liability. Says Pickett, "Every lead is probably getting 20 phone calls from other franchises and other industries. Everyone is trying to get their attention."

Wild Birds Unlimited has one major direct competitor, he says. "Our competitor has provided information in Item 19. We encourage people to look at both concepts. We don't want people saying, 'Who's that other one?'"

What a franchisor includes can change from year to the next, with the aim of showing their brand honestly, but in a positive light. At Wild Birds, "We had our best year ever last year and wanted to use that as a selling tool," says Pickett. "When we talk to potentials who ask us, 'How are you doing in this tough year?' we can't answer that without an Item 19."

Still, Harms cautions, "If I try to use Item 19 as a competitive advantage, I may risk comparing apples to oranges," he says. That is, there are many factors on the way to the bottom line.
Item 19 as a Sales Tool
"Our earnings claim is one of our best sales tools," says Simpson, "because it's one of the top two questions a candidate asks when they first talk to you: 'How much does it cost?' and 'How much can I make?'"

If you can tell them what it costs but not how much they can make, he says the response usually runs something like: "What do have to hide? The other five companies will tell me. Why not you?"

When your franchise is solid, says Simpson, "An earnings claim is an opportunity to showcase your company. It provides instant credibility with a candidate because you have one."

An FPR also can be used as a tease in your ads, he says, but be sure to check with your attorney first. "You have to be careful. Done the right way it's useful." Done the wrong way, it could be trouble.

And it may sound ridiculous to have to say this to a candidate when you hand them your FDD but, "When they get this document, first of all, the biggest advice is 'You really should read it.' I know from experience that most candidates don't," says Simpson.

"And if you get an FDD and there is no Item 19, ask a very direct question: 'Why not?' How they respond to that will you give you a glimpse of the integrity and the sustainability of that franchise."
The Savvy Franchisee
"I certainly like agreements with earnings claims more than agreements without them," says Gary Robins, who owns 30 Supercuts and Cost Cutters salons in Pennsylvania and New Jersey. "I use them to analyze the business risk and the return on investment."

Robins says he's always looking for good opportunities—not one or two units, but 10 or 20—so he examines the "context" of the numbers presented in Item 19. "You need to understand what you're looking at—sales, not expenses, and the class of stores they're giving you."

For example, if a brand has 500 stores, he might be looking at a sample of 100 stores open 5 or more years, that is, their most mature, successful stores. "You have to look closely at the data," he says.

As an experienced reader of FDDs, Robins says he is seeing more sales data coming through, but many are still leaving out expense data. "I guess it's helpful, and a step in the right direction," he says.

"Whether there is an earnings claim in the agreement or not, I have to get insight into the business model—whether through an earnings claim or looking at franchisee financials," he says. "I would not proceed without having a direct earnings claim or an indirect earnings claim."
Published: September 15th, 2008
Share this Feature
Recommended Reading:
Comments:
comments powered by

Disqus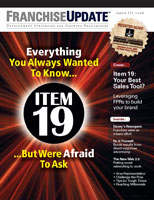 Franchise Update Magazine: Issue 3, 2008
The Titus Center for Franchising, one of Palm Beach Atlantic's Centers of Excellence, offers a concentration in franchising to business students.
Our accounts payable automation platform combines technology with simplicity & affordability. Save time and money, and automate your ap workflows...