Simon Says: Grant Simon Keeps It Moving With Three Brands In Three States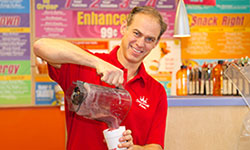 Grant Simon entered the world of franchising with Great Clips. That's where he had found success when we first interviewed him back in 2008.
He was operating 18 Great Clips salons in the Atlanta area. He was doing well but had an itch for more, and had just teamed up with fellow area Great Clips franchisee Greg Thomas to purchase a car wash business.
"It looked like a good opportunity, so we did it," says Simon. "We turned it around and quickly sold it for a healthy profit." It was an omen of good things to come. The two entrepreneurs invested their proceeds in Great Clips salons outside their Atlanta market and the growing began. Since the end of 2008, Simon has purchased 10 more Great Clips salons in Florida and Alabama through new builds and acquisitions, bringing his total to 28 units.
He didn't stop there, adding Smoothie King to his portfolio of brands. He and Thomas (who loves the brand) bought a distressed Smoothie King in Atlanta, turned it around, and sold it for a nice chunk of change. "That strategy worked so well for us that we did it two more times," says Simon. Today, the partners operate a single, money-generating Smoothie King and are looking to expand with the brand.
But wait, there's more for the busy entrepreneur. He's also become involved with T-Mobile (11 stores open so far). T-Mobile is not technically a franchise brand, but he says it operates much like one and fits into his portfolio perfectly. "It's going well and I'm looking to expand this part of the business, too," he says. In fact, he's already found a partner to open T-Mobile stores in the Tampa market and in several markets in Tennessee.
The Simon and Thomas partnership has gone so well that the partners formed LSGF Management in 2012 to house all their franchise brands, a rental property company, and an apparel company. "Forming this company just made it easier for us to manage and oversee all the things we were involved in," Simon says. "Greg and I share the same entrepreneurial sprit and values, but our skills and strengths are different and complement each other, allowing each of us to focus on what we do best, and the company benefits."
For now, Simon is busy overseeing three brands in three states and says there's more growth on the way. He just celebrated his 20th year with Great Clips and is looking to open more units, the right Smoothie King location is a good target for expansion, and he plans to open 15 more T-Mobile locations in 2014.
"I've been in growth mode for the last 5 years," he says. Don't look for that to change any time soon.
Name: Grant Simon
Title: CEO
Company: LSGF Management
No. of units by brand: 39 Great Clips, 11 T-Mobile, 1 Smoothie King
Age: 49
Family: Sophie 14, Rebecca 19
Years in franchising: 20
Years in current position: 20
Published: May 21st, 2014
Share this Feature
Recommended Reading:
Comments:
comments powered by

Disqus
Edible has been the world's leader in the gifts and treats category for 20-plus years with more than 1,000 locations globally. Edible Brands is...
Cash Required:
$80,000
Own one of the world's most beloved ice cream franchises! For nearly 35 years Cold Stone has been the go-to for the Ultimate Ice Cream...