Southwest Seasoning: Paul Damico Puts His Mark on Moe's Southwest Grill
In early 2008, Moe's Southwest Grill was still something of a newcomer in Mexican fast-casual segment. But in the eight years since it had been founded, not much new work had been done on either the restaurant prototype or its menu. So when Focus Brands acquired the franchisor in August 2007, then CEO Steve Romaniello reached out to Paul Damico to see if he was interested in not just running the brand, but freshening it up and reenergizing it.
Recession or not, Damico was determined to hit the ground running. After gathering his executive team, he not only uncorked an aggressive game plan to grow the company at an unprecedented rate, he fine-tuned the brand's look and feel to ensure same-store sales were on the way up.
"I spent 14 years with the Host Marriott organization working on travel plazas and airport development," says Damico, who was formally trained as a chef before he chose to dive into the world of franchising. "I cut my teeth on non-traditional. As we developed new concepts, we looked at productivity studies, volume, customer flow, and more."
Damico put that experience to work upgrading the aesthetics of the Moe's experience, focusing on color, lighting, materials, and furniture. "It is certainly brighter, with more sustainable aspects around things like the lighting," Damico says about the new look. "We're known for our 'Welcome to Moe's' greeting, and we reiterate that in graphics. The self-service, all-you-can-eat salsa bar has its own identity. And the furniture is cleaner, with a more ergonomic feel."
The new approach has paid off. "When we have gone in and remodeled existing restaurants with this prototype, we see a 15 to 20 percent increase in sales," he says. The staff and guests have been reenergized as well, offering an additional payback on the $450,000 cost range for the design. "That's still a very attractive sales-to-investment ratio," says Damico.
CEO Q&A

Name: Paul Damico
Title: President
Company: Moe's Southwest Grill
Age: 46
Family: Wife, and three daughters                                                                        
Years in franchising: 25
Years in current position: 3
Leadership
What is your role as president?
Our brand sits in the Mexican fast-casual segment. Those are both very exciting areas. Mexican food is one of the fastest-growing sectors, and casual is growing fast as well. I have the privilege of running a team of 56 people, with 4 company-owned restaurants and 424 franchisee restaurants in 32 states, Canada, and Istanbul. We're putting one restaurant a week in the ground, with a significant growth trajectory.
Leadership style?
I believe in setting the strategy with the team, setting the vision and working together on the goals, and then I stand back. I am the opposite of a micro-manager. I believe in putting the right people in the right seats on the bus. Today, I have a high-performance team that excels in everything from franchise sales to culinary innovation to memorable guest and franchisee experiences.
What has inspired your leadership style?
I believe it's a combination of what I did at Host Marriott, where I had bosses throughout the years who believed in me. When I left Marriott in '99, we started a restaurant company. Those behaviors became natural to me and they worked for me. I focused my time on the people in my group and made sure they were the right people for their role. I look for three things: levels of intelligence, levels of leadership abilities, and levels of energy.
Biggest leadership challenge?
The biggest challenge I've had was during the time I was trying to bring significant talent into the group. The economy was down and comp stores had negative sales. It was really tough to recruit great people when there's not a lot of excitement around a brand. But we came out of this in 2009. Our comp stores became positive in the third quarter of 2009 when a lot of other brands didn't stay positive.
How do you transmit your culture to your front-line employees?
We have different goals and philosophies that we make sure we communicate. They are in the form of artwork in the office. Our guiding values are pieces of art. Our goals are pieces of art, a constant reminder to everybody about what we're trying to achieve and why.
Where is the best place to prepare for leadership:
an MBA school or OTJ? The leadership spot at any company has to be able to perform in all the disciplines. Getting a degree in school is important. Getting real-life experience is critical and I don't think you can get that from an MBA. You can focus on one thing in an MBA program. I now have people in marketing, supply chain, franchise sales, and so on. They are my resident experts. And I have played in all these different disciplines throughout my 25-year career. That's how you can become the best as a leader.
Are tough decisions best taken by one person?
I think a decision needs to be taken by one person, or there's no accountability. But before a decision is taken there has to be consultation with everyone on the team playing a role.
How do you make tough decisions?
I have a senior leadership team of nine people. When those tough decisions need to be made--about a franchisee, entering a new market, or closing a restaurant--whoever the stakeholders are I'm going to have a significant conversation first. But I'll make the decision.
Do you want to be liked or respected?
I want to be respected. I have an outgoing personality. I believe that everyone on my team should share my energy level and my passion. I open my home to my team on a regular basis. It's an opportunity to celebrate success. Our team outings are typically at my home, where you check your stripes at the door. We have attributes we look for. Most important: Can you play in the sandbox we've created here at Moe's? Opening my home, knowing everyone personally, is something I do well.
Advice to CEO wannabes:
Stay connected with the lowest level of your organization. And don't be afraid to have conversations with those people. They are the future leaders of your company. We have regular one-on-ones where you know that anything can be said. You can talk about challenges, talk goals, but it's not a review. This is not a boss talking to a subordinate. It's free of stress.
Management
Management style?
I'm told I can be intimidating. But I believe in setting goals and strategies. I'm not a micro-manager. I let people deliver or fail against goals. We are a fast-paced brand. It's an environment I thrive in. If you're not a hard charger, this is not the place for you. My style is to be very direct at all times. Whether that means positive or negative feedback, you will always know where you stand.
What does your management team look like?
I have nine direct reports, my senior team: a VP of franchisee sales, director of real estate, director of the supply chain, executive chef, VP of system-wide operations, VP of marketing, VP of restaurant development, director of public relations and social media, and senior director of creative services. Those disciplines are creating the future of the brand, executing day to day with partners.
How does your management team help you lead?
As I said, the brand is only in its 11th year. There's a lot of evolution still occurring. There's a sense of camaraderie, that we get things done.
Favorite management gurus, books?
I just got The Mirror Test by Jeffrey Hayzlett. He's a marketing guru. But most of my reading is done during downtime. I like John Grisham, James Patterson.
What makes you say, "Yes, that's why I do what I do!"
That's a celebratory moment. I could say that when I see our brand as a whole achieve a milestone. I'd say that when I see someone on the team who has achieved a goal. Our goal this year is to sell 125 new franchises. That is going to be a milestone. We've never done that in the history of our brand. And we'll grow 18 percent this year. Those are big moments for us.
Personal
What time do you like to be at your desk?
7 a.m.
Exercise in the morning? Wine with lunch?
I love wine, but not with lunch. I run every morning at 5 a.m. I'm actually training for my first half-marathon.
Socialize with your team after work/outside the office?
I mentioned that earlier. It's important to stay connected with everyone on my team.
Last two books read:
The Confession by John Grisham and Michael Levine's Broken Windows, Broken Business.
What technology do you take on the road?
I stopped carrying my laptop six months ago when I got the iPad. I have software that gives me access to my laptop in the office. So whenever I am away I carry an iPhone and an iPad.
How do you relax, balance life and work?
I coach 15-year-old boys in lacrosse four days a week. Tuesday and Thursday I'm out of the office coaching 5 to 7, and we have games on the weekend.
Favorite vacation destination(s):
I always thought it was the beaches in the Caribbean. Then I went to Istanbul, and that was spectacular. That was the first overseas opening for Moe's. The Outer Banks of North Carolina is a family favorite.
Favorite occasions to send employees notes:
When one of our goals is achieved, they get a personal note from me. There are many occasions when I'll write a note, say I saw you present in a meeting of your peers, and you were the best.
Favorite Moe's product:
Our burritos are the best in the restaurant industry. I like the Homewrecker with steak burrito.
Bottom Line
What are your long-term goals for Moe's?
We have a 5-year plan we started last year. We want to get to 1,000 units by 2015, 100 new restaurants a year. That's a big goal.
How has the economy changed your goals?
We slipped with our openings and we slipped with the number of franchise deals we sold in 2008 and part of 2009. But it came back so fast. Sixty percent of our growth is coming organizationally from existing franchisees. That has helped us avoid the capital challenges other organizations have seen. Our franchisees either have phenomenal relations with local banks or private investors and internal cash flow. The slowdown was more about the confidence level about the economy.
Where can capital be found these days?
Local banks if you have a relationship and you've proven your concept can perform even with some of the dips in the economy. We use a broker that helps franchisees find capital, and the broker may have relations with 20 or 30 institutions. Depending on your net worth there are banks that are lending. Our biggest challenge is finding the real estate we need.
How do you measure success?
I measure success on one thing: Are we exceeding last year's performance on every measurable attribute? That is the sole indicator of health and growth of the brand. Sales, food costs, labor costs, profit, unit sales, and so on.
Your greatest success?
Professionally, being afforded the opportunity to lead a brand that was only 8 years old and really still in its infancy, struggling a bit, and turning the brand around so that the growth is exceptional and the health of the brand is at an all-time high. I didn't do this alone. I brought in the team.
Any regrets?
I do not have a single regret.
What can we expect from Moe's in the next 12 to 18 months?
You will see us expand the brand through licensed products, continued development overseas, significant growth in the U.S., and clever programs that will enhance the Moe's experience for families and kids.
Published: June 27th, 2011
Share this Feature
Recommended Reading:
Comments:
comments powered by

Disqus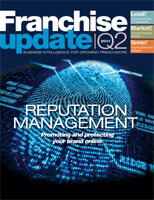 Franchise Update Magazine: Issue 2, 2011
The business messaging platform that lets you text from your office phone number directly on your computer, so you can actually get a response.
ApplePie Capital provides a fresh new approach to franchise financing that is focused on your growth and success.