Speed Thrills: Today's Customers Expect Instant Response
Time and speed of service are critical to the customer experience. Everyone in the organization has to understand how valuable time is to the customer. In today's busy world, it is vital for businesses to demonstrate to their customers that their time is always regarded as a critical resource. It doesn't matter what industry you are in today. Companies like Google, Zappos, and Amazon have changed your business because they have affected the expectations of your customers.
It's all about time
The world of the Internet has made everything instantaneous, from information and answers to questions to getting products into people's hands. Today a friend can recommend a book for you to read, and within 30 seconds it can be in your hands on your iPad, Kindle, or other e-reader. Companies like Zappos and other great retailers can have a product at your door the next morning if you order it by 6 p.m. This has not only changed customers' expectations for everyone they do business with, it also has changed their level of patience.
Today, like never before, we expect information instantaneously. If you have a question about something, you google it, press a button, and it's there. With the world of information at their fingertips, people hate not knowing things almost as soon as they think them. If a company offers a certain product, what's the price? Can they get a better price, faster delivery, or free delivery with another couple of clicks on their keyboard or swipes on their smartphone? What does product contain? Is it gluten free? Where is it from?
In the business that I own, John Robert's Spa, we had a client email us inquiring if we could do her wedding party of 12 people, which was seven months away. By the time our bridal party coordinator called her back--the next day!--she had booked with another spa. Her wedding wasn't for seven months, but the anxiety of not knowing, for even 24 hours, drove her crazy. Customers expect phone calls and emails returned the same day, even the same hour, as well as immediate support and resolution to their issues.
Rapid response
When dealing with a customer challenge today, this is even more urgent. If a customer complains in any channel (email, voicemail, your social media page), with every hour that passes and they don't hear back from you, they think you are ducking them, or providing poor customer service (justified or not).
What is your company's guideline when it comes to responding to customer email inquiries? Most companies I have worked with or visited typically require a 24-hour turnaround time to respond. This has been the standard for quite some time, but does it still hold true?
On a recent trip I was disappointed in my Uber driver and expressed this when the instant survey to rate my driver came up. Within 5 minutes I received an email response sent to me from a real person at Uber referencing my specific issue. The employee stated that I was valued customer, that he had already processed a refund for $15 on my last trip, and would be giving me a $15 credit to use on my next one. My issue had been acknowledged, reviewed, and resolved--all within 5 minutes.
Everyone industry has an Uber
People have said that Uber will have some type of affect on just about every industry, whether you realize it or not. In my opinion, this is an example of just that: Uber making an impact on the expectations customers have when emailing or contacting any organization. If your guideline is responding within 24 hours, it might be time to ask yourself if that is still acceptable in today's world.
John R. DiJulius III, author of The Customer Service Revolution, is president of The DiJulius Group, a customer service consulting firm that works with companies including Starbucks, Chick-fil-A, Ritz-Carlton, Nestle, PwC, Lexus, and many more. Call him at 216-839-1430 or email info@thedijuliusgroup.com.
Published: September 15th, 2016
Share this Feature
Recommended Reading:
Comments:
comments powered by

Disqus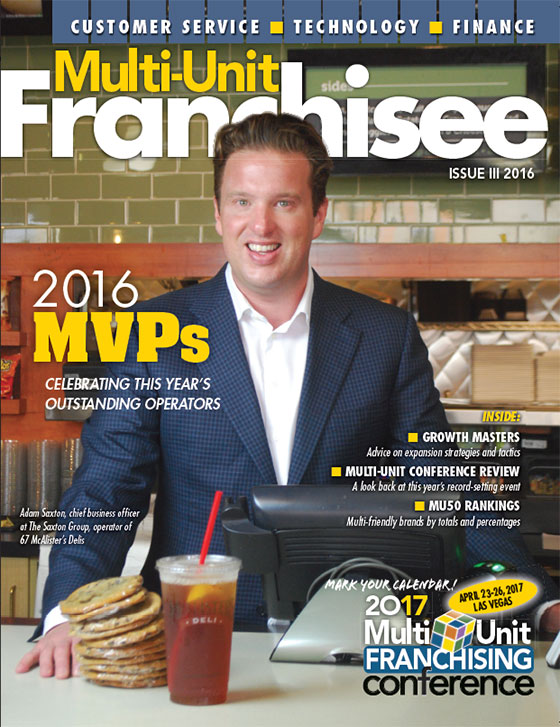 Multi-Unit Franchisee Magazine: Issue 3, 2016
Sport Clips is a winning concept-a great haircut experience for men and boys in a sports-themed environment. With more than 1,700+ stores and...
Cash Required:
$200,000
Class 101 college planning franchise helps high school students get into better colleges and qualify for higher amounts of scholarships and financial...
Cash Required:
$50,000