Stories from the Covid-19 Front Lines: CEO Q&A with Christine Specht of Cousins Subs
Name: Christine Specht
Title: CEO
Brand: Cousins Subs
Segment: QSR
Units: 99
Locations: Wisconsin (primarily), Chicago, Indiana
How has Covid-19 affected your brand?
We started paying more attention to the news in early March with the shutdowns of the NBA, NCAA, and schools. On March 14, we started tracking daily sales and saw a significant shift in our business. We were having a great year, tending positive up to 7%. Then sales began to drop: 17%... 20%... then suddenly 30% and 40% or more. They're trending down now at about 30%. We have 99 locations, primarily in Wisconsin, with a group in Chicago and one in Indiana, and municipalities are taking their own approach to shelter-in-place protocols, and all stores are affected differently. About one-third of our restaurants are drive-thrus, a direction we'd been moving in anyway. We closed about 10 stores, 1 corporate and the rest franchised, some city, some rural. Not all were necessarily driven by Covid-19; we were planning to close the corporate store.
The stores are dealing with operational changes, and people are just hammering out their work. We went from no curbside pick-up and within 3 days rolled it out. It was unprecedented, but we don't have the luxury of time right now. We also have an easy pick-up option for customers to prepay, grab their order off a shelf, and go. From a corporate perspective, we're looking where we can relocate our own restaurants to more freestanding sites so we can have drive-thrus. In terms of innovation, Covid-19 could have lasting benefits like curbside pick-up, which we may roll out permanently.
What are you doing to help your franchisees through this?
Right now [Editor: April 1], it's been four weeks of 50% royalties (3% instead of 6%). We'll revisit this as the situation changes. We will have them pay it back at some point in the future, but there's no timetable yet. There are no technology fund fees (POS) right now, and our co-op and national ad fund fees also have been reduced. We're trying to be as responsive as we can to our franchisee community. Many franchise owners are not paying themselves, same as we are. We still have to preserve cash flow on our end while remaining sensitive to the needs of our franchisees. I'm proud of our president, Jason Smith, who has taken on the role of main communicator with our franchisees. He's the clearinghouse for communicating to them about new restrictions, legislation, etc. Franchisees don't have the time to sift through all that, and he's being as consistent, reliable, and factual at updating them as he possibly can.
How are you supporting your corporate employees?
We have only about 6 people in the office and we're all keeping a safe distance. We're making sure that we're still connecting in some way, and still hold leadership meetings using Microsoft Teams. It's more than conference calls – we want to see people's faces.
How are your franchisees supporting their employees?
We have owner calls with anyone who wants to jump on, with strategies on keeping their employees. All are feeling the effects, but it varies from store to store. A couple of franchisees don't have the critical staffing situation you might expect. Most owners are more hands-on now, more engaged, and because of the staffing shortage are working double shifts. We're also looking into the opportunity to do some pooling of employees. Since so many of their employees are young people, we're respecting the wishes of the employees or their parents.
What are your franchisees doing for their customers?
As I said, we've launched curbside pick-up and are using our drive-thrus for those who have them. Some municipalities are not allowing guests to walk in and order at the register, only to pick up their food. The majority of our restaurants are still able to take in-store ordering, though it's all to go. And we're using third-party delivery. Guests want convenience, speed of service, and third-party delivery. Our main partner is DoorDash, and we're looking at other partnerships. I'm eternally grateful I can adapt the business, employ people, and serve guests. Also, we launched a new loyalty program at the beginning of the year and it's working great.
How are you working with your suppliers?
No issues so far. Our main distributors are still working with us. Some have cut back on the frequency of deliveries. With sales down 20% to 50%, franchisees need fewer supplies and staff and are trying to keep their business and employee staffing situation somewhat in sync.
How do you see the future of your brand, operations, market, etc. post–Covid-19?
It's all hands on deck, and we don't know what normal will look like. Right now, besides looking at cash preservation and daily sales, we're looking 90 days out. Perhaps things will settle out by summer. Will some stores have to close permanently? It's on our minds, but let's just get through until tomorrow and the next 90 days. Until then we'll continue to deploy the methods our guests want.
From a leadership perspective, our franchisees and corporate team can't see people like Jason and me fretting and worrying. You have to manage the information you're getting and make the best decisions for your franchise community. It's very easy to get overwhelmed staying in place and turning on the news. We're taking it one day at a time… and each day is one day closer to getting to the other side.
Published: August 2nd, 2020
Share this Feature
Recommended Reading:
Comments:
comments powered by

Disqus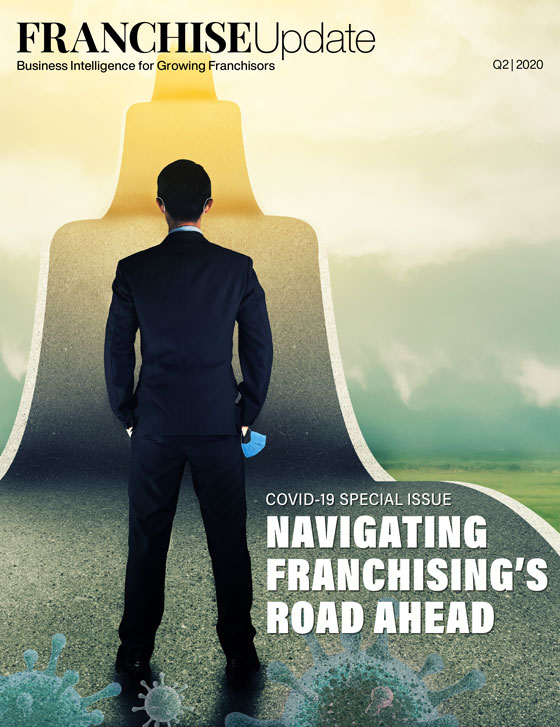 Franchise Update Magazine: Issue 2, 2020
Conferences
InterContinental, Atlanta
OCT 18-20TH, 2023
More than 15 years of passion and fascination with the franchise system. Thanks to having met many Franchisees, today I can help new ones and those...
Oct. 18-20, Atlanta, GA. An exclusive event for franchisor CEOs, Presidents, COOs, CDOs and Franchise Development Executives.