Stories from the Covid-19 Front Lines: CEO Q&A with Shelly Sun of BrightStar Care
Name: Shelly Sun
Title: CEO, Co-Founder
Brand: BrightStar Care
Segment: Home care, health, fitness
Units: 300+
Locations: Across the U.S.
How has Covid-19 affected your brand?
As all BrightStar Care's independently owned and operated agencies are accredited by The Joint Commission (the same organization that accredits the nation's best hospitals), we already followed national patient safety goals: hand hygiene, proper training, and so on. To help prevent the spread of the disease and keep our clients safe, PPE was made available to every front-line worker. In April we created a centralized fulfillment center for our franchisees to equip all independently owned and operated BrightStar Care agencies and their staff with necessary PPE to be able to ensure the safety of staff and caregivers as they continue to deliver the highest standard of care. Home care is becoming increasingly more important, as hospitals are more tightly managing things like bed capacity and the health issues they are treating. We have also seen a surge in inquires for our services from clients who have family members on the mend for recovery, as well as families who want to keep their vulnerable loved ones safe in these difficult times.
What are you doing to help your franchisees through this?
We are empowering our franchisees to truly make a difference in their communities. By giving them access to PPE they can help keep their care team and clients safe today and in the future. We have invested more than $2 million in PPE to support our independently owned and operated locations across the country – which employ more than 20,000 caregivers and 4,000 nurses, who each play a unique role in overseeing the care for each client. We also have created a centralized fulfillment center to make ordering PPE easier for our franchisees, rather than having them spend time finding reliable sources and ordering from a variety of different vendors. Our distribution center was put in place so that they are able to spend their time focused on their business, clients, and staff. We also have communicated with our franchisees about the ability to increase salaries with an extra incentive for taking on the extra risks of providing home care during a pandemic, which we are referring to as "safety pay." We want to have the caregivers to meet the needs of clients who need extra help around their own home. We want to continue to be on the front line protecting our clients.
How are you supporting your agency employees?
We are continuing to follow CDC standards for how to safely care for all clients, and we are providing in-depth trainings and protocols to caregivers so they can stay safe while caring for their clients. In addition to the existing programs and protocols in place, we also have developed a complete respirator mask program, education, and safety training to ensure the highest levels of safety during this pandemic — and we have made adjustments to our proprietary technology to provide screening questionnaires for caregivers and nurses to ensure they are fit and healthy to care for clients. We have worked hard to secure necessary PPE to keep caregivers safe in these difficult times. We also feel that if any team member needs to take time off because they are not feeling well or have other obligations, they can absolutely do so and also be paid for the time spent out of office.
What are your franchisees doing for their clients?
They are continuing to go above and beyond by taking the necessary steps to keep clients safe. They are doing so by partnering with local businesses to offer screening services, as well as with other local initiatives that position them as a resource within their local community.
How are you working with your suppliers?
When we first began to hear about Covid-19, I started reaching out to all my contacts to see what we could secure for our franchisees. Over the years I have had the chance to build strong relationships among my YPO network and across the industry, and that is how we were able to successfully support our agencies. We have truly worked hard in creating a centralized fulfillment center for our franchisees to equip all independently owned and operated BrightStar Care agencies and their staff with necessary PPE. It was our biggest priority to support those working on the front lines as they continue to ensure the most vulnerable population can remain safe at home and out of hospitals.
How do you see the future of your brand, operations, market, etc. post–Covid-19?
Our mission always comes first, and that is how we have been able to create a sustainable brand. During these current times we are still putting the mission first by always being the best employer for our staff and the best provider for our clients, which we will continue to do. We also will continue to equip our franchisees with all necessary equipment and training to keep everyone safe. With that said, we are always looking ahead to provide the highest standard of care and will continue to have supplies in the coming weeks and months so that we are always giving our franchisees, staff, and clients the confidence they need to stay home safely. Things will shift, of course, but we will come out of this and reinvent the business model, making sure we are sustainable for the long haul. We will always focus on our nurse-led care and how that can help us accelerate and grow the brand.
Published: July 19th, 2020
Share this Feature
Recommended Reading:
Comments:
comments powered by

Disqus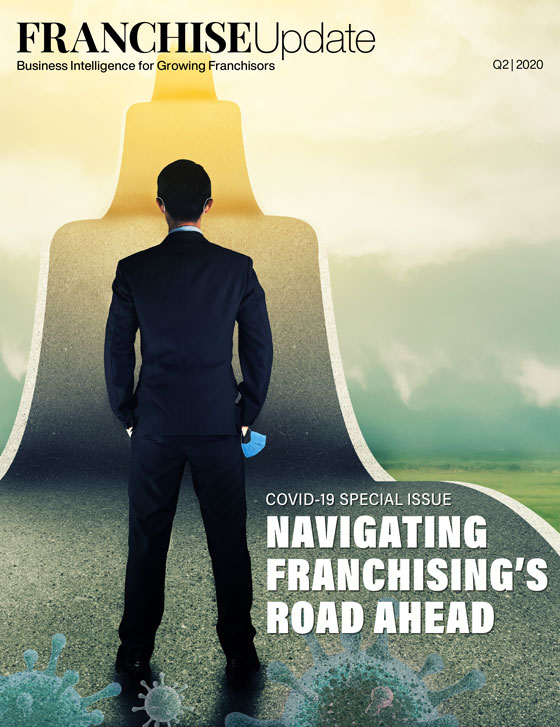 Franchise Update Magazine: Issue 2, 2020
MSA provides domestic and international franchise advisory services to franchisors and companies seeking to establish franchise and licensing systems.
919 Marketing Co. is a national content marketing, PR and social media agency serving franchise brands. Our proprietary social relations approach...