Stories from the Covid-19 Front Lines: CEO Q&A with Michael Browning of Urban Air Adventure Parks
Name: Michael O. Browning, Jr.
Title: CEO, Co-Founder
Brand: Urban Air Adventure Parks
Segment: Location-based entertainment
Units: 129
Locations: 34 U.S. states, 1 region in Canada
How has Covid-19 affected your brand?
The most severe impact from a business perspective is that our parks are closed. At first, like most brands, we had been working closely with our franchise owners, as well as with local and state authorities to take appropriate actions within each of our communities on a regional basis. However, as the spread of Covid-19 continued, I felt it was our responsibility to do our part in preventing community spread. The safety and health of our Urban Air family is our top priority, and this is the most important factor that we as a company can control. As a result, we closed all parks nationwide on March 17. Another sad impact of Covid-19 is that we have had to cancel more than 10,000 birthdays across the country because of park closures. At Urban Air, we get out of bed every day to help kids celebrate special moments, escape the hardships of the world, and connect socially with other kids in an active way. So having to cancel parties was devastating to both us and the kids. We've tried to make the kids feel special by sending them party gift bags, surprise visits from our Mascot Urbie, and every kiddo has gotten a phone call and special message from me.
What are you doing to help your franchisees through this?
To help protect our franchisees, we have created a franchisee relief program. We have deferred royalty fees in March and April and have paused pass-through expenses (marketing fees, POS, call center, etc.). We are extending access to our in-house resources to ease the burden on franchisees. We are meeting with all franchisees almost every 72 hours to help walk them through the CARES Act, PPP, and EIDL. We are working with landlords and lenders to help franchisees secure rent and loan deferment. We are also working with operating expense vendors like DirecTV to pause billings for our franchisees.
How are you supporting your corporate employees?
We laid off 26% of our staff at the home office. These were our friends and our colleagues. These people have families, kids, bills, mortgages, and student loans. Everyone going through this right now must recognize the magnitude of what is happening. I've shed tears. I've lost sleep. But I'm proud of the leadership team and the courage they have displayed during this time of adversity. This layoff was a part of an overall three-phase strategy to keep the company in business. Our remaining staff also took a 15% pay cut.
How are your franchisees supporting their employees?
The majority of our staff at the parks are hourly employees. As a result, when parks are closed there is no opportunity for the staff to earn a living. In the wake of closing our parks to protect our communities, I convened with leaders of brands such as Amazon and HelloFresh, who are currently seeing a surge in demand, to help park employees find work. I was able to connect our nationwide staff of 12,500+ with Amazon and RPC Recruitment for part-time employment. Qualified staff will be able to find employment with Amazon in as little as 7 days with the option to return to Urban Air once parks reopen. Additionally, through RPC Recruitment, our employees also are being connected with HelloFresh, a brand that needs to staff up its packaging and distribution warehouses to meet the increase in demand for delivered meals.
What are your franchisees doing for their customers?
I'm so proud of how our franchisees are a light in their communities. There are so many wonderful stories of franchisees creating care packages from the food in their freezers, surprising kids at their home, singing "Happy Birthday" from the street, and sending handwritten notes to kids wishing them a happy birthday.
How do you see the future of your brand, operations, market, etc. post–Covid-19?
I am looking forward to the opportunities the future holds. I refuse to look at the glass half-empty. The glass is half-full. We're seeing opportunities in marketing, occupancy costs, and a very talented workforce looking for a great place to work. We believe we have the team we need to get us through Covid-19 and back on top of the location-based entertainment industry. To do this I have asked each team member to step up. Now is not the time to be coasting or acting like working from home is a vacation. Now is the time when true leaders emerge!
We must start by educating guests that Urban Air is clean, has been clean, and will always be clean. For the past several years, we have used a disinfectant to clean surfaces and which leaves a protective coating that lasts 90 days. This education will be important because I see consumer confidence as a bell curve, with 20 percent returning quickly, 60 percent in the middle, and 20 percent lagging behind. The faster the industry can get through the 20 percent and into the middle 60 percent, the faster the economy will recover. When many companies and brands do not make it out of Covid-19, Urban Air is going to shine. This is our once-in-a-lifetime opportunity to take advantage of the market shifts that will serve as an equalizer. We have a rare opportunity to be able to compete on an even footing against competitors much larger than we are.
Published: July 16th, 2020
Share this Feature
Recommended Reading:
Comments:
comments powered by

Disqus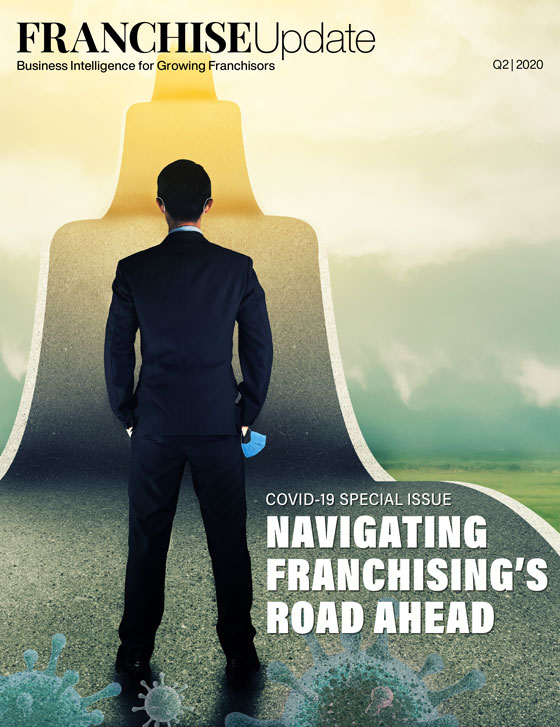 Franchise Update Magazine: Issue 2, 2020
ApplePie Capital provides a fresh new approach to franchise financing that is focused on your growth and success.
The Hungarian Franchise Association was founded in 1991 as an interest representation organization of the franchise business community.