Stories from the Covid-19 Front Lines: CEO Q&A with Susan Boresow of Title Boxing Club
Name: Susan Boresow
President: President
Brand: Title Boxing Club (a Franworth company)
Segment: Fitness, health
Units: 185
Locations: 34 states, Mexico, Dominican Republic
How has Covid-19 affected your brand?
The biggest impact to our brand has been that all of our clubs are closed. This has made our corporate office and franchisees more nimble in adjusting to any situation. This has also challenged us to work in different ways and use new technology and forms of communication. For example, we have jumped on Zoom, YouTube, Skype, and Facebook to work more collaboratively and continue to provide the best hour of people's day through workouts and fitness tips. We've also taken this time to upgrade our system standards on in-studio cleaning and social distancing based on government guidelines, which will be a long-term impact.
What are you doing to help your franchisees through this?
We were ready and prepared for this in 2019 when we launched "Title On Demand" a subscription-based service that provides access to hundreds of Title Boxing Club classes online. To keep members engaged, we've funded subscriptions for the service through May 31. Also, from a financial standpoint, we've reduced royalty percentages and worked with our POS provider to reduce costs for our franchisees. Our operations team has been working hand in hand with franchisees creating cash flow projection templates to help guide the franchisees for their reopenings. Additionally, since early March, our support center has been extremely proactive in our communication efforts with franchisees and in sharing best practices for temporarily closing a club, how to communicate with members, social media tips, and more. We've also recently launched a "Title Fights for Nurses" campaign where our franchisees will be able to give back to local heroes. We put out a call for nominations on our national social media platforms and, with the help of the corporate office, franchisees can surprise deserving nurses with care packages.
How are you supporting your corporate employees?
Our corporate staff is now all working from home, but still staying busy. When this started, we divided our staff into five teams: Engagement (member, sta, and franchisee); Revenue (sales and marketing); Grand Opening (all logistics upon re-grand opening like cleaning, regulations); Franchise Growth; and Digital (Title On Demand and live streaming). This helped people get creative and be cross-functional while focusing on the changing needs of the business. People are wearing more hats than ever before, so we are finding different skill sets and gifts in people that we didn't know about before, which has been exciting for us. We are staying connected and highly engaged through Slack and are working to maintain our company culture of teamwork and support. When we were all in the office together, we would ring a boxing bell when big milestones or accomplishments were met. We are continuing this vital element of our positive culture through Slack.
How are your franchisees supporting their employees?
It varies from club to club, but our franchisees have been doing everything they can to keep full-time managers and several trainers on staff. Many franchisees are doing Zoom classes for their members, and classes for the general public on Instagram Live and Facebook, which requires managers or trainers to teach. A franchisee in Salem, Massachusetts has daily video meetings with her team in the morning and afternoon where they go over what each manager is working on for the day. While the clubs are closed, they are staying busy planning virtual member events, workout schedules, fundraisers for charities helping with coronavirus relief efforts, and a plan for reopening.
What are your franchisees doing for their customers?
Our franchisees have been rock stars for their members during these unprecedented times. They have been active on social media sharing workout tips and even full classes. We have a franchisee in St. Louis who was able to sustain paying members by moving scheduled classes to Zoom instead of in the club. A group of franchisees in New England have banded together to host classes streaming on Facebook every day at 9 a.m. and 5 p.m. local time. Franchisees have also planned "challenges" that help their members stay in shape while helping other local business. One example is a club that did a month-long squat challenge: if a member did 100 squats a day for the month of April, tagging Title Boxing Club in social media posts as proof, the club then gave the member a $20 gift card to a local restaurant. We also have franchisees who regularly host classes for individuals with Parkinson's disease who have moved those classes to YouTube to continue helping those in need.
How do you see the future of your brand, operations, market, etc. post–Covid-19?
I am confident that Title Boxing Club is going to emerge stronger than before. We have loyal members who are extremely anxious to get back. We hear daily from members who miss the sense of family and community they get when they're at a club. We have spent this time looking at our practices and protocols with a microscope, have kept a close eye on state regulations, and have made plans for franchise location reopenings. We will evolve and adapt to our changing world and changing customer base. Overall, fitness as a whole will never be more important. People want to get back to their routines and visit their local clubs, gyms, and studios. The fitness space will incorporate more digital, but there will always be a key constituency who prefer the in-person experience. The loyalty and enthusiasm for fitness boutiques will continue to grow. People want to take care of their health more now than ever before.
Published: July 2nd, 2020
Share this Feature
Recommended Reading:
Comments:
comments powered by

Disqus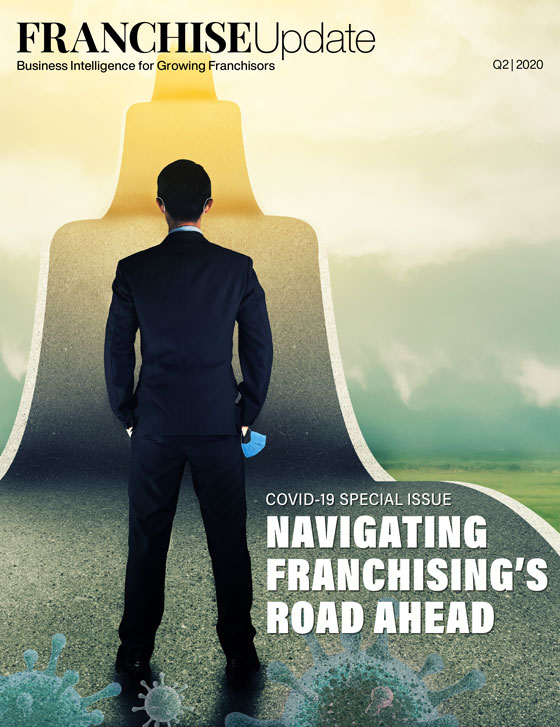 Franchise Update Magazine: Issue 2, 2020
Conferences
InterContinental, Atlanta
OCT 18-20TH, 2023
Atmosphere TV is the world's leading cable alternative, providing free streaming TV for businesses.
From lead generation to increasing sales, Hot Dish Advertising is the pro at getting your message in front of those who matter most--consumers...