Succeeding at Succession
It's never too early to plan for a transition
For Wanda Sieber, what began as an ordinary phone call became a wake-up call. The person who answered the phone told Sieber that the owner of the business she'd called had died unexpectedly, adding "We don't even know if we're going to have jobs tomorrow."
"It was like a lightning bolt through my heart," recalls Sieber who, with her husband Bill, is a Unishippers multi-unit franchisee with stores in Green Bay, Seattle, and Mobile, Ala. "This was a small business, where people depended upon each other. I immediately thought, 'What would happen if something happened to us?' That was when it was time to get serious."
Putting off succession planning is not unusual for multi-unit franchisees, who are preoccupied with running their everyday business--not when they will hand over the reins, whether through careful planning or an unexpected event. And as more Baby Boomers inch into retirement, the need to plan for succession has never been more acute.
"We need to be looking not just at where we are or need to be, but also ahead," says Sieber. Soon after that phone call, she says, "We took care of all the things everyone tries to avoid." As the saying goes, denial is not a strategy.
"What holds people back and has them leaving so much on the table is the perception of what succession is," says Kendall Rawls a second-generation member of the Atlanta-based succession planning firm The Rawls Company. "Most people believe succession planning is about retirement and exit planning. What we believe is that succession is about value. It is not about the things no one really wants to talk about. It is about franchise growth, sustainability, and creating options."
If Rawls had her way, the word "succession" would be tossed from the conversation in favor of "building value." Beyond ROI and cash flow, potential buyers and successors will consider future earnings, key leadership, management expertise, and family dynamics when valuing the business. Add in the varied (and often arbitrary) requirements of franchisors in approving transfers, and a well-structured succession plan is critical to preserve a franchisee's hard-won equity.
"If there is not a strong plan in place from the franchisee, the franchisor holds all the cards," says Rawls.
Why and when a business owner decides to exit differs for everyone. Problems occur when plans aren't communicated effectively, particularly within family-owned franchisees, says Dean Zuccarello, founder and CEO of The Cypress Group, an investment bank and advisory services firm specializing in restaurant and franchise companies.
"In some cases it is like the elephant in the room," says Zuccarello. "The family hasn't done enough internal communication, planning, or soul-searching to discuss the right plan for themselves."
Whether a franchisee seeks security or wealth from a sale, or is forced to step back because of age or health, the goal is to make decision-making as strategic as possible. "We encourage people to go through a disciplined process of evaluating those things," he says. "So when the time is right they are committed to the process, they know why the time is right for them, and there is no second-guessing or missing an opportunity to act."
Building for the future
For Weed Man subfranchisor and multi-unit franchisee Terry Kurth, a secure business future means building a strong bench. A lawn care veteran and Weed Man franchisee since 2001, he is counting on the leadership of his son Andy to build the business into a $15 million to $20 million company in the next decade.
Like many children growing up in a family-owned business, Andy had worked for the company when he was younger. He joined Weed Man in 2004, armed with a degree in soil science and turf management from the University of Wisconsin-Madison. When a general manager quit without notice the following year, he stepped into the job and has never looked back.
From their home base in Madison, the father-and-son team have built a nearly $7 million business, with satellite offices in three additional Wisconsin cities, along with Northwest Chicago, Austin, and Denver. In 2015, they were named the brand's 2015 Franchisee of the Year.
While father Terry maintains controlling interest, a succession plan created with the help of outside counsel mapped out a buy-sell agreement, estate issues, and a strategy that calls for Andy to eventually take over. "By eventually, he means death," jokes Andy, 35, who purchased shares in the company in 2007.
His sister has worked for the business, but Andy is the only one of Terry's four children to buy into Weed Man as a career. Andy says this has made the succession plan relatively friction-free.
Scenarios for family conflict abound. Problems can erupt when parents take a simplistic view of succession. Examples include dividing ownership interests evenly no matter the level of involvement by their children, or putting off choosing a successor (or successors) because multiple children or employees want to lead the company. Founders may also assume their children will carry on the business, only to discover that they want to chart their own course, don't have the skills, or the franchisor fails to give the green light to the next generation. And sometimes owners simply don't want to give up control.
"I think Dad handled it very well," says Andy. "He gifted all four of us a small percentage of the company, but for my siblings they are not voting shares. So it is clear they have no say in what happens in the company and are not involved in the company day to day."
Terry Kurth believes the acquisition of shares by Andy and two key management executives provides "sweat equity" to encourage the trio to work harder to build the company. His job now, he says, is to give the younger generation "tons of autonomy." And when it comes to major issues, he says he is 80 percent retired.
"I have never had to use my voting power, but my job is to at least season them, because in almost 40 years of business, you have seen a lot of things," he says. "It has been cool to see the growth and opportunities that we are giving people to grow with the company."
Preparing for transition
Whether the future of the franchise organization includes family members, a partner, key employees, or all of the above, a strong succession plan considers the predictable, probable, and possible scenarios that could affect the ongoing success of the business, says Rawls.
For the Siebers, whose children range in age from 21 to 32, this means planning with a future sale in mind. All six children, including two still in college, have gotten their feet wet working at nearly every job in the family business, but so far there are no plans for second-generation ownership.
At 53, Wanda Sieber has no plans to retire soon. Still, she says, the couple constantly tweak and review their succession plan, keeping the lines of communication open with employees who have expressed ownership interest.
Two years ago, the couple sold their family home to buy waterfront property on Green Bay that will become their retirement home, complete with a recording studio for Wanda to continue her passion for musical composition. And since turning 62 last year, Bill Sieber has cut his hours in half, spending more time on the house and his love for classical guitar, while testing the retirement waters--a move succession planning specialists applaud, if possible, not only to see how it feels to step back, but also to boost employee and franchisor confidence in any upcoming leadership changes.
"It is a good way to check and see how much of the business knowledge was actually transferred to employees," says Wanda. "There is nothing like having the guy who knows everything out of the building half the time. I would highly recommend that to anyone looking at potential retirement."
The human factor
Hatching a strategic succession strategy is vital to developing strong leadership and ensuring the future of a multi-unit franchise business. For family-owned companies, planning for illness, death, or retirement can wreak havoc on family relationships and create business and financial headaches. This is avoidable, but not easy without careful advance planning and an eye toward personalities.
"Finding a way to create boundaries between people you care about, so business can be business and family can be family, is difficult," Rawls acknowledges. In many cases, she says, "It is a tightrope walk."
No matter what your strategy, it is vital not to overlook the human element in the process, advises Philip J. Toffel, Jr., CEO and managing partner at Sage Hill Advisory & Management in Saratoga Springs, N.Y. In the case of family-owned structures, the process typically involves the owner patriarch and/or matriarch, family members inside and outside of the business, estate and financial considerations, and the franchisor, who must approve the transfer.
For Toffel, a successful plan to transfer ownership requires involving all the potential players. "The current franchisee has to recognize who will have a voice in the succession plan and who can dismantle it very readily if it is not vetted with them," he says.
It's never too early
When it comes to planning the future of a family-owned business, it is never too early to start talking. Openness and transparency are critical to address the human, legal, and financial issues that accompany family legacy decisions. Toffel, who has seen families torn apart by a founder's lack of planning, encourages owners to take the lead with "robust" family meetings aimed at putting everyone on the same page.
"One of the first things we do when we get involved is to make sure we have a good blueprint of the family situation early in the planning process, to make sure that the parents are communicating well with the each other and with their children as to what the plan needs to be," says Toffel.
Getting an early start in transition planning enables a founder to identify who will manage and own the business (not often the same person), and to ensure that potential successors meet the franchisor's requirements--which can be especially tricky when multiple brands and approvals are involved.
To avoid a franchisor vetoing a succession plan, Rawls encourages owners to take advantage of every opportunity for incoming leadership to interact with and build their own relationships with the franchisor. "If the active generation holds all the relationships and something happens to them, they may have always planned for the next generation to take over, but if the franchisor has no idea who they are, do they trust them?" she says. The same holds true for financial institutions. Allow the successor to build "credit continuity" to ensure the first or active generation isn't holding all the personal guarantees and relationships with the banks, she adds.
Toffel says trusts can be used to separate family interests and protect the assets of the business. "Another fly in the ointment, if they don't do it well, is distributing shares without developing trusts for the process," he says. "What if the marriage of one of the children doesn't go well and the divorced family member has shares in the business and the business is in the middle of the divorce action?"
Every franchise organization has a different knowledge level and different attitude toward trust ownership, says Toffel. However, he says, used properly this succession tool can be a win-win strategy to provide continuity for everyone involved. "If a business continues and you know it is being run by the next generation, and if the franchisor approves this form of planning, it forces the franchisee to tend to proper mentoring of the next generation to take the lead in the business," says Toffel.
No matter the route, establishing a succession plan early and visiting it often ensures that business owners, family members, and key company leaders are not blindsided with problems, says Rawls. Succession, she says, is a process, not a project.
Cultural Continuity
Strategic succession planning is the topic of almost daily conversation between industry veterans Michael Simon, managing partner of Titan Restaurant Group, and his 67-year-old partner Jack Whiting, who holds a 20 percent stake in the company. Simon, 55, owns 80 percent of the company, which operates 42 Donatos Pizza stores, purchased in 2010 from the family-owned brand. His responsibility for the future of his 1,000 employees is always on his mind.
Simon's background includes more than 30 years in corporate operations for companies such as Tim Hortons and Pizza Hut. In his experience assisting franchises with succession planning, he has found the key to success is in maintaining a continuity of culture and performance.
"You need to find an individual with the same kind of integrity, vision, and performance management. The big question is whether to go internal or external for the successor. The tricky part is to determine which will add more value, which is a risk for an external person you have not worked with before," says Simon. "For me, the safe play is to bring someone in who protects everybody that has made this thing work."
Published: December 8th, 2016
Share this Feature
Recommended Reading:
Comments:
comments powered by

Disqus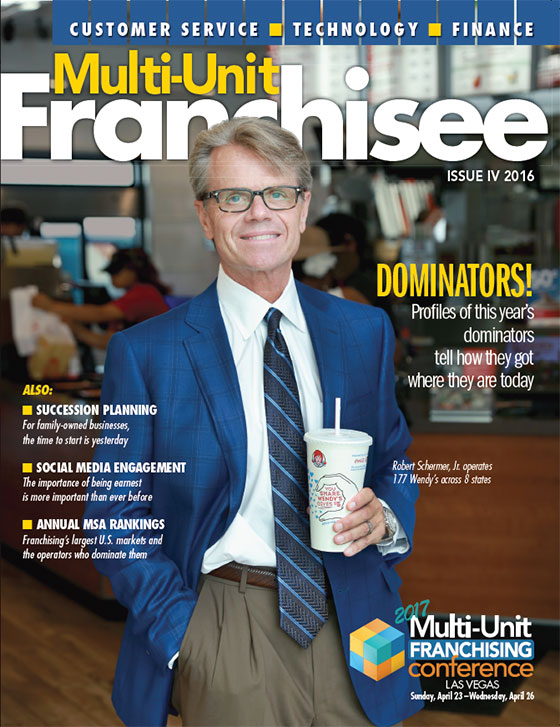 Multi-Unit Franchisee Magazine: Issue 4, 2016
Discover franchise opportunities with one of the world's largest chains of ice cream specialty shops.
Cash Required:
$100,000
At Twin Peaks, expect to enjoy scratch-made food, sports on TVs from every angle, frosty 29° beers, and the fun and friendly Twin Peaks Girls....
Cash Required:
$2,000,000