Support Pays Off: Fewer Closings, Higher Royalties
Support Pays Off: Fewer Closings, Higher Royalties By Darrell Johnson

On average, 43 percent of franchisor G&A--money and human resources--is spent on functions that directly support franchisees. These include franchise development, site selection/pre-opening activities, training, field operations, compliance, marketing, and legal. The question franchisors and franchisees both should be asking is how effective these resources are. We know we get what we measure. Let's start with what might be good objectives to achieve. First, the franchisor perspective.

Having a franchisee who opens a unit more quickly will generate more royalty revenue. If that franchisee also gets to breakeven cash flow more quickly, they will be a higher performer and require less downstream support. This is conceptually understood, but probably not fully appreciated. For franchisees who struggle to get to breakeven, downstream support can be significantly more costly in terms of actual franchisor dollars and human resources around field support, compliance, and legal. And, over the long term, even greater costs exist with underperformers in terms of perceptions around those operators--costs not often factored in. These perceptions affect other franchisees, prospective franchisees, lenders, and the general public.

This is why franchisors try so hard to find the "right" prospects for their systems. While it is clearly important to get the front end of the process right, the impact that all the other functional activities can have on the outcomes is significant and generally goes unmeasured. If it's unmeasured, it's undervalued and, by extension, suboptimally managed.

From the franchisor's perspective, a lot of money is spent up front to get a franchised unit started. This includes such things as development, training, and site selection expenses. Recovery of those funds is in the form of initial franchise fees and royalty fees. Generally, it takes a franchisor the better part of two years or more to break even.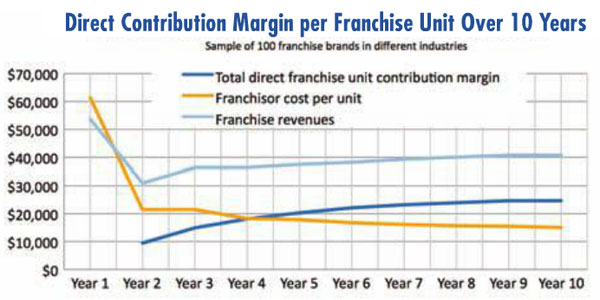 There are many relationships on the franchisor side of the franchise business model that go unmeasured. The potential is significant for franchisors as they start to fully value an understanding of those relationships. For instance, one should reasonably expect a relationship between the amount of initial franchise fees (IFFs) a franchisor charges up front and the amount of up-front support a franchisor provides. By extension, if a franchisor is charging more up front and actually providing more support, that franchise system should have a better performance outcome.
Guess what? It turns out that logic prevails. We analyzed a sample of 100 franchise brands that have bank credit reports, allowing us to gain insights from the much more extensive information those reports provide. We found that there is a relationship between initial franchisee fees and the amount of support a prospective franchisee should expect. Take training, for instance: a sampling of 41 brands across 11 industries showed that brands with higher IFFs provide significantly more training.
The same holds true for other functional support levels. But does higher support lead to better outcomes? Again, the answer is yes: a sampling of 100 brands (50 food and 41 non-food) showed that higher IFFs correlated with both higher continuity rates and lower real unit failure rates.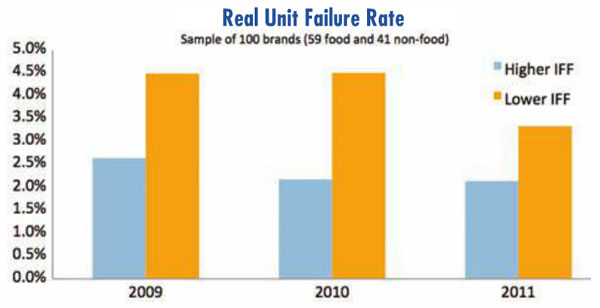 These results aren't simple data exercises. They are screaming at you about a better way to allocate capital and manage your functional responsibilities. Perhaps the single biggest untapped opportunity for franchisors is to understand the relationships between the functional responsibilities they have and the results those responsibilities produce. That can be done only if we begin to standardize some measurement terms and then participate in blind or open comparisons across brands and sectors. The hotel industry has shown the power of such efforts.
I started out by noting that both franchisors and franchisees should be asking questions about the effectiveness of franchisor support. Then I took the franchisor's vantage point to discuss it. From a franchisee perspective, how much of the above is of interest? I think the answer is all of it. If franchisors can justify their IFFs and royalty rates with a level of support that produces better outcomes, the best and the brightest franchisees will be at their doorsteps.
---
Darrell Johnson is CEO of FRANdata, an independent research company supplying information and analysis for the franchising sector since 1989. He can be reached at 703-740-4700 or djohnson@frandata.com.
Published: October 9th, 2013
Share this Feature
Recommended Reading:
Comments:
comments powered by

Disqus

Franchise Update Magazine: Issue 3, 2013
Atmosphere TV is the world's leading cable alternative, providing free streaming TV for businesses.
BoeFly drives growth by delivering financially qualified candidates increasing lead-to-franchisee conversion, and helping franchisees secure...