Taking the Crunch Out of Crime: Reducing Retail Loss In An Economic Downturn
There may be some lag time, but experts note that every recession since the 1950s--with its rising unemployment and weakened economy--has been tied to an increase in crime, most notably property crimes and robbery.

Making matters worse, many law enforcement agencies are feeling pinched as cities and towns cut back on municipal services. Factor in reduced government revenues from slow retail sales and a decline in property tax revenues, and this may be "the perfect storm" for a rise in retail crime. So what are the types of crime-related problems a small business operator is likely to experience?
Seasonal hiring. With higher unemployment, don't be surprised if you have an overwhelming response to a "Help Wanted" sign or ad. There are more candidates available, which should afford your business a better pool, but don't rely on your instincts. Conduct thorough background checks and ask the right questions to be sure you hire honest people to represent your business and protect your assets. If they handle cash or are issued keys to the business for opening/closing, consider using a professional company to conduct a thorough background screening and review.
Shoplifting. This is an ugly reality for businesses everywhere. Employees should make eye contact with each customer as they enter the store, walk out from behind the counter, and offer assistance. This is not only an excellent deterrent to theft, but also a great customer service tool. A word of caution: police generally advise against physical confrontation if a customer is suspected of theft. Make certain you are familiar with the appropriate retail laws in your state. Most prohibit physically detaining a person without witnessing a theft, and nearly every state prohibits a physical search or pat-down. Experts recommend employees not chase or confront theft suspects or leave the safety of the store to pursue shoplifters. Employee safety is the watchword. Call the police and be a good witness.
Robbery. Although rare, armed robbery is not confined to convenience stores, banks, or late-night businesses. It can happen any hour of the day in any business that transacts cash. Police advise that victims cooperate and hand over the proceeds of the cash drawer. Smart business operators limit the amount of available cash to only the amount required to do business and make change. Don't accept bills larger than $20. Make frequent cash drops in a store safe to limit drawer amounts and make daily deposits at your local bank. Don't carry the bank bag in the open; slip it into a purse, coat, or shopping bag to conceal it when leaving the store.
Counterfeit currency. Ben Franklin's on the $100, Grant's on the $50, Jackson's on the $20, and security thread runs vertically. There are several new security features on currency today, so check the Internet or ask your local bank for the latest information. Various low-cost "testers" are on the market, including a felt-tipped marker that turns "black" on counterfeit and yellow on valid bills. There's also a small ultraviolet pen that fluoresces the embedded celluloid strip in U.S. currency.
Credit cards. The card should be present for the transaction and the signature on the receipt match the one on the back of the card. Make sure the name on the card and the person presenting it make sense (few men are named "Suzi" and few woman are named "Robert"). If the card won't process online, ask for a different form of payment. If you have questions, request another form of identification (where permitted by law).
Checks. Get matching ID, no payroll or third-party checks, and unless you're operating your own bank avoid giving cash back. If you can, explore check acceptance programs that convert checks to an online debit-type transaction.
Lighting and visibility. As the winter days grow shorter, take a look at your business from the parking lot to see what others see. If you're a retailer, there should be a clear, unobstructed view from the parking lot into the store, especially the checkout counter (preferably) near the front windows. Promotional signage is important, but police and passersby need to see in and employees need to know who's outside. Take a moment too, to make certain that all outside light fixtures are cleaned of summer bugs and fall leaves and provide an adequate level of illumination for the safety of your customers and employees. If at all possible, employees should empty trash only during daylight hours.

When in doubt, contact your local crime prevention officer through the police or sheriff's department for more specific information involving your business and community. Most law enforcement agencies offer a "business watch" program and will conduct a site security survey to help identify crime risks and their prevention.

Rollie Trayte is a Scottsdale, Ariz.-based security consultant and former director of loss prevention for ConocoPhillips/Circle K stores. Gary Widman is president of Lekson Visual Communications, a supplier of security products and services.



Published: March 9th, 2009
Share this Feature
Recommended Reading:
Comments:
comments powered by

Disqus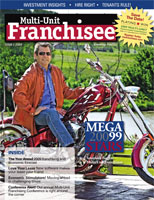 Multi-Unit Franchisee Magazine: Issue 1, 2009
Why open a dog daycare franchise with Dogdrop? Dogdrop is a modern brand that is technology-focused, offers unparalleled support as well as ease of...
Cash Required:
$100,000
Sky Zone created the world's first wall-to-wall trampoline park in 2004, bringing high-flying fun to guests across the globe. Now you can be...
Cash Required:
$500,000