Ten Years After: Reflection on a Decade of Change
In 2004, the first words I ever wrote for Multi-Unit Franchisee magazine (then called Area Developer) were:
"Vast amounts of energy and treasure have been invested to understand why customers do--or don't--come back. Few questions are more important, since same-store sales growth is built on the backs of loyal customers." That connection between customer loyalty and sales growth remains true to this day.
What's different now is that franchisees better understand the value of customer loyalty and, for the best operators, how to improve the customer experience and gain market share by winning customers away from not-so-smart competitors. From my perspective as a 10-year columnist here, here is a brief history of how we far we've come.
If you think back to 2004, many companies used mystery shopping scores to measure their performance on customer satisfaction. Then began a sea change as most franchise systems began seeking a representative sample of real customers to answer the question, "How satisfied were you with your most recent visit to this location of ABC Brand?" That was a big step toward getting statistically valid, location-specific, customer feedback. And for industry leaders, their customer survey results were delivered on performance dashboards, in real time.
Between 2004 and 2007, the franchise community began to grasp the insight that a "satisfied" customer is not a loyal customer and does not contribute much to sales growth. Only "highly satisfied" customers do that, returning twice as often as merely satisfied customers. Highly satisfied customers are three times as likely to recommend--which is the essence of Net Promoter Score (NPS), which began to catch on with some franchise systems around 2008.
By the end of the last decade, most leading franchise systems were providing franchisees with customer experience management (CEM) programs that helped franchisees take care of what mattered most at each location by measuring what really counts in the customer experience. By 2010, franchisees' minimum expectations included automated alerts and problem resolution tools as well as celebration alerts that recognize great service by employees who were called out by customers in their comments.
The big shift to web-based surveys meant customers typed their comments, both positive and negative. Thus began the rise of text analytics, which can aggregate comments and mine that data to spot trends and gain insights that the unassisted human mind can't perceive.
Then, seemingly suddenly, came the explosion of social media, turbo-charged by the revolution in mobile technology, which increased the impact of customer comments by several orders of magnitude.
The period from 2009 to 2010 was the inflection point for social technology growth. Franchise leaders were starting to redirect their customer survey respondents directly to social media sites like Facebook and Twitter. There customers could share their positive stories of doing business with great franchisees and make recommendations--to audiences far larger than traditional word of mouth allowed. Social media listening technology started to become as necessary as having a toll-free customer hotline was in the past.
Smartphone usage exploded at the beginning of this decade too. In 2010, about a quarter of mobile phones were Internet-enabled. By 2014, at least two-thirds of mobile phones are smartphones. This change had a remarkable effect as consumer feedback to franchisees by smartphone doubled each year. Most important, the tsunami of customer comments through social and mobile technologies has completely exposed the gap between what you promise and what you actually deliver. That's why creating a loyalty-inspiring customer experience--in the store, on the web, over the phone--is the only sustainable path to growth today.
Just as we were surprised by how quickly social and mobile technologies changed the customer experience landscape, I believe the seeds of the next big thing(s) in customer experience management have already been planted.
For example, survey invitations on paper receipts are going away, replaced by electronic receipts or as data stored in the cloud. And the explosion of mobile apps created by franchise organizations will accelerate this trend away from paper-based requests for customer feedback.
Next, we're seeing the impact of location services embedded in smartphones. Now you can ask for customer feedback through a mobile app shortly after they leave a specific location. And with the same visit-detection technology, you can ask why customers visit your competitor's locations and learn how that experience compares with yours.
There is another very positive emerging trend I call "Consumer Reports 2.0" that will reduce the negative impact of a few unfair customer ratings on Yelp! Instead, consumers will see a large, representative sample of authentic reviews. Franchisees are going to love this, especially the best performers. We've come a long way, baby!
That's my opinion. For a recent Executive Critique of the Customer Experience from the operator's perspective, email me.
SMG Chief Evangelist Jack Mackey helps multi-unit operators improve loyalty and drive growth. Contact him at 816-448-4556 or jmackey@smg.com.
Published: December 16th, 2014
Share this Feature
Recommended Reading:
Comments:
comments powered by

Disqus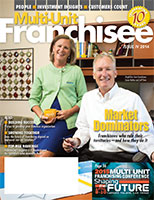 Multi-Unit Franchisee Magazine: Issue 4, 2014
Daddy's Chicken Shack believes in simple, high-quality ingredients with a lot of love.
A neighborhood butcher franchise is what every community needs. Learn more about joining Southern Steer franchise.
Cash Required:
$100,000